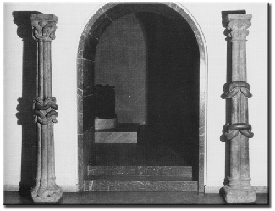 In the authoritative book, Art and Architecture of Freemasonry, the author says that the two columns, or pillars (Jachin and Boaz), "play a significant role" in Masonic ritual and "are the medium by which the secret knowledge" is transmitted. This picture is of the two Masonic pillars in the Würzburg, Germany Cathedral. Not the Serpentine spirals on each pillar.
Unleashing the King of Terrors—The Day the Illuminati Attacked America: Were the events of September 11, 2001 an elaborate, carefully crafted, and dynamically staged satanic ritual? Texe Marrs now reveals the awful truth about these horrors—that the tumbling down of the twin towers of the World Trade Center was, in fact, a blood sacrifice.
The deaths of over 3,000 persons in New York City, Washington, D.C., and Pennsylvania was a scripted holocaust, the theatrical enactment of a Masonic/Illuminati ritual hellishly called the "Unleashing of the King of Terrors."
In this exclusive report, Texe Marrs reveals the esoteric message of the September 11th massacre. He shows how the Illuminati, using black magic ritualism, had as their goal the ushering in of their Aquarian man-god, the New Age "Christ," the one whom the scriptures identify as the beast with the number 666. He shall be the one whom the Illuminati adore as the "King of Terrors."
Discover also the hidden, Illuministic meaning of the Nostradamus prophecy that swept the internet—that New York City would burn with fire in the new century and that two great pillars (twins) would fall.
A fascinating insight on how Bible prophecy, especially the book of Revelation, relates to the New World Order and the war on terrorism.


Three ways to order: Order online now, or, if you prefer, phone us toll free 1-800-234-9673, or 512-263-9780 (Monday-Friday, 8-5 CST). You can also simply send check or money order to: Power of Prophecy 1708 Patterson Rd. Austin, TX 78733 [Please include 10% for domestic shipping and handling ($5.00 Minimum). To cover international shipping and handling, include 40% of the cost for DVDs, Tapes & CDs, and 60% of the cost for Books ($20.00 Minimum).]