Serial killers, government tyrants, academic liberals, Catholic priests, politicians, Mormon Church higher-ups, Jewish rabbis, environmental extremists, communists, religious heretics, mass murderers, occultists, spies, and the Illuminati share something hideous and grotesque in common. Almost all are homosexual. Worse, most of the sick-minded men who comprise these demented social groups are not only homosexual, they practice the most kinky and perverted forms of sexual licentiousness—pedophilia, satanic bondage, physical torture, bisexuality, transvestitism, and even bestiality.
If you doubt this, I invite you to consider the wicked lives of some of these moral degenerates—men like Lenin, Mussolini, Hitler, Marx, Jim Jones, Alfred Kinsey, Michael Jackson, Jacques DeMolay, Bill Clinton, Jim Bakker, Jimmy Swaggert, Mick Jagger, Aleister Crowley, Hubert Humphrey, Paul Tsongas, Martin Luther King, Mario Cuomo, Rudy Giuliani, Jeffrey Dahmer, Richard Speck, and John Wayne Gacy.
Homosexuality in the Mystery Religions
In the ancient pagan Mystery Religions, homosexuality and pedophilia were popularized. Worshippers of Baal erected shrines and temples of male prostitution (I Kings 14). Roman Emperors Nero, Caligula, and Commodus engaged in incest, sex with boys, bondage, and a variety of evil crimes. So, too, did those in Pharaoh's court. Alexander the Great was a homosexual who loved little boys.
When the Spanish Conquistadors conquered Central America and the Yucatan in Mexico, they found that most native Indian priests were sodomites. In their pagan temples were sacred statues depicting gay sex acts. In Babylon, people sacrificed and prayed to gods and goddesses requesting sexual favors and carnal pleasures.
Two versions of the official seal of the Knights Templar, precursors of the Freemasons. Note that in the version at right, the two riders carry a shield. But, in the other version of the seal (left), one's shield is gone and the knight has placed his hand in a most sensitive area of his body.

The Knights Templar and Baphomet

In the 14th century, a Catholic band of crusaders known as the Order of Knights Templar grew in power and riches. They and their leader, their Sovereign Grand Master, Frenchman Jacques DeMolay, built temples and tabernacles of worship. Only Knights Templar initiates could enter therein. Soon, reports spread of the grotesque and unseemly mode of worship of these depraved men. Their secret religion was based on worship of an androgynous (1/2 male, 1/2 female) satanic goat god named Baphomet.

In the Knights Templar rituals, a crucifix of Jesus was reviled and urinated on, and homosexual orgies were rumored. Strangely, the seal, or coat of arms, of the Order depicted two knights riding on one horse! Was this an emblem of their homosexual passion or, as the Templars protested, a statement of their "brotherly love?"

When the rumors and gossip of their antichrist activities reached a feverish pitch, the Kings of continental Europe were forced to move against the Order. Their Sovereign Grand Master, DeMolay, was tried, convicted and burned at the stake, their temples shut down. Amazingly, the Knights Templar survived, hiding out in Scotland and underground in Europe. Then, in the 1800s, they made a startling comeback in the new form of Freemasonry! Today, the Masonic youth group is even named the DeMolays. Bill Clinton, as a teenager, was a member of this organization.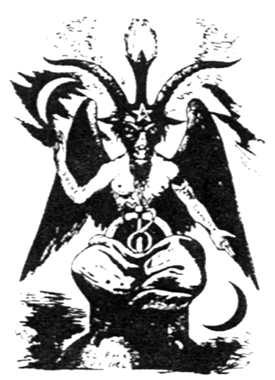 Baphomet, the half male, half female goat god of the Knights Templar, was revived by Eliphas Levi, the infamous 19th century Freemason and magician and reportedly is worshipped today by homosexual cults.

Communists, Homosexuality, and Perversion
Communism, as propounded by satanist Karl Marx, was an offshoot of Templarism. As Jüri Lina documents in his sensational book, Under the Sign of the Scorpion, Vladimir Lenin, the communist monster who founded the bloody communist regime in Soviet Russia, frequented brothels and maintained three mistresses.
Laventi Beria, Stalin's decadent Chief of Secret Police, a man who arrested, tortured, imprisoned, and executed some 20 million innocent victims in Russia, was truly a heinous sex criminal. Beria would have his chauffeur drive him around Moscow in a limo evenings searching for a young girl or boy out walking alone. Then, Beria would order his security police to grab and kidnap the hapless youth. What horrible fate transpired to such victims I do not wish to recount here. Obviously, Stalin knew of Beria's evil criminality and had no objections.
In 1937 at the House of German Art Museum, Nazi Führer Hitler and Italian dictator Mussolini enjoy a homoerotic exhibit—an immense statue of two naked muscular men holding hands. (For decency's sake, Power of Prophecy has blackened out the genital area of one of the naked men pictured)

The Pink Swastika

Hitler, Nazi founder, was similarly a sex pervert. As Chancellor, he carried on sexually with his 15-year-old niece, who killed herself rather than continue giving in to his bizarre and beastly sexual fetishes. As a young Bohemian streetwalker and "starving artist," the man who later would rule most of Europe sold his body to gay men.

Hitler is noted as a fanatical fan of Wagnerian operas. Less known is the fact that before he rose to become the Fuhrer, in the 1920s, Hitler sexually abused Richard Wagner's grandson, Wieland Wagner (Time magazine, August 15, 1994, p. 56).

Hitler, of course, was catapulted to power largely by the Brown Shirts (SA), a fascist youth organization led by and composed primarily of "butch" type homosexual militarists. The head of the thuggish Brown Shirts was Ernst Roehm, who was a notorious molester of young boys. Roehm was executed by Hitler after his sexual excesses became widely known.

As Scott Lively writes in his revealing book, The Pink Swastika—Homosexuality and the Nazi Party, "Homosexuals are the perfect foot soldiers for the devil."

Interestingly, Hitler and his henchmen intensely disliked feminine gay men, even sent many to concentration camps. The Nazis preferred masculine, butch, soldier-types—like Field Marshall Reinhard Heydrich—willing to take orders. On the other hand, in Soviet Russia, the Communists and Bolsheviks favored gay Jews with female traits and affectations.
Religious Sodomites are Legion
Religious fakes who are sodomites predominate. Jim Bakker, PTL televangelist disgraced and defrocked for sexually abusing church secretary Jessica Hahn, actually preferred young boys. He frequently had young homo staffers go swimming nude with he and his top aides. Like Bakker, Assembly of God television preacher Jimmy Swaggert also was a sexual deviant—reportedly into porno literature, trampy prostitutes, etc. He stayed away from real sex with real women—desired bizarre acts.
Satan loves to debauch religious charlatans. A headline in The Houston Chronicle newspaper, page one of its May 9, 1999 issue, trumpeted, "Mormons Caught up in Wave of Pedophile Accusations." In fact, Power of Prophecy has received startling information about satanic rituals and pedophile Mormon elders in the so-called Church of Jesus Christ of Latter Day Saints (LDS). No Wonder! Joseph Smith and Brigham Young, Mormon founders, took numerous wives, and Smith was an occultist and sexual pervert of the highest order, as even many of his biographers confess. (Next Month—Part 2 of Two On a Saddle.)