codex magica mysterious monuments conspiracy of six pointed star
Exclusive Intelligence Examiner Report
---
---
Money, the Jews, and the Destiny of America
"Our national wealth has been plundered by these mad men, and still they want more. And who can possibly prevent them from achieving their sinister aims?"
—

Texe Marrs
Conspiracy of the Six-Pointed Star
"Greed is good," said the capitalist Gordon Gekko to the admiring crowd. It was a scene from the movie Wall Street that would go down in cinematic history. Interestingly, in that movie, a magnetic Jewish actor, Michael Douglas, played the starring role and yet another Jew, Charlie Sheen, the powerful, if tragic, co-starring role.
Wall Street a Jewish Preserve
Wall Street, the bastion of world high finance and money corruption, is, in fact, a mostly Jewish preserve. Few Gentiles are allowed to trespass in the hallowed confines of the New York Stock Exchange. It is as if a sign were posted on the exchange's massive front doors which reads, "NOTICE: No Gentiles or other dogs allowed. This is an exclusively Jewish Club."
Wall Street is inextricably connected to main street USA. In our present-day socialist economy, Washington, D.C.'s politicians take their marching orders directly from high finance's elitist Jewish bankers and moneymen. As the keen futurist and business observer Gerald Celente noted on Fox TV a few years ago, money rules politics, and therefore, "Wall Street is Washington, D.C., and Washington, D.C., is Wall Street."
Surprisingly, few Americans are even vaguely aware that their politicians are mere puppets and errand boys of high finance. Most Americans actually believe that elections and voting decides money matters in Washington, D.C. The People rule, they say, in their ignorance and naivete.
"I'm Doing God's Work"
But foreign observers are not so easily deceived. For example, The Sunday Times, one of London's most prestigious newspapers, reported on Goldman Sachs, New York and Wall Street's premier bank. The newspaper characterized the bank—led by Jewish CEO Lloyd Blankfein and chiefly owned by Britain's Baron Rothschild—as "the best cash-making machine that global capitalism has ever produced."
Heinrich Heine, German Poet of the Nineteenth Century

Mr. Blankfein of Goldman Sachs has arrogantly boasted, "I'm doing God's work." No doubt he is correct. But what god does Mr. Blankfein and his Wall Street friends really serve? It cannot be the Lord Jesus Christ, who had not a place to lay his head, who advised his followers, "Store up for yourself treasures in heaven," and who cautioned that it is extremely difficult for a rich man to enter the kingdom of Heaven.

No, there must be another "God" whom the wealthy Jews worship and adore. Who is this mysterious deity whose credo is, "Greed is good?"
Their God is Money
Heinrich Heine, 19th century Jewish philosopher, knew whom it was the Jews worship. He sagely wrote, "Money is the god of the Jews, and Rothschild is his prophet!"
Karl Marx, the barbaric communist theoretician who inspired the blood-soaked reigns of Lenin and Stalin in the Soviet Empire and Mao Tse Tung in Red China, agreed with Heine. Marx, a Jew who pretended to be atheist but was, in fact, a deeply religious Sabbatean Jew, was brutally honest in assessing the Jewish divine relationship to money:
"What is the worldly religion of the Jew? Huckstering. What is his world god? Money." (On the Jewish Question, 1844)
The Jews' most holy book, The Babylonian Talmud, which contains Judaism's 613 laws, has a lot to say about money and how to get it and keep it:
"If it can be proven that someone has given the money of the Israelites to the Goyim (Gentiles), a way must be found to wipe him off the face of the earth." (Choschen Hamm, 388,15)
"A Jew may rob a Gentile, he may cheat him..." (Schulchan Choschen Hamizpat, 148)
"The property of a Gentile belongs to no one, and the first Jew that passes has full right to seize it." (Schulchan Choschen Hamizpat, 156)
Is this why today the leaders of the Palestinians are unable to reach an agreement with Israel? Who can negotiate when the opposing party's "god" instructs them to rob and cheat and never give up an inch.
The credo of the Jews, "Greed is good," gives them a great advantage in dealing with Gentiles, especially Christians who have been taught by their benign religion that "It is better to give than to receive," and, "Do unto others as you would have them do unto you."
Do Jews Possess a Higher IQ?
When questioned about their success in business and finance, most Jews quickly spout the common wisdom that "well, Jews are just smarter than others." Jews are claimed to be more intelligent and this gives them advantage.
Not so fast. The facts do not at all bear out this much-stated, but incorrect "common wisdom." Study of the Intelligence Quotient (IQ) of various national and ethnic groups puts the lie to the claim that Jews are more intelligent.
In their volume, IQ and the Wealth of Nations, researchers Dr. Richard Lynn and Dr. Tatu Vanhane compare the IQs of the people of 82 nations. Israel ranked 34th out of the 82. The average IQ score for an Israeli Jew was 94. In contrast, Hong Kong's citizenry averaged 107; South Korea achieved 106, and the Unites States (including its African-American and Hispanic population groups) scored 98.
The average Mongolian had an IQ of 98; the Israeli 94. So, why aren't Mongolians anywhere near as wealthy as Israelis?
Psychologically Driven?
A recent bestselling book, The Jewish Phenomenon—Seven Keys to the Enduring Wealth of a People, suggests that the astounding money amassed by Jews is not due to the Jews' higher IQ, but rather because Jews are "psychologically driven" to attain wealth.
Jews, unlike many other ethnic groups and peoples, also are more wealthy because they favor other Jews in their business dealings. And, as I have noted, their religion, Judaism, instructs the Jew to discriminate against all outsiders, even to rob and cheat non-Jews.
Certainly, one of the keys to Jewish wealth is the tribe's cultural obsession with making money. Mark Twain, the great American novelist (Tom Sawyer; Huckleberry Finn, etc.) once mused that, "Jews are money-getters," He suggested it is this that makes them superior to their fellows in the getting of money. But as to why the Jews are "money-getters," Twain offered not a clue.
Marx on the Jews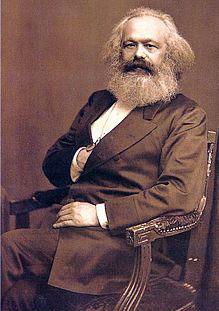 Marx, 1875, giving the Masonic hand sign.

Marx, an evil man who uncannily recognized the evil in others, was much more brilliant in defining the nature of the Jews' obsession with getting money. It is, he said, because the Jews employ money to obtain power.

"The Jew," Marx wrote in 1844, "has already emancipated himself." He has no country, no god except money, and money is a universal commodity. Thus, the Jew is emancipated from nationalism and from transcendent religion because he is tied instead to money. And through his money power, Marx noted, the Jew in every country has ascended to the heady heights of political and financial power.

The money religion of the Jews has greatly affected the United States and the thinking and behavior of its people. Why else would the people of America elect to the highest office of the Presidency, a black man, Barack Obama, whose campaign promises to give people more "goodies"—free things? Millions were so obsessed with having them, that they would, and did, sell their very soul.

Ah, but this is the very essence of Judaism, and so Jewish evangelism is oh, so effective in converting the heathen to the Jewish way of life. Karl Marx could see this day coming, and he declared its inevitability:

"This is no isolated fact. The Jew has emancipated himself in a Jewish manner... because through him... money has become a world power, and the practical Jewish spirit has become the practical spirit of the Jewish nations. The Jews have emancipated themselves insofar as the Christians have become Jews."

What amazing prescience this monstrous man of Satan possessed. In whatever nation the separative Jews have resided, by their religious fervor—their living out the Jewish credo, "Greed is good"—the Jews have risen to the top of the socio-economic strata.

Thus emancipated, the Jew has gone on to "emancipate" the Gentiles—in America's case, the Christian Gentile masses, so that now, "Christians have become Jews." They worship the Jewish god. They practice the Jewish credo.
A Real Jew is Born Into the Tribe
But to be a Jew in spirit is not the same as to be a real Jew. A real Jew is one who is born into the Tribe. He or she is able to prove a DNA relation by way of the matriarchal line. All others who want to be Jew are mere psuedo-Jews, fakers, imposters, pretenders.
In due time, these imposter types will be duly informed of their slave status, of their subservience to the real, so-called bloodline Jews. As the Chief Rabbi of Israel recently explained (Jerusalem Post, Nov. 25, 2012), these pretenders are nothing more than "donkeys," crass animals destined and fit only to serve their Jewish "effendi" (masters).
Is this, then, what it shall all come down to? First we emulate the wealthy Jew... then, we adore and serve the Jew.
What Rough Beast Slouches Toward Bethlehem to be Born?
This dire thought leads us to ponder these frighteningly prophetic verses from the riveting and soul-wrenching poem, The Second Coming (1919), by Irishman William Butler Yeats:
Surely some revelation is at hand;
Surely the Second Coming is at hand...
The darkness drops; but now I know.
That twenty centuries of stoney sleep
Were vexed to nightmare by a rocking cradle.
And what rough beast, its hour come round at last,
Slouches toward Bethlehem to be born?
Keep up to date with Texe on
---
Click to view excerpts from Texe's latest blockbuster documentary Die, America, Die!, then order your copy today!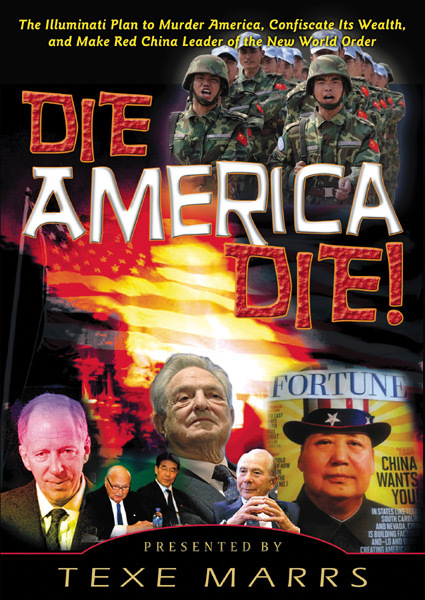 ---
Power of Prophecy proudly offers the following best-selling books. Order your copy today!
---
---
---
---
---
---
---
---
---
---
---
---
---
Power of Prophecy proudly offers these best-selling videos. Order your copy today!
---
Die, America, Die!

80 Minutes ~ $25.00
---
Rothschild's Choice

90 Minutes ~ $25.00
---
Thunder Over Zion

60 Minutes ~ $25.00
---
Power of Prophecy proudly offers these best-selling audios. Order your copies today!
---
"Tell Us, What Will Be the Sign of Thy Coming and of the End of the World?"

60 Minutes ~ $8.00
---
Is the Pope a Zionist High Priest?

60 Minutes ~ $8.00
---
Obama Wins Re-election... What Happens Now?

60 Minutes ~ $8.00
---
Impure Blood

60 Minutes ~ $8.00
---
The Great Serpent, the Red Dragon, and the Soaring War Eagle

60 Minutes ~ $8.00
---
The Ethnic Cleansing of Palestine

60 Minutes ~ $8.00
---

We are so very thankful to those of you who give to Power of Prophecy. You are a valued member of our end-time crusade for Truth and Righteousness on behalf of our Savior Jesus Christ. Click here for more info!
---