codex magica mysterious monuments conspiracy of six pointed star
Exclusive Intelligence Examiner Report
---
---
As Jewish "Proselytes," the Khazars are...
"Woe unto you, scribes and pharisees, hypocrites! For ye compass sea and land to make one proselyte, and when he is made, ye make him twofold more the child of hell than yourselves."
—

Jesus Christ
Matthew 23:15
Most Jews do not like to admit it, but our God is Lucifer... We are his chosen people...
—

Harold Rosenthal
The Hidden Tyranny (1970)
Every person who truthfully speaks of the evil works of the Jews find themselves very quickly being angrily criticized by Zionist know-nothings. The Judaizers who believe themselves "Christians" are the worst. They actually believe that if a person says even one negative word about Jews, he or she will be severely punished by Jesus on Judgment Day.
Not one of these know-nothings has apparently read the Holy Bible. If they did, they would find plenty of folks who have blasted the Jews and exposed their evildoing. Here are just a few of the many who say bad, bad things about the Jews: Moses, Jeremiah, Isaiah, Hosea, Ezekiel, Elijah, Amos, Stephen, Peter, Paul, and John. Shall I go on?
Indeed, all of the prophets and apostles were harshly critical of the Jews, their sin and their wickedness. Most were, in turn, viciously attacked by the reprobate Jews and some were unjustly punished with death because they upheld God's standards and exposed the rabbis, priests and other evildoers.
Now, should all of these great men have kept their mouths shut? What of the modern-day "Christians"—who explode with self-righteousness when Jews are criticized?
Do you see how ridiculous these make-believe "Christians" are? Who taught them such silliness? Their pastors and ministers?
| | |
| --- | --- |
| | The Khazar leaders of today's wicked Judaic world system are serpents whose tongues cannot stop lying. Jesus said these spiritual deceivers are "twofold more the child of hell" than were their predecessors. |
Jesus: #1 Critic of Jews in the Bible
In fact, it could just be that the #1 critic of the Jews in all the Bible was—now, get ready for it, true Christians—Jesus Christ Our Lord!
Jesus did not spare the Jews. He said the most poignant, yet truthful, things right to their face. Jesus was not shy about what he thought. He told the Jews: "Ye are as graves which appear not, and the men that walk over them are not aware of them" (Luke 11:44).
Jesus said unto the Jews, "Woe unto you! For ye build the sepulchers (gravesites) of the prophets, and your fathers killed them. Truly ye bear witness that ye allow the deeds of your fathers" (Luke 11:47-48). Jesus prophesied there would be more martyrs to come.
"I will send them prophets and apostles, and some of them they shall slay and persecute. That the blood of all the prophets, which was shed from the foundation of the world, may be required of this generation." (Luke 11: 49-50)
Jesus lambasted the Jews, proclaiming "O generation of vipers, how can ye, being evil, speak good things?" (Matthew 12:34)
"The Son of man," warned Jesus, "shall send forth his angels, and they shall gather out of his kingdom all things that offend, and them which do iniquity; And shall cast them into a furnace of fire: there shall be wailing and gnashing of teeth" (Matthew 13: 41-42).
Jesus Took Away the Kingdom From the Jews
Using direct words that no wicked Jew could misunderstand, Jesus went on to declare:
"Therefore, say I unto you, The kingdom of God shall be taken from you, and given to a nation bringing forth the fruits thereof" (Matthew 21:43).
Why did Jesus take the kingdom from the Jews? Because of the blackness and evil in their hearts. Clearly, the Jews were not of God but of Satan, and Jesus told them exactly who was their father:
"Ye are of your father the devil, and the lusts of your father ye will do…" (John 8:44)
Could the very Christ, Jesus our Saviour, have chosen more harsh and critical words to describe the evil Jews? Are you not ashamed, Judaizer "Christian," when a man of God today, seeking to follow Jesus' example, tells the world the obvious truth about the wickedness of the Jews? And you, hypocrite, attempt to divert the righteous by bludgeoning him with your untoward and wicked words. I say to you Judaizers: Shut your mouth, lest God be offended rightly by your pretense and coverup!
Khazar Jews: "Twofold More the Child of Hell"
Those who today speak the truth about Israel and the Jews should be commended by their fellow Christians. As proven in my book, DNA Science and the Jewish Bloodline, the Jews of Israel, the U.S.A., and Europe are not even Israelites. They are converts to Judaism from Khazaria, provinces in the Caucusus, in Southern Russia. As such, the Khazars—who comprise some 95 percent of all the "Jews" in the world—are even more wicked and depraved than those who schooled them on Judaism. It was, in fact, the Babylonian rabbis who, in the 8th century, taught the Khazars the Luciferian doctrines of the Talmud and Kabbala.
As DNA science proves, the Khazars are not the seed of Abraham but are pretenders who masquerade as blood Jews. They are the Synagogue of Satan, whom Jesus said would blaspheme His name and persecute the true people of God:
"I know the blasphemy of them which say they are Jews, and are not, but are the synagogue of Satan" (Revelation 2:9).
The Khazars are "proselytes" of the Jewish rabbis who, invited into Khazaria by King Bulan, eagerly came from nearby Babylon where they had been in exile these many years. They proceeded then to teach their new proselytes, the Khazars, of all the wickedness and Luciferian thought contained in that most hideous of religious textbooks, the Babylonian Talmud and the occultic Kabbala.
In so doing, the rabbis fulfilled the very prophecy of Jesus Christ Himself, who straitlaced the satanic Jews, declaring:
"Woe unto you, scribes and Pharisees, hypocrites! for ye compass sea and land to make one proselyte, and when he is made, ye make him twofold more the child of hell than yourselves." (Matthew 23:15)
Khazars are Spiritually "Jews" by Their Own Admission
The Khazars have taken upon themselves the burden of their Jewish teachers, even falsely claiming that they, the Khazars, are of the some bloodline as the Jews. Very well, then, Khazars, you are what your mouths say you are. You are the Synagogue of Satan, twofold more the child of hell as were your predecessors.
By your own proud words and will, you demand to be known not as Khazars but as "Jews."
And so shall you be. "Wherefore ye be witnesses unto yourselves, that ye are the children of them which killed the prophets."
"Fill ye up then the measure of your fathers. Ye serpents, ye generation of vipers, how can ye escape the damnation of hell?" (Matthew 23:31-33).
If you had not known of the grave crimes your Jewish spiritual Fathers had committed, you would be innocent. But you know, and you obscenely revel in that wicked knowledge. You, Jesus said, are serpents, twofold the children of the devil. How then, can you escape the damnation of hell?
Keep up to date with Texe on
---
Click to view excerpts from Texe's latest blockbuster documentary Die, America, Die!, then order your copy today!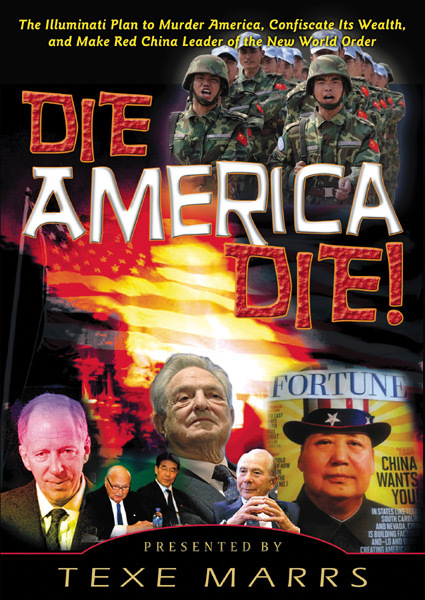 ---
Power of Prophecy proudly offers the following best-selling books. Order your copy today!
---
---
---
---
---
---
---
---
---
---
---
---
Power of Prophecy proudly offers these best-selling videos. Order your copy today!
---
Liberty & Truth Conf. 2013

6 Hours ~ $50.00
---
Die, America, Die!

80 Minutes ~ $25.00
---
Illuminati Mystery Babylon

60 Minutes ~ $25.00
---
Power of Prophecy proudly offers these best-selling audios. Order your copies today!
---
Khazars Plow Ahead with Illuminati Agenda for A "Greater Israel"

60 Minutes ~ $8.00
---
Devils At the Wailing Wall

60 Minutes ~ $8.00
---
Will America Survive Until 2025?

60 Minutes ~ $8.00
---
Mystery of the Pyramids and the All-Seeing Eye

60 Minutes ~ $8.00
---
Robots, Androids, Virtual People

60 Minutes ~ $8.00
---
Scientific DNA Study Confirms...

60 Minutes ~ $8.00
---

We are so very thankful to those of you who give to Power of Prophecy. You are a valued member of our end-time crusade for Truth and Righteousness on behalf of our Savior Jesus Christ. Click here for more info!
---