It happened just as I told you it would in my new video, Die, America Die! In December, our criminal government and its scandalously corrupt Fed Reserve Bank secretly "printed" over $1.1 trillion dollars and electronically gave this gigantic bonanza to Europe's Central Bank (ECB) and to a number of banks in Germany, Italy, Spain, Great Britain, Belgium, Switzerland, France, Portugal, and elsewhere.

These European institutions, because of their greedy ponzi schemes that had failed, were on rubbery, last legs and the whole of Europe was about to go bankrupt. Then, our conniving and criminal Fed Reserve came to the rescue of their fellow crooks, with 1.1 trillion dollars!

Just days before this outrageous crime was perpetrated, the Fed Chairman, Ben Bernanke, publicly stated that to bail out Europe's banks and to "recapitalize" Europe's elitist, troubled government financial institutions would be "a violation of federal law." It will not be done, the Jewish con man said. But it was, and without a peep from President Obama or our impotent Congress.

And so, the rip-off and "creative destruction" (that's what the Jewish kabbalists call it) of the once great U.S.A. continues. Not surprisingly, most of the big blabbermouths on Fox News, CNN, MSNBC, and elsewhere in the mainstream media failed to report this dark treachery on the part of Bernanke, Obama, and Congress, all working in concert with Wall Street and the Jewish Financial Combine to pull off the world's greatest heist.

Radio meister Rush Limbaugh said not a word; nor did CNN's Anderson Cooper or NBC's Brian Williams. Fox News' Bill O'Reilly and Sean Hannity and all their ilk were silent. These media bums know who is buttering their bread, and they see, hear, and speak of no evil regarding their media money lords. Jewish money and greed screams, not whispers, in the ears of these media stooges.
Thanks to One Courageous Gentleman
Gerald O'Driscoll former head of Dallas, Texas Federal Reserve Bank.

I do, however, wish to give credit to one courageous gentleman, a Mr. Gerald O'Driscoll, former head of the Dallas Federal Reserve. To my shock and pleasant surprise, on December 28th, in a column in The Wall Street Journal, Mr. O'Driscoll came forth and boldly exposed these unethical acts of his former associates at the Fed. Then, the same day, O'Driscoll was briefly interviewed on CNBC during which he repeated his statements.

O'Driscoll's revelations of the Fed's shenanigans—the Fed's pumping up Europe with hundreds of billions of U.S. taxpayer dollars and its efforts to hide these unseemly transactions—should have been the number one topic of discussion that night on Fox, ABC, CBS, NBC, and all the other media. It was not. Tragically, no one else stepped forward. O'Driscoll was on his own.

I say, have pity on these famous men in the media who have sold their souls to the dark side. Yes, I pity them because truth and courage have their own rewards. And God shall one day recompense every last one of us for our deeds, whether they be good or evil. Let us, therefore, pledge our utmost to expose these evil deeds.
Results Predictable
The temporary result of the Fed Reserve's underhanded chicanery was quite predictable. The dollar fell, the Euro currency strengthened, and both the U.S. and European stock markets temporarily shot straight up. Leading the Wall Street surge was—naturally—the banking sector, which saw the giant money center banks of Europe and the U.S., like JP Morgan Chase (USA), Societé-Générale (France), Paribas (France) UBS (Switzerland), and Barclays (Great Britain), zoom. There's nothing like free money from the Fed to boost a bank stock's net worth.
Which means that the Illuminati billionaires who own controlling interest in these banks—ninety percent of whom are Jews—again find their wealth level bursting to never-before seen heights. Simultaneously, every last American citizen will soon discover their retirement accounts squeezed, their savings diminishing, Social Security payments reduced, retail prices increasing, and assorted other economic woes coming their way.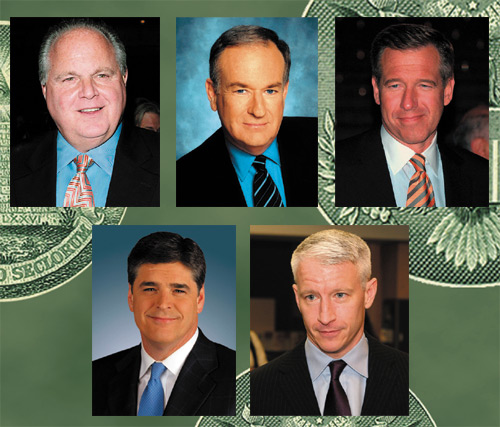 Talking heads of mainstream media remain silent about the Fed's outrageous crimes.
Fed A Mystery to Masses
Regrettably, since the vast majority of America's citizens—and even most congressmen—do not understand how the Fed Reserve money system works, this unbelievable scam will remain a mystery. Remember, since 1913 America has had this dirty fiat money scheme eating away at our nation's inner vitality and health. It has now been almost a century in which the evil and greedy bankers have been able to secretly embezzle trillions from the people.

What's more, everything they do is perfectly legal because, as unbelievable as this may seem, the Fed Reserve Act of 1913 included absolutely no restriction against such unethical and un-American outrages. There are no provisions to prevent any of a multitude of actions that would otherwise be considered as highway robbery. In effect, the Fed has a license to rob, steal, lie, cheat, bamboozle, shade, and do every other wicked deed imaginable. It can be rightly said that the Fed was born in sin and has grown to full size as the greatest criminal syndicate in the history of mankind.

Only the total abolition of the Fed can rescue America from a grievously horrendous economic fate. If this is not done, and fast, I warn you that your grandchildren and their children will curse you, me and every other member of this apathetic and weak-kneed generation for allowing the dictatorship of the Jewish financial devils to eat away and destroy their God-given inheritance.
Wealthy Illuminati Elite Never Satisfied
Now the question arises, what do the Illuminist Jewish elite seek to achieve by breaking the backs of American workers? Already filthy rich, why do they conspire to heap even more treasure while defrauding you and me and emptying our federal treasury of its hard-earned wealth? The answer can be found in two vital and revealing books.
First and foremost is the Holy Bible which explains that the decadent rich can never have enough. Satan drives them ever deeper into a state of consuming greed. James, the brother of Jesus, spoke to this when he prophesied of the pitiful destiny of the fraudulent and deceitful rich:
"Go to now, (listen!) ye rich men, weep and howl for your miseries that shall come upon you. Your riches are corrupted, and your garments are motheaten. Your gold and silver is cankered; and the rust of them shall be a witness against you, and shall eat your flesh as it were fire. Ye have heaped treasure together for the last days." (James 5: 1-3)
Mobs Take to Streets
Yet another authoritative source begs our attention—The Protocols of the Learned Elders of Zion. Protocol number 3 informs us that by various clever schemes and manipulations, the Jewish kabbalistic elite intend to foment "a universal economic crisis whereby we shall throw upon the street whole mobs of workers simultaneously in all the countries..."
The Protocols further declare that, "These mobs will rush delightedly to shed the blood of those whom, in the simplicity of their ignorance, they have envied from their cradles, and whose property they will then be able to loot."
Things Will Get Worse—Preparation a Must
Have we not seen an early, imperfect version of these events in the world's Occupy movement that has plagued our cities? Things assuredly will get worse until, on a future occasion, the dispossessed, crazed and angry masses will erupt in violence and blood against any of us who own homes, cars, and property. Is it any wonder that the sales of firearms has risen to staggering levels in recent years? Everywhere, wise and intuitive citizens are preparing.
I believe it is a good idea to buy guns for protection of our families and ourselves. It is also wise to put aside some canned and dry food in the event of societal breakdowns and chaos. The "survival seed vault" we offer this month will be valuable if we are forced to grow our own food.
But more than anything we must prepare ourselves mentally and spiritually for potentially hard times. Even were the entire world to break down and slide into darkness, always remember, God is still on the throne in Heaven. He Knows how to sustain His own. Trust in Him and you will never fail.