blood covenant feast of the beast the destroyer holy serpent of the jews dna science and the jewish bloodline
Exclusive Intelligence Examiner Report
---
---
"We have made a covenant with death, and with hell are we at agreement."
"A grievous vision is declared unto me..."
"Watchman, what of the night?" This is the momentous question God has put on my heart now for over fifty years. As a young man rising up in the first years of post World War II through the Communist Menace era of the 50s and 60s to today, I have witnessed the ultimate in evil. I saw the worst of ruthless Communism as millions perished in Soviet-built gulags, and I looked on the tragedy of death loosed by the Zionists in the Middle East, as Israel was set up.
British author, William Butler Yeats, composed the chilling prophetic poem, The Second Coming

In 1919, William Butler Yeats, the famous British poet, wrote of the mysterious, yet certain, deadly coming of the Beast of Prophecy. In his epic tale, The Second Coming, he pondered, "What rough beast, its hour come round at last, slouches toward Bethlehem to be born?"
The World is Programmed for War
Today, in 2018, in this, the beginning stages of the 21st century, watchmen appointed by God continue to ask this question. They view this glittery, high energy world with its rising stock markets, its megamansions, its billions of bitcoins and untold tons of gold and rich material goods and know that it cannot last. Our great wealth cannot continue. The world is not programmed for peace, but for war. Men's hearts may long for peace, but their passions hunger for control, for even more riches, for bloody war. As it has been for thousands of years, it shall be again. Humankind is at the very cusp of all-out, crushing war and utter devastation.
"Watchman, what of the night?" God still asks his appointed servants. Jesus himself warned that we must work now while there is time, for, he said, "Night cometh, when no man can work."
When Jesus Christ so cruelly died on the cross of Calvary, the Bible tells us that a great darkness descended upon the whole world. That darkness, however, lifted when Jesus victoriously rose from his tomb and Life for all of us became possible. But a touch of darkness remained and has now enveloped the whole world.
Jesus Brought a New Covenant
The Jews who demanded his death were not happy with the result. Jesus had brought with him a New Covenant. The Old Covenant vanished and passed away (Hebrews 8: 6-13), but the stubborn Jews resisted. They were angry that their Old Covenant now lay in tatters, replaced by the precious blood of Jesus.

This New Covenant, as written in the Bible, is prophetic. But the rabbis clung to their traditions. They decided that an entirely different scenario must be written, not by God, but by man. Thus, the Jews produced the Babylonian Talmud, a wicked prescription for ultimate Jewish global supremacy and Lordship.

The Talmud was soon followed by yet another tragic document from hell—the Kabbalah. With these two poisonous instruments of deception, the Talmud and the Kabbalah, the Jews intended to undo the very prophecies of God. Their goal was nothing less than to crown themselves Kings and to promote Satan himself to the global throne.

This is the ages old struggle, then—the prophetic Word of God versus the Satanic Babylonian Talmud and its demonically-inspired standby, the Kabbalah.

"From the Days of Spartacus..."

Modern world history reveals the playing out of these three forces. Sir Winston Churchill perfectly stated the situation when he wrote that, "From the days of Spartacus (codename of Adam Weishaupt, founder of the Illuminati, 1776) to those of Karl Marx and down to Trotsky, the worldwide conspiracy for the overthrow of civilization has been steadily growing."

Churchill was amazingly on target. Karl Marx and fellow Jews, Trotsky and Lenin, continued the Illuminati conspiracy. Russia became drenched with blood. Jews everywhere proudly hailed this stark brutality as a stunning success. Rabbi Harry Waton, in his authoritative book, A Program for All Jews, and Answer to All Anti-Semites, wrote:

"It is no accident that Judaism gave birth to Marxism... This was in perfect accord with the progress of Judaism and the Jews... The Communist soul is the soul of Judaism...the triumph of Communism was the triumph of Judaism."

Imagine: Communism has given us over 200 million tortured and dead. Solzhenitsyn reports that 66 million perished in the gulags of Soviet Communism. Over a billion are today imprisoned in Communist China. And remember, Rabbi Waton exulted proudly, "The Communist soul is the soul of Judaism."

Indeed, famous American rabbi Stephen Wise infamously bragged, "Communism is Jewish." Read the Talmud and Kabbalah and you'll be reading the horrible tale of Communism. Yes, Communism is the soul of Judaism!
George Soros, modern-day Father of Communism, promoter of American socialism, and mover behind Democrat Party radicalism.

Zionism and Communism are Still Alive

Today, Zionism and Communism are still alive, and present grave dangers to life and liberty. International Jew and billionaire George Soros is an open leader of Communism, and the Democrats are following his beck and call. Bernie Sanders, socialist Jew, and Jew Chuck Schumer, Senate leader, are just two of Soros' agents.

Meanwhile, President Donald Trump stays in office only because of the secret maneuvers of Zionists like frontman, Israeli Prime Minister Benjamin Netanyahu. Trump's daughter, Ivanka, is a converted Jew and Vice President Pence is a Zionist Christian and promoter of Israeli policies in America. Note, too, Trump and Netanyahu have "a secret plan" to defeat Islamic Iran, and Trump is the first President to recognize Jerusalem as Israel's capitol.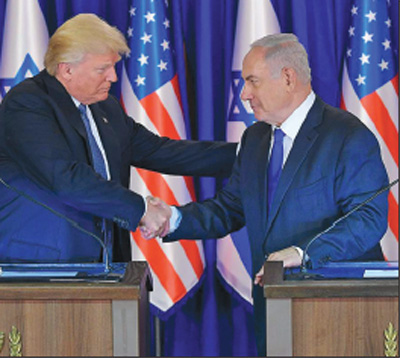 President Trump has teamed up with Israeli Prime Minister Netanyahu to further Zionism.

So, the two Jewish factions, Communism and Zionism, though differing in methods and personnel, are in control of Washington, D.C., the swamp notwithstanding.

But there exists a third, more important element in history—Bible prophecy. It reveals that neither Jewish faction will succeed.
Bible Prophecy Reveals Who the Victors Shall Be
Israel has long had a wicked covenant with the Devil and with hell. It's a blood covenant and Scripture dictates that Jews cannot avoid this destiny. They will carry out to the letter their Blood Covenant With Destiny. There will be no world rule by the Jews, and both their Talmud and Kabbalah will go down in failure.
"But the saints of the most High shall take the kingdom and possess the kingdom for ever, even for ever and ever."