---
Exclusive Intelligence Examiner Report
---
From the Tower of Babel to Sustainable Development
"Woe unto them that join house to house, that lay field to field, till there be no place, that they may be placed alone in the midst of the earth!... Of a truth many houses shall be desolate, even great and fair, without inhabitant."
"And they said, Go to, let us build us a city and a tower, whose top may reach unto heaven; and let us make us a name, lest we be scattered abroad upon the face of the whole earth. And the LORD came down to see the city and the tower, which the children of men builded. And the LORD said, Behold, the people is one, and they have all one language; and this they begin to do: and now nothing will be restrained from them, which they have imagined to do. Go to, let us go down, and there confound their language, that they may not understand one another's speech. So the LORD scattered them abroad from thence upon the face of all the earth: and they left off to build the city. Therefore is the name of it called Babel; because the LORD did there confound the language of all the earth:"
In Genesis 2 we learn the Lord planted a garden in Eden and placed man there. A river went out of Eden to water the garden. God commanded to Adam that he could eat of any tree in the garden but one.
Many critics of His Holy Word claim this is but a myth. They overlook the fact that in this simple teaching, God was revealing an important fact: Surrounded by trees, rivers, and living creatures, this is the perfect habitat for man.
Research has discovered that contact with nature is therapeutic. It has been documented that patients who can look out their window to trees, bodies of water, and animals recover faster than those who can only see walls and buildings. In the September 2003 issue of the American Journal of Public Health, researchers observed: "Many of the most effective settings for recovering from directed-attention fatigue involve the natural environment"—exposure to trees, waterfalls, lakes, flowers.
Prior to 1800, fewer than two percent of the world's population lived in cities. Today, more than eighty percent live crammed together. Experts have predicted that this trend will continue unabated.
Man Knows Best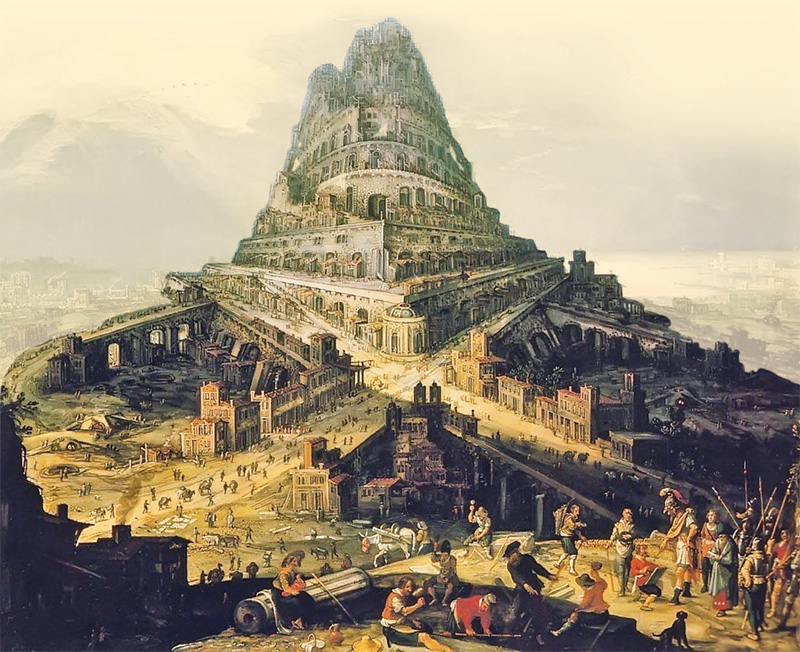 Man's original "Smart Growth"—the Tower of Babel.

After the flood, man began to build cities. The architecture in these ancient cities promoted human vanity. Lest we forget, man decided to build an enormous structure to reach the heavens.

Many of these cities were surrounded by large walls. These fortifications were meant to keep out the wild animals, as well as marauding bands of evildoers. But they also created unforeseen problems. Overcrowding, noise, and sanitation were but a few issues.

In the early 1990s the term "Smart Growth" became part of the vernacular of politicians and city planners. The theory was create a compact, walkable, bicycle-friendly center to avoid urban sprawl. There would be neighborhood schools, a wide range of housing options, and convenient shopping centers. The goal was to create a sense of community.

Unfortunately, these intellectuals did not contemplate the consequences of packing a large number of people among buildings and roadways. The cumbersome number of vehicles leading to traffic jams, shoulder-to-shoulder pedestrians crowding sidewalks, distractions such as billboards and other signage has led to mental fatigue which often-times erupts into violence.

How many times has man, in his vain attempt to reach god-like status, not considered negative reactions to his ideas? If these planners had followed biblical principles they would have recognized the need for adequate open space.

When the city became overcrowded, developers came up with another brilliant plan...suburbs! By creating communities in rural settings—but not too far from the city— they were able to alleviate some of the anger issues while making a fortune.

Sadly, those who could not afford to move to the "burbs" were left behind. Eventually decay crept in as businesses followed the masses with money to spend.
The UN outlined an idyllic agenda in 2015 they intend to implement on us by 2030—Agenda 2030. They make it sound so great. Why don't the elite set the example instead of jetting or sailing off to enclaves around the world?

NIMBY—Actions and Reactions

With blight ruling the day in urban areas, there are opportunists seeking to bring back the glory days. However, these brilliant ideas are not always in the best interest of those who were left behind in the mass exodus.

There are always projects that are not popular with the citizenry, but are necessary for the well-being of people. Whether these be waste water facilities, landfills, homeless shelters, wind turbines, etc., they must go somewhere.

Council meetings in which these projects are discussed can sometimes become confrontational and contentious. Eventually, as we all know, these projects are never placed in affluent neighborhoods. The moneyed crowd will surely scream, "Not in my backyard!" Colloquially, this phrase is known as NIMBY.

These people believe that any project affecting the local people should clearly benefit themselves. Nimbys tend to be homeowners and have often been described as acting to keep their home prices high. Research has shown that conservatives and liberals are equally likely to oppose new housing developments in their localities.
Agenda 2030
Seventeen goals were adopted by all United Nations member states in 2015. This was part of the 2030 Agenda for Sustainable Development. According to the UN, these goals are a call to action to end poverty, protect the planet, and improve the lives of everyone.
To accomplish this agenda, the UN has targeted local action which will embed needed transitions in policies, budgets, institutions and regulatory frameworks of governments, cities and local authorities. Unbeknownst to many, the framework for this part of the plan has been taking place behind the closed doors of local politicians and planners.
Likewise, academia has been aiding and abetting an agenda to bring Agenda 2030 to fruition. Through the propagandizing of our youth, controlled media, unions, academia and others, the UN seeks to generate an unstoppable movement pushing for the required transformations.
In essence, the planners of the UN's Agenda 2030 wish to create a massive migration back into city centers. They envision dwellings stacked upon each other reaching towards the heavens. This will enable "Mother Earth" to reclaim the majority of the land and thus prevent climate change.
Unsustainable Development vs. Biblical Truth
With unchecked crime and pollution—noise, light and smog—this unhealthy option will begin to fall on deaf ears. These misguided people do not understand the biblical teachings of God. They are consumed by an unhealthy desire to control the masses.
As Jesus taught us:
"Then said Jesus unto them again, Verily, verily, I say unto you, I am the door of the sheep. All that ever came before me are thieves and robbers:... I am the door: by me if any man enter in, he shall be saved, and shall go in and out, and find pasture. The thief cometh not, but for to steal, and to kill, and to destroy: I am come that they might have life, and that they might have it more abundantly" (John 10: 7-10).
As Christians, we are not only commanded to spread the gospel of Jesus Christ, but "to make ready a people prepared for the Lord" (Luke 1:17). We must do everything in our power to expose this evil agenda and awaken those who slumber.