codex magica mysterious monuments conspiracy of six pointed star
Exclusive Intelligence Examiner Report
---
---
"Humanity has for decades undergone a dramatic Tranceformation—We have been hypnotized and are in a trance state. It is essential that we awaken and live as Free men and women."
Have you ever, even for a moment, questioned your reality, your existence? Do you sometimes feel you are in a trance-like state? Have you ever considered that humanity is being what Michael Hoffman refers to as "processed," that is, undergoing a dramatic tranceformation and that most are in some sort of hypnotic trance, like the characters of Alice in Wonderland?
Is humanity being subtly—no, not subtly, but openly and rapidly!—changed? Do you sometimes want to go back—to return to the 50s, 60s, or even the 70s, before the days of sex books and movies like "50 Shades of Gray," before we had HD TVs and iPhones? Do you long to return to, say, simpler and gentler times?
You Are Not Alone
You are not alone! The Ministry often receives letters from friends asking, "Has the world gone mad?" or "Are we in a Twilight Zone?"
The answer is...Yes! And the world has gone mad by purpose, by craft, and design on the part of some very evil and cunning "change artists." People who hate and despise traditional America, who loathe Christianity and wish to blot it off the planet.
I refer to the Jews, and to their fellow travelers. Not all the Jews, but most. Humanity is being processed by Jews in high places. Want some names? I've got plenty, but first, I'd like to point to six things, or six revolutionary areas, these wicked Jewish criminals are involved in which have already produced horrific and negative results.
Sex
Politicians
War
Machines
God
Exaltation of Jews
We will cover the first of these cultural pillars of domination in this newsletter edition. In succeeding months, in this newsletter and in my radio programs, we will examine the others. I will explain exactly how the six areas of revolutionary activity are coming together to destroy America, ruin constitutional free government, and establish the Jews as their own Messiah in a Goy-killing, global-wide Utopia.
The mad world in which we live has, on the whole, been entirely created by these wicked gangsters and their immoral Jewish mindset. We live in a counterfeit world of theater, of glitter, plastic, and of make believe and pretense. We all, at one level or another, have fallen into a hypnotic spell, a trance, and humanity is fast being radically changed. All things are shaken. Corruption has entered the front door, and will it ever leave? This is the TranceFormation of Humanity.
Students party it up during spring vacation. Is this the babylonish TranceFormation of Humanity?
Sex: Predominant Theme in the Jewish Talmud
Since the early 60s, there has been a TranceFormation in people's sexual lives and thoughts. The Jewish Talmud, though unknown to most, has come alive with all its sexual barbarism and vulgarity. In these 50+ years, we have seen the incredible growth of pornography, xxx-rated movies, homosexuality, transgenders, cross-dressers, tantra ritual, incest, bestiality, use of the F-word, sex among singles, end of the traditional family, swinging, sugar daddies, cougars, abortion, sexual magic, wicked music, illegal drugs, sex in advertising, promiscuousness, infidelity, vulgar language, obscenity, and pedophilia.
Women are increasingly treated and act as sluts and whores. Pictures and images of bondage and gang-rape abound. The feminist ideology, a mostly Jewish conception, promotes sex-violence and slut imagery, and glorifies the vilest of language and conduct.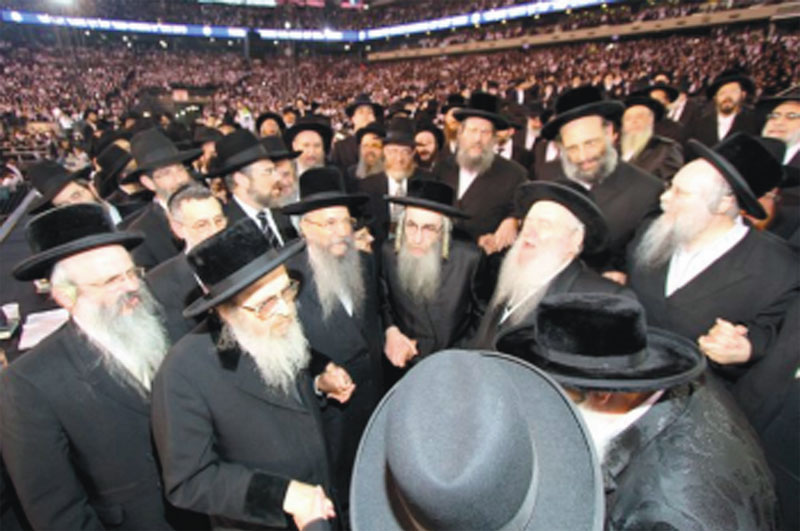 90,000 Jews met in 2012 in a New Jersey auditorium and pledged to read their Talmud daily. The Talmud is the doctrinal source for Judaism. Its sex doctrines tell Jews that pedophile sex with a boy up to 9 years of age and a girl under 3 years old is OK, because it is really not intercourse. Pedophilia is rampant among Jews, especially rabbis.
The Jewish Roots of Sexual Psychopathy
Few realize the Jewish roots of sexual psychopathies. Yes, for decades we have had CIA operatives like arch-feminist Gloria Steinem. But the roots of sexual depravity go back to France's Marquis d'Sade, who wrote:
"Women, who are nothing but machines designed for voluptuousness... ought to be nothing but the targets of lust."
Margaret Sanger, feminist pioneer and Jewish founder of Planned Parenthood, the abortion mill, was one who advanced the sexual agenda of America. She tried all kinds of sexual experimentation, in and out of marriage. Her work was financed by Chicago's Julius Rosenwald (Jewish) fund and by other Jews.
In a piercing essay of Sanger's perverted sexual views and practice, scholarly writer Jonas E. Alexis notes that she was illuminated "by the ideas of Rosseau, Lenin, and others." She wrote:
We must teach men the overwhelming power of this radiant (act)... Through sex, mankind may attain the great illumination which will transform the world, which will light up the only path to an earthly paradise.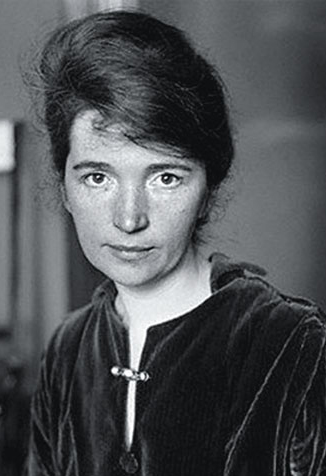 Margaret Sanger said that, "Through sex, mankind may attain the great illumination."

About children, Alexis records Sanger, the great advocate of abortion and heroine of today's Planned Parenthood, as remarking: "The most merciful thing a large family can do to one of its members is to kill it."

Jewish leaders and their Gentile associates have learned Sanger's principles well. They now produce innumerable porno films, smut magazines and books, and enthusiastically practice sex trafficking and prostitution. The Jews have taught America to lead the world in such profitable endeavors. Sexual freedom is today's cry, even as more and more men and women—and children—are unspeakably abused by sexual monsters.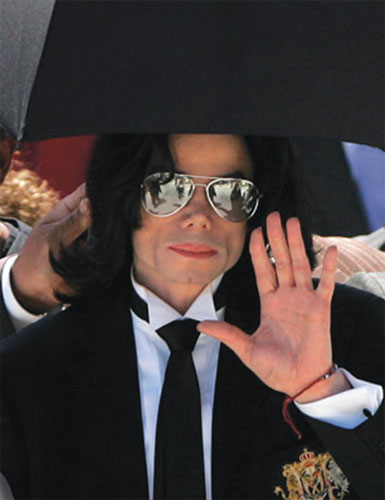 Black entertainer Michael Jackson wears Kabbalah red wrist band. Controlled by Jews, Jackson published a song that had words like "leeches," "Kike me," and "Jew Me!"

Israel Practices TranceFormation Tactics

The importance of this sexual perversity—and its ability to strike and place human victims in bondage and trance, was demonstrated by Israel in 2011. After shelling, bombing, and razing Palestinian homes and shops, the Israeli Jews took over the Palestinians' TV station. For weeks on end, 24/7 nonstop, the Jews played nothing but hard core porn xxx-rated films depicting sexual acts. This was their way of placing the Palestinians squarely in the vise of psychological bondage. (So much for Israel as a pious, god-fearing, Judaic nation.)

Jewish music moguls are also working to bring sexual degeneracy. They are responsible for the Jesus-denying, drug-ridden Beatles, the satanic Rolling Stones; and for sexual heart-throb Michael Jackson, a slave of the Jews who gathered around him and controlled him. Jackson once did a song entitled, Jew Me! to indicate his anger over their dominance of his music.
Jewish Sexuality Conquers American Docility
Christian author Jonas E. Alexis quotes a Jewish authority, Kenneth Aaron Kanter (Jews on Tin Pan Alley: The Jewish Contribution to American Popular Music), on the dominance of Jews in music and of its impact on sexual morés as follows:
"Jews wrote the songs. Jews sang the songs, and Jews made sure that the songs were circulated to every corner of the country, for they founded and built America's publishing industry."
Music and its deep sexual content were not the only things influenced by the Jews. Alexis points out that the "spirit of moral docility" by Christians and other Americans, "morphed into something radical, proving once again that Talmudic worldviews have personal and cultural implications."
Murray Friedman, in his book, The Neoconservative Revolution: Jewish Intellectuals and the Shaping of Public Policy (2005), writes of the Jewish "Golden Age"—their takeover of America, and thus world culture, in the 20th Century:
"The impact of Jews extends far beyond high culture. They taught Americans to dance (Arthur Murray), how to behave (Dear Abby and Ann Landers), how to dress (Ralph Lauren), what to read (Irving House, Alfred Kazin and Trilling), and what to sing (Irving Berlin, Barry Manilow, Barbra Streisand),... It is not exaggeration to suggest that during the 'Golden Age,' Jews, for better or worse, came to play a crucial role in defining America for other Americans."
Who Controls American Culture?
But, ask yourself: Who gave Arthur Murray his TV career?; who installed Dear Abby and Ann Landers in thousands of daily newspapers?; who sponsored the likes of fashion guru Ralph Lauren; and brought entertainment stars Irving Berlin, Barry Manilow, and Barbra Streisand to prominence? You know the answer: It is the Talmudic Jews who ran then and run today's America's entertainment industry and dictate what TV shows, movies, and books we shall see.
It is also the Jews who ruthlessly suppress the 98 percent of Americans who would, if only they had an opportunity, compete with the dominant Jewish stars and Jewish authors.
Haven't you ever wondered why Jewish authors (Stephen King; Herman Wouk) "own" The New York Times bestselling list? Or why virtually every top-name comedian (Jimmy Kimmel, Steve Martin, Rodney Dangerfield, Ben Stiller, et al) is a Jew?
Every major Hollywood film studio is run by a Jew. No one succeeds as a movie star or director unless she or he is Jew-connected. Every movie, every Broadway production, is an echo of the Jewish message. It all flows like oily propaganda into one's head, putting the naïve and gullible into an inescapable trance state.
CNN's Wolf Blitzer's parents were Polish Jews. Blitzer worked in Jerusaleum for Jewish publications and was editor of a magazine for AIPAC, the most powerful Jewish lobby.

TV Under Iron Grip of Jews

Jewish control of TV is especially acute. NBC, CBS, ABC, and FOX spin forth sitcoms with homosexual and sex themes and spout out exclusively Jewish and Israeli propaganda 24/7. On news programs, only when Moslems are to be bashed do we hear their spokesmen come on, to be fodder for Zionists like Fox's Bill O'Reilly and CNN's Wolf Blitzer (formerly a Jewish ADL operative). And of course, Jews like Barbara Walters, who admits to sexual affairs with black politicians, and Jews Katie Couric and Matt Lauer dominate the airwaves. No wonder the sexual message we constantly hear is a carbon copy of the perverted cabalist and talmudic filth.
Can We Break Free?
Today, we do not need more "sexual liberation." What we urgently need is "Jewish liberation"—We need to be set free from the immorality of the Jewish Talmud. We can break free, but it will take the power of the Holy Spirit within us to do so. All things are possible for those who are born again in Spirit and in Truth. Awaken, then, from the trance that has so many in its grip. Reach out and live, for, "there is liberty in Christ Jesus."
Keep up to date with Texe on
---
Click to view excerpts from Texe's latest blockbuster documentary Die, America, Die!, then order your copy today!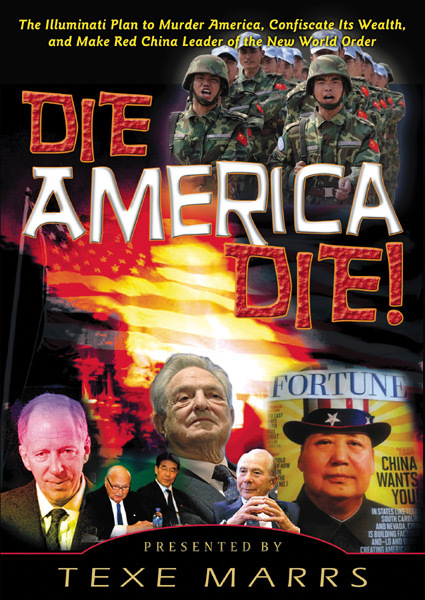 ---
Power of Prophecy proudly offers the following best-selling books. Order your copy today!
---
---
---
---
---
---
---
---
---
---
Power of Prophecy proudly offers this best-selling video. Order your copy today!
---
New World Order Bible Versions

96 Minutes ~ $20.00
---
Die, America, Die!

80 Minutes ~ $25.00
---
Rothchsild's Choice

90 Minutes ~ $25.00
---
Cauldron of Abaddon

60 Minutes ~ $25.00
---
Power of Prophecy proudly offers this best-selling audio. Order your copy today!
---
Zionist Puppets for President

60 Minutes ~ $10.00
---
Truth and LIes

60 Minutes ~ $10.00
---
Israel Is Not a Jewish State

60 Minutes ~ $10.00
---
Churches & Pastors Gone Wild (Vol 8)

60 Minutes ~ $10.00
---
Obama Obeys the Protocols of Zion

60 Minutes ~ $10.00
---
We Shall Be Our Own Messiah

60 Minutes ~ $10.00
---
The Jehovah's Witnesses and the Synagogue of Satan

60 Minutes ~ $10.00
---
The Ethnic Cleansing of America

60 Minutes ~ $10.00
---
Remorseless Killers of Zion

60 Minutes ~ $10.00
---
Destabilization of the United States

60 Minutes ~ $10.00
---
The Called, The Chosen, The Faithful

180 Minutes ~ $20.00
---

We are so very thankful to those of you who give to Power of Prophecy. You are a valued member of our end-time crusade for Truth and Righteousness on behalf of our Savior Jesus Christ. Click here for more info!
---