Exclusive Intelligence Examiner Report
---
---
Pro-Zionists in League With Satan
"We have made a covenant with death, and with hell are we at agreement."
Is the old adage "a leopard can't change his spots" true? Are people destined to follow in the footsteps of their parents or societal influences? Can people change and overcome whatever obstacles lay in their path?
Obviously, if one accepts Jesus Christ into their heart, change can happen immediately. Jesus told us, "My yoke is easy, and my burden is light." Isn't this one of the most heart-warming statements you've ever heard? A huge weight will be removed, because in Him our souls shall find rest.
But what of those who reject or deny Him? Obviously, the most famous of those who rejected Jesus are those who vehemently yelled, "Crucify Him! Crucify Him!" The stain of His blood, along with that of all the prophets and martyrs, has become a badge of honor, and the vitriol in their Babylonian Talmud concerning Jesus is horrendous.
You will discover in the pages of Texe Marrs' new book, Blood Covenant with Destiny, the astonishing word of prophetic Truth regarding Israel, the Jews, and Judaism. Click Here to Order Your Copy Now!

A Covenant With Death

The prophet Isaiah warned the men who ruled Jerusalem, "Ye have said, we have made a covenant with death, and with hell are we at agreement" (Isaiah 28:14-15). How angry were these psychopathic rulers that Isaiah had exposed their evil works and confronted them with truth? They were angry enough that when Isaiah was captured his body was sawed in half.

It seems that today's church leaders have bought into the Zionist agenda wholeheartedly. There is a steady reminder that if you bless Israel, you will be blessed. Also, if you curse Israel you will be cursed. Truth is not a defense with these people.
Catholics Join the Covenant With Death
Pope John Paul II, a crypto-Jew, issued an encyclical announcing a new doctrine in the Catholic Church stating that the Jews long wait for the Messiah "will not be in vain." This pronouncement assured rabbis that the Catholic Church would no longer require Jews to convert and believe in Jesus.
Pope John Paul II praised the Jews as our "elder brothers in the faith of Abraham." Pope Francis recently reaffirmed the church's stance during a visit to Rome's main synagogue.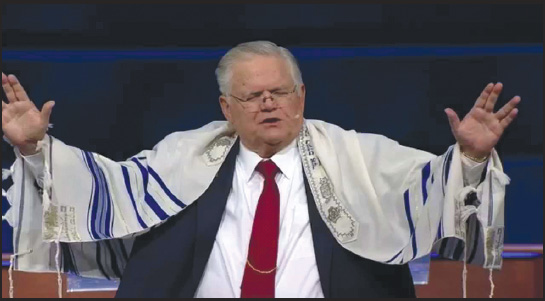 Hagee claims that in his book, In Defense of Israel, he proves that Jesus did not come to earth to be the Messiah.

Pro-Zionist Churches Join the Covenant With Death

John Hagee, pastor of Cornerstone Church in San Antonio, Texas, wrote a book entitled, In Defense of Israel. In this book, Hagee claims that he "scripturally proves that Jesus did not come to earth to be the Messiah."

For these blasphemies, surely these men have condemned themselves to hell. They, too, have made a blood covenant with destiny.
The Heresy of Judeo-Christianity
What has caused this digression? Was it the Judeo-Christian mantra that began its journey through America in the mid-19th century? Has the infiltration of pro-Zionists in our seminaries exacerbated this false narrative?
Texe Marrs revealed the incompatibility of Judaism and Christianity in his explosive exposé, The Evangelical Heresy of "Judeo-Christianity." As is noted, Judaism has "possibly the most repugnant mixture of deities." Pastor Marrs also notes, "Christianity is true, Judaism is satanic."
Those who follow, truly follow, the whole counsel of God know Christ came as the New Covenant, replacing the Old. This is explained in Hebrews 8:6-13.
You Must Bless, Lest You Be Cursed
Those who claim that to curse Israel will cause a curse to befall the offender have not studied Galatians 3:26-29. The blessing is to be upon Abraham's seed, those who believe on Christ, not the physical seed.
If pro-Zionist pastors and clergy had studied Matthew 23:29-38, they would have preached a sermon on this topic:
"Woe unto you, scribes and Pharisees, hypocrites! because ye build the tombs of the prophets, and garnish the sepulchres of the righteous, And say, If we had been in the days of our fathers, we would not have been partakers with them in the blood of the prophets. Wherefore ye be witnesses unto yourselves, that ye are the children of them which killed the prophets... Ye serpents, ye generation of vipers, how can ye escape the damnation of hell? Wherefore, behold, I send unto you prophets, and wise men, and scribes: and some of them ye shall kill and crucify; and some of them shall ye scourge in your synagogues, and persecute them from city to city: That upon you may come all the righteous blood shed upon the earth, from the blood of righteous Abel unto the blood of Zacharias son of Barachias, whom ye slew between the temple and the altar... All these things shall come upon this generation. O Jerusalem, Jerusalem, thou that killest the prophets, and stonest them which are sent unto thee... Behold, your house is left unto you desolate."
How many pastors do you know who speak the truth about the Jews and Israel? They never tell of the fate of the prophet Isaiah being sawed in half. They do not speak of the parable of the Landowner and the Husbandmen. Moreover, there is a continual financial drive to help rebuild the temple in Jerusalem. Pro-Zionist leaders will never confess that this is in opposition to Jesus' words. They must not understand what desolate means.
Christians are mistakenly taught, 'we must bless Israel, lest we be cursed.' We must bless the Jews with rewards and blessings in spite of the Jews' stubborn refusal to turn to Jesus and their egregious love of material riches.
One Hundred Gates to Hell
In the early 19th century, Rothschild founded Meah Shearim, the first Ashkenazi Orthodox Jewish settlement in Jerusalem. Meah Shearim means "a hundred gates." Could this name signify the effort to bring into the Judaic fold one hundred gentile world religions, each entering from a different gate? Will the followers who join become servants and subordinates to their Jewish masters?
The lukewarm, pro-Zionist believers who are being led will be first on line headed straight to the pit of hell, in lock-step right alongside their Talmudic brethren. They are following their leader, Satan.
The Lord is My Helper
Obviously, true and sincere Christians are not welcome in the Judeo-Christian religion. Jesus warned his faithful of things to come:
"Yea, the time cometh, that whosoever killeth you will think that he doeth God service. And these things will they do unto you, because they have not known the Father, nor me."
Believe on Christ Jesus, for He is the Way, the Truth, and the Life. Paul told us to be content with what we have, for Jesus will never leave you:
"Be content with such things as ye have: for he hath said, I will never leave thee, nor forsake thee. So that we may boldly say, The Lord is my helper, and I will not fear what man shall do unto me. Remember them which have the rule over you, who have spoken unto you the word of God: whose faith follow, considering the end of their conversation. Jesus Christ the same yesterday, and to day, and for ever."
| | |
| --- | --- |
| — | Hebrews 13:5-8 |