---
Exclusive Intelligence Examiner Report
---
---
Innocent and Malleable...
"For they that are after the flesh do mind the things of the flesh; but they that are after the Spirit the things of the Spirit. For to be carnally minded is death; but to be spiritually minded is life and peace. Because the carnal mind is enmity against God: for it is not subject to the law of God, neither indeed can be. So then they that are in the flesh cannot please God."
God-fearing men and women have been pitted against Satan and his minions since time immemorial. That old serpent, Satan, tempted Eve in the Garden of Eden, and he won't stop until our Lord and Saviour, Jesus Christ, returns.
In recent decades, Satan has successfully launched a vicious campaign against our children. The killing of babies was legalized with the Roe v. Wade Supreme Court decision. Over fifty percent of black babies are killed every year. Last year abortion was the leading cause of death in America. Over sixty million babies have been butchered since the 1973 decision was reached. But this is just one phase of Satan's grand plan.
When the United States Supreme Court decided to recognize homosexual marriage as a right in 2015, the floodgates of hell were opened completely. Though comprising less than five percent of the total population in America, the homosexual agenda has been forced down our throats.
Youth Are Easily Manipulated
The indoctrination of our youth is almost complete. With multiple television programs showcasing at least one homosexual couple, our public schools teaching a perverse agenda in its sexual education curricula, and the amount of pornographic smut that is a click away on the internet it should come as no surprise that Christian church attendance has plummeted while witchcraft and occultism have skyrocketed. Sixty-three percent of Americans now claim that homosexual relations are morally acceptable!
However, the bulk of the blame should not befall on our corrupt court system, or the utter lack of morality on network television. The majority of this blame lands squarely on the shoulders of parents.
A Satanic Plan Beckons
In 1994, then First-lady Hillary Clinton published a book—ghostwritten by Barbara Feinman—entitled It Takes a Village: And Other Lessons Children Teach Us. This New Age mindset took the country by storm. In it, the book explains that society shares a responsibility in raising children. Each member contributes life lessons to the young and impressionable.
Moreover, it promotes many socialist ideals such as gun control, minimum wage increases, universal health care, and many other government-driven social causes. This drivel spent eighteen weeks on the New York Times Best Seller List, and Ms. Clinton won a Grammy Award for Best Spoken Word Album.
The late Texe Marrs warned of this satanic plan to destroy our families and our country in 1991. Texe wrote:
"Parents who protest are labeled 'ignorant fundamentalists'—and deemed troublemakers. They're pointedly told, 'It's none of your business,' by angry teacher groups such as The National Education Association, and even by local PTA groups. Rejected parents crawl into their shells. Hurt. Confused. Perplexed. Saddened. There's nothing we can do, they conclude. Nothing" (America Shattered, RiverCrest Publishing).
Who's In Charge Now?
Unfortunately, parenting has become a lost art. I have spoken with many parents who claim they want to be their child's best friend. This may sound like a sensible way to raise a child, but upon further consideration, where will this child learn discipline and responsibility? We are instructed through God's Holy Word:

"Apply thine heart unto instruction, and thine ears to the words of knowledge. Withhold not correction from the child: for if thou beatest him with the rod, he shall not die. Thou shalt beat him with the rod, and shalt deliver his soul from hell."

This does not mean that you physically abuse your child, but a spanking now and then will assuredly teach a valuable lesson. Unfortunately, in today's society the spanking of a child is seen as a form of abuse and the children have been taught by the village they should call Child Protective Services (CPS). Some children who have been grounded from their devices—whether it be a tablet, gaming console, or phone—have been known to call CPS.

Corporal punishment has been totally removed from public schools. Teachers are no longer allowed to perform any form of discipline in their classroom either. So-called experts claim that punishment in front of their peers will damage the psyche of the child, doing irreparable harm. This has led to more and more physical assaults on teachers. With the "inmates now run the asylum" mentality permeating public schools today, there is a growing teacher shortage.
Undermining Family Values
The first objective to conquering America is to subvert and transform the family unit. The once-hardy Christian family, instilled with strength derived from God's Word, has been under vicious attack. With lukewarm pastors teaching that one should strive for their "best life now" or a prosperity gospel coveting material riches from the pulpit, the prophecy taught by the Apostle Paul of a coming strong delusion is in full affect. Paul also taught there would be a "falling away" from the Truth.
Paul warned us that in the latter days there will be "false apostles, deceitful workers, transforming themselves into the apostles of Christ. And no marvel; for Satan himself is transformed into an angel of light. Therefore it is no great thing if his ministers also be transformed as the ministers of righteousness; whose end shall be according to their works" (II Corinthians 11:13-15). This would explain how the devil has utilized human leaders to serve his evil work and is deceiving many.
Most people today are defenseless. God does not reside in their hearts. They are all-consumed by chasing after material things. Today's fast-paced world has their undivided attention, and has replaced the desire to come closer to God.
Mind-control Is Reaching Warp-Speed
Instead of instructing our children in the ways of our Lord, parents now plant them in front of the television or place a smart-phone or tablet in their hands as infants. This has become today's babysitter. Can you count the number of times on one hand where you have gone out to dinner and not seen a child all-consumed by an electronic device?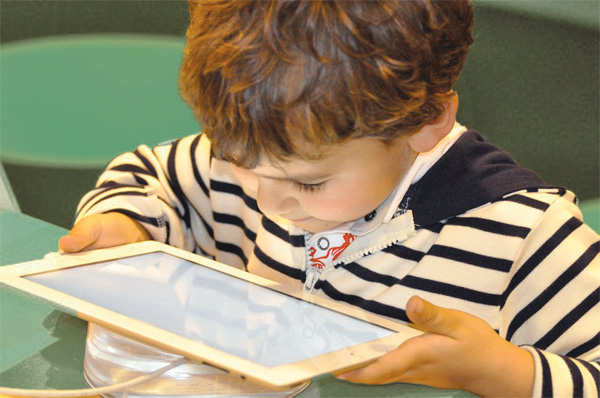 Parents now rely on electronic babysitters.

Ninety percent of America's teens use social media platforms, either on their computer or device. The explosion of this technology has led to a decline in verbal human interaction with most teens preferring to text or email. Mental disorders have been exacerbated with the constant use of social media. Teens who use social media as a form of interaction have also had to deal with cyberbullies or have themselves become what is colloquially known as a "keyboard gangster." Depression and anxiety among adolescents has risen to alarming numbers.

The constant programming by Satan and his minions, bombarding our young, along with the number of mind-altering drugs prescribed to our youth to calm them down, will help explain the dire situation at hand. Once you include the affects of mind-control curricula—same sex marriage, transgenderism, climate change, mother earth worship—that has been introduced in the public school system the picture becomes complete.
Shine Heavenly Light to Destroy Darkness
There is a deep sense of foreboding that discerning Christians feel today. All around us are men, women, and children who are prisoners in some kind of strange and eerie dimension. This attack is comprehensive and seems to be coming from all directions.
We must fight against the growing darkness and shed heavenly light on this plot to undermine and destroy the family. Our children are the most vulnerable. The Apostle Paul wrote in Ephesians 6:1-4: "Children, obey your parents in the Lord: for this is right. Honour thy father and mother; which is the first commandment with promise; That it may be well with thee, and thou mayest live long on the earth. And, ye fathers, provoke not your children to wrath: but bring them up in the nurture and admonition of the Lord." It does not take a village to raise a child, but instead, it takes a parent steeped in God's Holy Word.