feast of the beast the destroyer holy serpent of the jews dna science and the jewish bloodline
Exclusive Intelligence Examiner Report
---
---
"A lie told often enough becomes the truth."
Truth is a tough commodity to come by. It is always in short supply. Solzhenitsyn, the great Russian writer and historian, stated, "One word of truth outweighs the world." George Orwell, the British writer and philosopher who gave us the classic dystopian novel, 1984, once said, "Telling the truth is a revolutionary act." Indeed it is, and that, perhaps, is why Jesus Christ promised his followers, "Ye shall know the truth, and the truth shall make you free" (John 8:32).
Truth is so very powerful that the fallen world is desperate to hide it. America spends a staggering two trillion dollars per year on 17 different intelligence agencies, each expert at lying to the people. They work diligently to keep the truth from us. And they seemingly are doing a good job.
Some believe Russia's Putin is so powerful he pulls President Trump's strings all the way from Moscow.

Governments amass power mainly by spreading disinformation and untruths. Machiavelli suggested that leaders acquire power by their uncanny ability to tell good lies. Vladimir Lenin, an unusually good liar who brought Communism and mass murder to the world in Soviet Russia, wryly noted, "A lie told often enough becomes the truth."

That implies, of course, a vicious circle in which the governing powers expertly and craftily tell more and more lies, all of which become the "truth." And, as Hitler sagely observed in his Mein Kampf, "The bigger the lie, the more the people are likely to believe it."
A Massive Body of Lies
In America today we, the people, are continuously bombarded by our government with a massive body of lies, and the biggest ones are the ones believed in. For example, we believe that 19 incompetent Arabs, led by a madman thousands of miles away in a cave dwelling, perpetrated 9/11. We also are convinced that a lone nut gunman, Lee Harvey Oswald, acted alone in assassinating President John F. Kennedy. We even believe that a few men carried out a technologically impossible feat far back in 1969 by landing on the moon and triumphantly returning safe and sound.
About half the people today are now convinced that Donald Trump colluded with Russia to defeat poor Hillary Clinton and win the presidency. These people are quite sure that Mr. Putin, a supposed cyber giant and acclaimed, incredible manipulator, hacked the election and now controls the White House, confidently pulling puppet Trump's strings all the way from Moscow.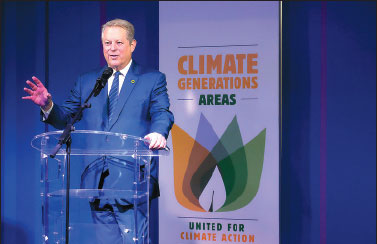 Al Gore says that Climate Change is what caused the exit of Britain from the European Community.

Then we have Al Gore and thousands like him. Al Gore says that global warming, or Climate Change, is what caused the Iraq war and the exit of Britain from the European Community. Climate Change also is said to have caused Trump's election, and if not heeded, will soon flood our coastlines under huge waves of oceans. "Watch out, Chicken Little!"
FBI Director Comey and NSA Director Rogers Lie
Recently, I could scarcely believe my eyes to see FBI Director Comey and NSA Director Rogers sit before Congress and lie, lie, lie. No, they said, Trump's presidential campaign was not surveilled. Obama would never have done that, they assured the Congressmen. Why, we have safeguards to protect every American from obtrusive government wiretapping and surveillance.
Then, my unbelief was stretched farther when Donna Brazile, the woman who headed up Hillary's campaign, protested that, when at CNN, she never gave Hillary the debate questions in advance. "I am a Christian woman," protested Brazile. When her intrepid interviewer kept bantering her with questions, the lesbian Ms. Brazile resorted to the inevitable race card. "I am a black woman and I refuse to be crucified," lamented the politician.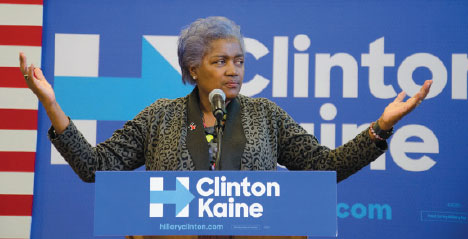 "Yes, I lied," says Clinton official, lesbian Donna Brazile, "but Russia made me do it."

Of course, some months later, confronted by insurmountable evidence that she had, indeed, lied, Brazile finally admitted she had secretly shared the debate questions with her boss, Ms. Clinton, but added, "Russia made me do it."

Yes, Russia today is conveniently being blamed for a lot of lies.
Good War or Bad War?
We are so often told that the Second World War was "The Good War" that my friend, Mike King, published an outstanding, true, history book entitled The Bad War about World War II. Amazon censored the book, putting it on their banned list. King revealed too many truths in his book, and that cannot be permitted.
That is why the great industrialist, Henry Ford, once exclaimed, "History is Bunk!" Most religion is bunk, too. Take my latest book, Holy Serpent of the Jews. My purpose in writing this meticulously detailed volume was to let you, the reader, know the absolute truth about the pharisaic religion known the world over as "Judaism." To accomplish this feat, I sought out the world's most authoritative rabbis, including the famous Vilna of Gaon and today's most popular rabbi, Yitzchak Ginsburgh, whom millions in Israel honor and revere as the ultimate, modern voice of Judaism.
These rabbis were all consulted and accurately quoted. Rabbi Ginsburgh, for example, I quoted as explaining to the Jews the identity of their coming Messiah (or Mashiach). Rabbi Ginsburgh revealed to his fellow Jews: "The Messiah is the holy snake."
Did Rabbi Yitzchak Ginsburgh tell the truth when he revealed that the Jewish Messiah is the "holy snake?"

Rabbi Yitzchak Ginsburgh's revelation is the same that the other top rabbis quoted in my book give. The Messiah of the Jews is none other than the holy snake, or serpent, whom they call "Leviathan."

So, I told the truth in my book, Holy Serpent of the Jews. But the Jews who run Amazon obviously didn't want me to tell readers who their Messiah is. They sent me a letter informing me that my book violated their "content guidelines." (They gave me no clues as to what these so-called "content guidelines" are.)
Whisked Down the Memory Hole
My book, said the censors, had abruptly been removed from the Amazon list. The title has been whisked right down the Orwellian "memory hole" and would, henceforth, not be available to be purchased across the globe.
Unable to handle the truth, Amazon CEO Jeff Bezos banned Texe Marrs' new book, Holy Serpent of the Jews.

To the Jews, truth is not a defense. They much prefer lies. Israel today is a nation of extraordinary liars. They tell insane lies, and Israel has subsequently become a wasteland of untruths.

Sir Winston Churchill was another of these "extraordinary liars." Churchill said of his many World War II lies, "The truth must be surrounded by a bodyguard of lies." If the truth were to be discovered, Churchill explained, all hell would break out.

Hmm. I don't think so. Instead, if we were all to discover the truth, and we discarded the bodyguard of lies that so often surround it, I think we might actually receive a splendid view of heaven.

That, dear friends, is an excellent definition of heaven: the truth! One's heart and soul quickens at this idea. Heaven is the truth. That must be why our Lord and Saviour positively stated, I am the way, the truth, and the life: no man cometh unto the Father, but by me.
"What is Truth?"
Poor, pitiful Pontius Pilate. Fed a multitude of lies due to his Greco-Roman philosophical training, and buttressed by the lies of the Pharisees who sought Jesus' death, a frustrated Pilate questioned the bound and beaten Jesus, "What is truth?"
And Jesus, emboldened by the Father, stood there, mute. He answered not, for he knew both the truth and the future.
Likewise, the vast majority today survey the world around us and wonderingly ask, "What is truth?"
It is our mission to answer them, even though they laugh, ridicule and reject what we say.