---
Exclusive Intelligence Examiner Report
---
---
Woven amongst the tapestry of truth is evil deception...
Many times, we here at the ministry have fielded the question, "What is Zionism?" Zionism is defined as "a movement for the development and protection of a Jewish nation in what is now called Israel." However, this movement is much more than this brief definition.
Theodor Herzl, often credited as the father of Zionism, established this movement as a political organization in the late 1800s at the First Zionist Congress. Many have claimed that the Protocols of the Learned Elders of Zion emanated from this meeting. It has been said that these protocols were Herzl's "blueprint" to a Zionist Utopia.
Who was the benefactor of Cyrus Scofield—a former politician, lawyer and alleged shyster—that supported this Zionist invasion of the Christian church? According to Joseph M. Canfield, author of the explosive exposé, The Incredible Scofield and His Bible, it was Wall Street lawyer Samuel Untermeyer.
Untermeyer used Scofield to inject Zionist ideas into American Protestantism. Other wealthy and influential Zionists were introduced to Scofield, and eventually, Oxford Press in England published Scofield's book in 1909.
Scofield's annotated commentary has induced generations of evangelicals to believe that God demands their complete support of modern-day Israel. Tens of millions of Americans have become uncompromising Zionists.
The War on Christianity
Today, almost every church organization recognizes Israel's right to exist based on the lies that the Jews of today are the Hebrews of the Bible, and that Judaism is a precursor to Christianity. John Hagee has become the prime mover behind the "War on Christianity," placing mammon before God. Hagee is a fierce supporter of all the evil that Israel does and stands for. Hagee even had the unmitigated gall to write a book claiming that Jesus did not come to be the Jews' Messiah.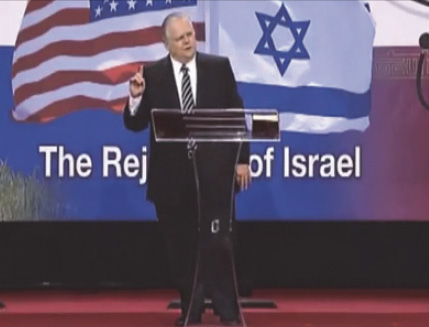 John Hagee is not alone in supporting Israel and defending their every action no matter how despicable. If Christians really love the Jews, shouldn"t they tell them about their Messiah, Jesus, so they, too, can go to heaven?
Unfortunately, Hagee is not alone in having sold his soul to Zionist Jews and their Synagogue of Satan. Him and his ilk continue to propagate the falsehood that modern-day Israel is the fulfillment of God's Word. They claim that the Jews are "God's Chosen People."
Wolves in Sheep's Clothing
Verily I say unto you, these apostate men who temporize in today's pulpits are spewers of falsehoods. The promotion of one race over all others is not what Jesus has taught us. Read carefully Matthew 7:15-23:
"Beware of false prophets, which come to you in sheep's clothing, but inwardly they are ravening wolves. Ye shall know them by their fruits... a corrupt tree bringeth forth evil fruit. A good tree cannot bring forth evil fruit. Every tree that bringeth not forth good fruit is hewn down, and cast into the fire. Wherefore by their fruits ye shall know them. Not every one that saith unto me, Lord, Lord, shall enter into the kingdom of heaven... Many will say to me in that day, Lord, Lord, have we not prophesied in thy name? and in thy name have cast out devils? and in thy name done many wonderful works? And then will I profess unto them, I never knew you: depart from me, ye that work iniquity."
If only the sheeple who have been hoodwinked by the invasion of Zionism into the Christian church would study the Parable of the Vineyard, surely they would awaken to the evil lurking inside their house.
We read Jesus' powerful teaching in Matthew 21:33-41:
"There was a certain householder, which planted a vineyard, and hedged it round about, and digged a winepress in it, and built a tower, and let it out to husbandmen, and went into a far country: And when the time of the fruit drew near, he sent his servants to the husbandmen, that they might receive the fruits of it. And the husbandmen took his servants, and beat one, and killed another, and stoned another. Again, he sent other servants more than the first: and they did unto them likewise. But last of all he sent unto them his son, saying, They will reverence my son. But when the husbandmen saw the son, they said among themselves, This is the heir; come, let us kill him, and let us seize on his inheritance. And they caught him, and cast him out of the vineyard, and slew him. When the lord therefore of the vineyard cometh, what will he do unto those husbandmen? They say unto him, He will miserably destroy those wicked men..."
Corruption Starts at the Seminary
The infiltration of the church today by Christian Zionists has remained unchecked for far too long. The seminaries have been corrupted with untold thousands of instructors who continue to propagate the false gospel to unknowing young minds. These, in turn, spread this to the unaware congregations around the country.
In the book of Acts, we learn of the preaching of Paul and Silas to the people of Berea. But, unlike the people of today who unabashedly believe every word that comes out of their pastor's mouth, the Bereans "received the word with all readiness of mind, and searched the scriptures daily, whether those things were so" (Acts 17:11).
This is where the term "being a good Berean" comes from. They listened to Paul and Silas, but weighed everything they preached against God's Holy Word to insure its truthfullness. How many pew sitters of today actually carry a Bible into the church? Surely, they would never disagree with the teachings of their pastor, let alone attempt to bring his error to light.
This has led to the watering down of God's Word. It will surely lead to Christianity's demise unless this trend is halted and reversed. This appears to be the endgame for the Zionist invasion of Christianity.
Are Home Churches the Answer?
Thankfully, many have been awakened to the wolves in sheep's clothing and have started their own home churches. Jesus told us that, "For where two or three are gathered together in my name, there am I in the midst of them" (Matthew 18:20).
Jesus said that the Holy Ghost would be our teacher: "But the Comforter, which is the Holy Ghost, whom the Father will send in my name, he shall teach you all things, and bring all things to your remembrance, whatsoever I have said unto you" (John 14:26). In God's Word we shall find Truth, not the Christian Zionism that awaits those in the lukewarm churches of today.