---
Exclusive Intelligence Examiner Report
---
---
Imagine a Democrat business man from New York who has made and lost millions of dollars. This same man has received a humanitarian award from the NAACP. He's hosted a successful primetime television show. He is extremely popular with politicians—from both sides of the aisle—because of his campaign contributions.
Now, imagine this man decides to switch political party affiliations and announce his campaign for the Republican nomination to become President of the United States. How many of you would have predicted such action and believed he had a chance to win?
Donald J. Trump was not the greatest President who has occupied 1600 Pennsylvania Avenue. His unlikely election into the presidency was a shock to many of those in the know, as well as the political pundits employed by Lame Stream Media. When Ann Coulter had the audacity to claim Trump would win the nomination and probably the election she was lambasted and scoffed at.
However, after eight years of Barack Obama, it seemed as if the American people were fed up with the direction our country was headed. Our nation suffered through the exodus of manufacturing jobs, an economic collapse, housing bubble crisis, record unemployment, stagnant wages, and a multitude of other depressing maladies.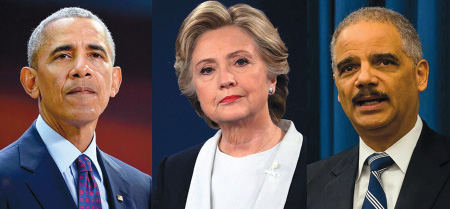 Barack Obama, Hillary Clinton, Eric Holder: Will justice ever be served?

This does not include the gun-running from Obama's Department of Justice which was dubbed "Fast and Furious." The debacle of Benghazi when Secretary of State Hillary Clinton allowed the murder of U.S. diplomats and military personnel. The phony "Green Energy" scam in which a solar power company named Solyndra was awarded $500 million taxpayers dollars only to have these funds funneled to wealthy Democrats and Obama supporters.

Many will point out the positives from Trump's tenure as President. Yes, manufacturing jobs returned to America. Yes, trade imbalances were rectified to a degree. Yes, unemployment—especially in the minority community—decreased. Yes, the economy seemed to be rebounding from the depression which occurred during Obama's Presidency.

The one thing that stands out in this author's eyes is the amount of vitriol and lies that were spewed towards Trump. The war against the races, which began under the Obama regime, was increased at least tenfold by propagandists in the controlled media. If you take a step back and look at the big picture, ask yourself qui bono (who benefits)?

With the addition of the Big Tech oligarchs—Facebook, Twitter, YouTube, Google, et al—control of the message reached an all-time high. Censorship in an unprecedented scale has led to even more division in our country. The advent of social media birthed the new activist...the Social Justice Warrior!

What was begun in the 1960s in universities across America was finally able to bear fruit as Cultural Marxism had the penultimate platform. The wordsmiths placed on the front lines of battle penned slogans that made most American ears perk up. Cleverly crafted slogans, memes, and other divisive propaganda swayed the young and easily influenced.

These graduates soon infiltrated primary and secondary schools, propagating the politically correct mind-control programming needed for ultimate success. Other graduates gained access in advertising agencies, again spreading their PC mantras. Ultimately, other graduates were able to gain positions in the boardrooms of major corporations.

The war on the First Amendment's free speech clause was immediately attacked. "Yes, your speech will continue to be allowed, provided that it doesn't hurt anyone's feelings" is the new adaptation of our Constitution. In this new definition, fundamental Christianity is a belief system that must be eradicated because "they claim homosexuality is an abomination."
Up Next on the Agenda
Surely the "Deep State" was enjoying its success in manipulating the masses. Unfortunately for them, Donald Trump still enjoyed a massive following. Glaringly, it was not just the middle class white males who were camped out for his many rally's across the country. Shockingly there were a number of minorities who populated the audience.
To quell the enthusiasm and the almost certain re-election of Trump a massive boondoggle would have to be implemented. Into the picture steps Bill Gates, Klaus Schwab and a host of others for the pandemic crisis management exercise known as Event 201. Miraculously, within four months a crisis has reached America's shore—COVID-19.
The perfect stooge to implement draconian policy suggestions was none other than a recipient of Bill Gates' largesse...Anthony Fauci. The Centers for Disease Control and Prevention (CDC) entered into the fray—maybe at the behest of George Soros, Gates, or Schwab?—and began issuing mandates in an attempt to "flatten the curve."
Lame Stream Media spread the gospel of Fauci in every segment—at least it seemed that way—of their newscasts. Doctors who attempted to present facts concerning the pLandemic were censored and many lost their jobs. Well-known medications were forbidden to be used to heal the sick, even though Dr. Fauci was aware of its efficacy in the early 2000s.
Governors and local politicians began wielding a big stick on businesses who objected to their lockdown orders. The roaring economy of Trump's Administration was squashed, unemployment skyrocketed, and who comes onto the scene next to "Save America?" The Democrats who offer "free money" to those in need.
Insuring Victory
Even through the calamity that befell America in 2020, Donald Trump's popularity failed to wane enough to insure a Democrat would win the White House. Plans were summarily put in place to rig the election, in large part from the gift from Gates and Schwab...the scamdemic. Mail-in ballots became the rage for those who wished to alter a potential defeat, along with algorithms in electronic voting machines.
Joe Biden and Kamala Harris experienced a most unique anomaly...they defeated an incumbent President who received over seventy million votes, and received more votes than the popular Barack Obama did in his defeat of John McCain. Another interesting factoid that is never reported, the alleged voter turnout percentage for the 2020 election was the highest it's been in 120 years!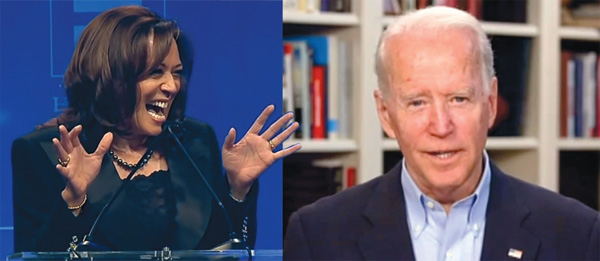 Joe Biden and Kamala Harris experienced a most unique anomaly...they defeated an incumbent President who received over seventy million votes.
Time to Pay the Piper
With Biden in office, the Deep State seems to be exercising a major vendetta against those who questioned their authority. The puppet in the White House and his cackling VP are willing participants in this charade. Who do you think drew up the massive amount of Executive Orders Biden signed on Day 1 of office?
Our border is once again a sieve for illegal migrants. The U.S. Chamber of Commerce must be extremely grateful for this influx of cheap labor as its benefactors will have more money to put in their coffer. The House of Representatives, which controls the purse strings of our nation, have opened the vault in an effort to appease those whom they claim are less fortunate. After all, isn't buying votes a platform item for the looney left?
Recently mass shootings have again been on the uptick. These "false-flag" operations are aimed at one thing...YOUR guns. Joe Biden openly declared war against the NRA during his campaign, and now he will attempt to confiscate every firearm possible. Could his Executive Order actually place law-abiding gun owners in the crosshairs of law enforcement?
Our founding fathers recognized tyranny and implemented our Second Amendment to empower the people. A record number of first-time gun owners have become acutely aware of the potential need to defend themselves and their families. The infringement of your right to keep and bear arms, though unconstitutional, is the biggest hurdle the Deep State must conquer. If they are successful, our Constitution will become null and void.
Consider some of the leaders who were able to implement gun control during their regimes and the control they were able to wield over the peasants: Pol Pot, Vladimir Lenin, Josef Stalin, Mao Tse Tung.
Many other great empires, such as the Greek and Roman, all fell victim to complacency, apathy, and lethargy. The failure to stand for anything will lead to the downfall of all. Dear friends, keep your eyes and ears open. Prepare as best you can, for if the Deep State continues unchecked, this great experiment known as America will meet the same end as other great empires.