---
Exclusive Intelligence Examiner Report
---
"And the LORD said, Because the cry of Sodom and Gomorrah is great, and because their sin is very grievous; I will go down now, and see whether they have done altogether according to the cry of it, which is come unto me; and if not, I will know."
"Nevertheless the foundation of God standeth sure, having this seal, The Lord knoweth them that are his. And, Let every one that nameth the name of Christ depart from iniquity."
The greatest empires in history have all collapsed. Many historians have blamed a multitude of reasons for their demise. Some claim it was declining birthrates. Others believe it was plagues, while still others believe it was the result of invasion and war.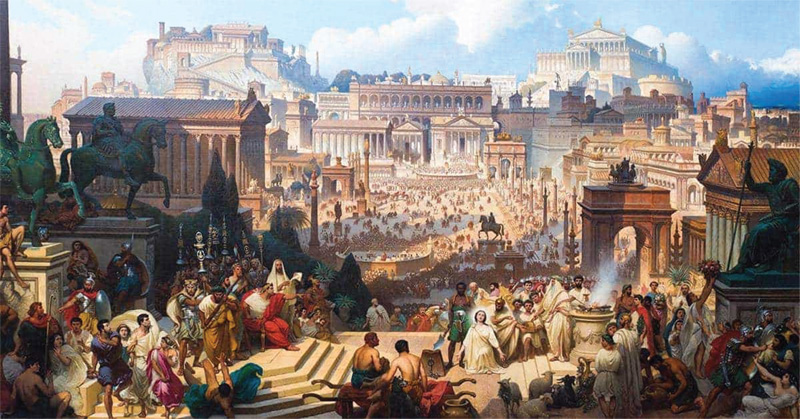 The ancient Roman Empire, centered on the city of Rome, was established in 27 BC following the demise of the Roman Republic and continuing to the final eclipse of the empire of the West in the 5th century.

In Edward Gibbon's final volume of The History of the Decline and Fall of the Roman Empire, he identified five major causes behind the fall of one of the greatest empires. Mr. Gibbon claimed that, first and foremost, it was the breakdown of the family. Secondly, it was increased taxation. To conclude his list, Gibbon listed an insatiable craving for pleasure, an unsustainable buildup of armaments, and lastly, the decay of religion.
Staring Into the Abyss
How many of these reasons listed by Gibbon reflect America today? Is there no doubt that we are on the precipice of a mighty fall? In his Communist Manifesto, Karl Marx called for the abolition of the family. Marx stated that communism would ensure the children would be educated by the state and not by the parents.
The attack on today's family dynamic can be traced to the Frankfurt School. One of its famous scholars, Herbert Marcuse, emigrated to the United States in 1930. His Eros and Civilization was a best-seller in 1959, and many believe it was this work that lead to the sexual revolution of the 1960s.
Marcuse explained why it was important to destroy the family:
"The body in its entirety would become...a thing to be enjoyed—an instrument of pleasure. This change in the value and scope in libidinal relationships would lead to a disintegration of the institutions in which the private interpersonal relations have been organized, particularly the monogamic and patriarchal family."
Patrisse Cullors co-founder of Black Lives Matter gives her Marxist salute. One of the guiding principles of BLM is the destruction of the nuclear family.

Patrisse Cullors co-founded Black Lives Movement and claims to be a trained Marxist. One of the guiding principles of BLM is the destruction of the nuclear family. With today's indoctrination centers (aka, public schools) pushing Critical Race Theory, gender fluidity and transition, the radical conflict against the family is at a catastrophic level.
Where Has My Money Gone
One of Resident Biden's key proposals during his campaign was to remove the tax cuts implemented during Donald Trump's presidency. The tired mantra of "these cuts only benefit the rich" was prominent in his speeches. Lo and behold, one of the first items on his agenda after taking the White House was increased taxation.
Politicians are quick to demand an increase in taxes so they can turn about and send this money to their home districts. This coddles the voters and allows them to stay in office. Tax and spend, long blamed on the Democratic party, is also prevalent on the Republican side.
Thanks to Biden's Inflation Reduction Act, the economy has suffered immense harm. Many families, already living paycheck-to-paycheck, must now choose which bills to pay or which meal to skip. With threatened tax increases to pay for this failed policy, the breaking point is near.
From the Sexual Revolution to Minor Attracted Persons
From the deviant 60s where drugs, sex, and rock 'n roll were birthed, to the debauched homosexual and transgender movement of today, America has truly delved into a hedonistic lifestyle. Each step of the way has witnessed an increasing amount of depravity in the search for pleasure.
The Apostle Paul has been proven prophetic when he wrote to the Galatians:
"Now the works of the flesh are manifest, which are these; Adultery, fornication, uncleanness, lasciviousness, Idolatry, witchcraft, hatred, variance, emulations, wrath, strife, seditions, heresies, Envyings, murders, drunkenness, revellings, and such like: of the which I tell you before, as I have also told you in time past, that they which do such things shall not inherit the kingdom of God" (Galatians 5:19-21).
The proliferation of pornography and premarital sex has destroyed America's moral compass. More than half of all marriages end in divorce. One third of American children grow up without their biological father. The direct link between children growing up without a father figure and the increased crime rate are staggering.
Churchianity and Its Demise
There has been a steady decline in church attendance. Most people never gave it a second thought when, during the pLandemic, bars and strips clubs remained open while churches were shuttered. Shepherds willfully left the flock unattended to fend for themselves.
Many of these churches and their "spiritual" leaders are lukewarm. No longer are those who attend services given the meat of His Word. These members probably relished the freedom to do as they wish without fear of judgment from the pulpit. They needn't have worried.
With leaders like Joel Osteen, churchianity leaves a gaping hole in our spiritual journey. When asked about homosexuality, this world-renowned author and "preacher" had this to say:
"I believe that God's breathed His life into every person. We're all on a journey. Nobody's perfect. The Bible says that sin is pride, sin is selfish ambition... I believe every person is made in the image of God, and you've got to accept them as they are as they're on their journey... the Scripture teaches the way people are going to know His disciples is for our love for one another, and so, I'm not preaching hate or pushing people down. I'm not here to tell everybody what they're doing wrong."
Pope Francis repeatedly champions homosexual rights and advocates for inclusion of LGBTQ people in Catholic life.

In an interview with the Associated Press, Pope Francis called laws criminalizing homosexuality as fundamentally "unfair." He has repeatedly championed homosexual rights and advocated for inclusion of LGBTQ people in Catholic life. Francis has also declared pedophilia is an illness and we must not judge those afflicted. No wonder he has declared the Bible is wrong.
Forewarned and Forearmed
The prophet Isaiah wrote: "For Jerusalem is ruined, and Judah is fallen: because their tongue and their doings are against the LORD, to provoke the eyes of his glory. The shew of their countenance doth witness against them; and they declare their sin as Sodom, they hide it not. Woe unto their soul! for they have rewarded evil unto themselves" (Isaiah 3:8-9).
We have been forewarned by His Holy Word people would rebel against His moral laws. Will it take losing all of our worldly possessions for people to finally cry out for mercy? Without His moral code, America is doomed to repeat the previous empires.
Those so-called shepherds need to heed this warning and replace your man-made doctrine with His Word. Faithfulness, purity, and holiness must be your priority. We must become resolute in our dependence upon God for the grace to be worthy of Him.