codex magica mysterious monuments conspiracy of six pointed star
Exclusive Intelligence Examiner Report
---
---
Big Brother's Drones, Nanorobot Swarms, and Menacing Robot Hordes to Keep America Subjugated
"In the coming decades, humanity will face a new kind of enslavement—a scientifically designed tyranny through which the elite will use robots to subjugate the rest of humanity and eliminate any pockets of nonresistance."
—

Alex Jones
Rise of the Robots—The End of Humanity
InfoWars—The Magazine (Oct. 2012)
Big Brother knows all about you—how old you are, the size of your family and home, your ex-military status, how many guns you have and the exact models. He's got accurate records to indicate if you're going to be a "resister." If you are a Christian, a gun-owner, a traditionalist, a veteran, you're definitely on the "List." The List that tells a faceless computer you're a potential threat. You'll have to be dealt with. In other words, you're eventually going to be eliminated.
How will he go about getting rid of you? If you're thinking of a police or armed forces team showing up at your door, think again. Big Brother has something far, far better. He's got robots. Soon, he'll have tens of thousands of military robots—robots to conquer.
Here Come the Robots
Those who envision old-style warfare and encountering KGB or Gestapo-style agents will be very surprised when the robots come battering down your doors and searching for weapons.
The boys and girls at Defense are spending over $127 billion on a project known as Future Combat Systems, and a good part of the money has gone for hunter-killer robot systems These are assault robots designed to search for, identify, and kill enemies.
Will Big Brother rise to prominence under robot power?

Big Brother is developing the most deadly array of robotic weapons ever conceived. Scientists and engineers at Top Secret weapons laboratories have been given almost unlimited funds to do their dirty work. They can now guarantee that resisters will be hit by irresistible deadly force from thousands of drones, nanorobot swarms, and menacing robot hordes.

Patriots are in deep trouble. We are the enemy. In addition to local law enforcement, we will be met on three federal government fronts—Homeland Security, the Armed Forces, and the CIA. Each will have sufficient killer robots to establish and keep order.

Don't think you'll have the Bill of Rights to protect you, either. Presidents Bush and Obama consider the Constitution an inconvenience. Henry Kissinger, long-time insider, was recently quoted as saying, "The illegal things we do right away. The unconstitutional things take longer." Courts have ruled that under the NDAA, citizens who are "suspected" of threats can be tracked and murdered by robotic drones and by other means.

In fact, you may be under surveillance at this very moment by spy drone "craft" no larger than a fly, a bee, or a bird. The Defense Department is now producing these tiny drones enmasse. One may be in your front yard, or even inside your home, watching and reporting. Fingered as an "enemy," the government can dispatch swarms of these tiny hunter/killer drones programmed to hunt, find, and kill victims.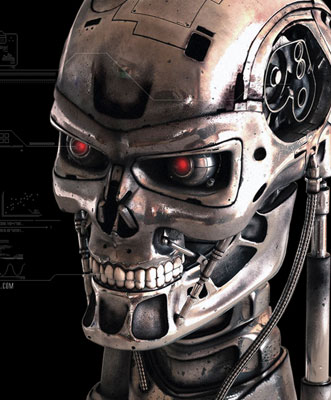 Evil robotic creatures are being created by DARPA.

Remorseless Rise of the Machines

In an article published by the authoritative U.S. Army Combined Arms Center, former intelligence officer, Lt. Col. Douglas Pryor, who served in Iraq, Afghanistan, and Kosovo, warns that, "future generations will look back upon the last decade as the start of the rise of the machines."

Pryor added that the U.S. government is developing "killer robots so advanced that they make today's Predators and Reapers look positively impotent and antique." They will, he said, kill with "remorseless purpose."

Pryor notes that unmanned drones today kill 50 civilians—collateral damage—for each actual terrorist killed. Like the Terminator, killer robots do not empathize with their victims. Thus, future wars will see increasing numbers of innocent civilians.

In a 50-page report published by Human Rights Watch, the authors warn that intelligent robots will inevitably commit illegal war crimes. Robots do not distinguish between the enemy and nearby civilians. "It is essential to stop the development of killer robots before they show up in national arsenals," said the report.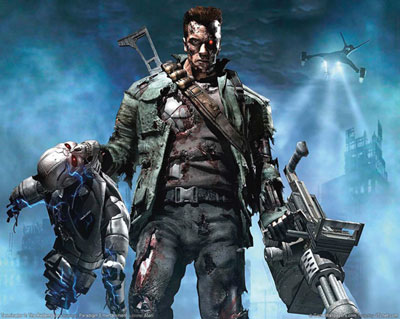 The image of a Terminator warrior-robot grows closer to reality each day.
But, in fact, the United States is sold on robots and already has many models in its arsenal. My newest book, Robot Alchemy, has amazing pictures and descriptions of many of these killer robots. Each month, more are added. The military, as well as the White House, see robots as the New Warriors, impervious to enemy attack. They relish the idea of having millions of Terminator robots at their beck and call—ruthless killers made of steel, capable of super-human feats, who ask for no salary and will do as ordered.
Better get ready. This is not science fiction. The robots really are coming!
NOTE: See also Death-Bots and Other Robots Are Here, Now!
Keep up to date with Texe on
---
Click to view excerpts from Texe's latest blockbuster documentary Die, America, Die!, then order your copy today!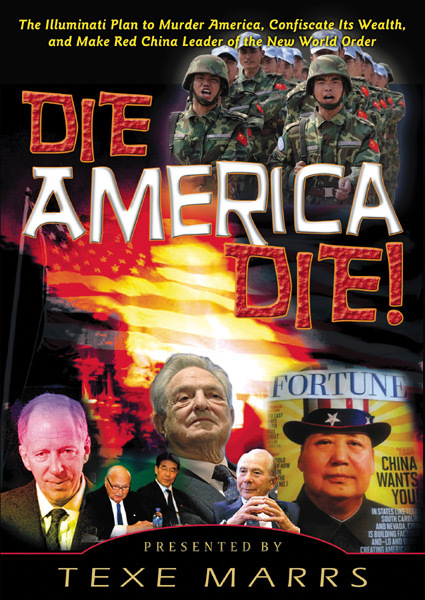 ---
Power of Prophecy proudly offers the following best-selling books. Order your copy today!
---
---
---
---
---
---
---
---
---
Power of Prophecy proudly offers these best-selling videos. Order your copy today!
---
Die, America, Die!

80 Minutes ~ $25.00
---
Power of Prophecy proudly offers these best-selling audios. Order your copies today!
---
Scientific DNA Study Confirms...

60 Minutes ~ $8.00
---
Big Brother

60 Minutes ~ $8.00
---

We are so very thankful to those of you who give to Power of Prophecy. You are a valued member of our end-time crusade for Truth and Righteousness on behalf of our Savior Jesus Christ. Click here for more info!
---