codex magica mysterious monuments conspiracy of six pointed star
Exclusive Intelligence Examiner Report
---
---
Jews Claim Their Blood is Divine. Their Racism Has Had Terrible Consequences




As a young man, I read many stories about the German Nazis. Supposedly, the Nazis believed that Aryans were the "Master Race." This Master Race ideology was said to have propelled the Nazis to do horrible things to some other races, whom they deemed to be inferior.

Later, as an adult, I discovered that the West had also perpetrated terrible acts against the Germans, including the heinous fire-bombing of Dresden and the massacre of helpless German POWs and of millions of innocent German civilians. The Allies, under the directions of the Jews, history reveals, were responsible for the mass roundup and murder of innocent German civilians—men, women, and children—who were herded after the war into concentration camps.

I also read about some prejudiced Whites who once thought that they, too, were a superior race, far above the Blacks. This ideology enabled them to pass laws to keep the Blacks subordinate, and for years even made them into slaves.

But while Blacks were treated abusively as slaves, it is also true that, as history's archives show, it was mainly Jewish slave traders who abducted, shipped, and sold the slaves around the world and especially in the U.S.A.

Today, the world continues to suffer under the false idea of a "Master Race." Now it is the Jews who are claiming that they are superior to all other "inferior" races. The Jews' own holy book, the Talmud, (formally called the Babylonian Talmud), as well as their Kabbalah, declare the Jews to be destined to conquer and subjugate the "non-Jews," and to kill all who oppose this quest. The Talmud states: "The best of the Gentiles—Kill!"

We, the Jews, are God's Chosen, say the rabbis, no matter how wicked we are.
There is No "Master Race"
Now, logic tells us that while inequality is a fact of life—we are all unequal in one way or another, in good looks, strength, intelligence, talent, ability, etc.—we should not treat our fellowman as either inferior or superior. Especially due solely to their race or color.
To consider any one race or set of people as a "Master Race" and superior is especially notorious and harmful to society. Judging a man primarily by the content of his character and not on his color seems to me prudent and wise.
God No Respecter of Persons
The Holy Bible affirms that God is no respecter of persons. "Whosoever will" may come, that is His great and magnificent rule (Romans 2:11). Each of us, of whatever race, ethnic group, nation, color, or DNA makeup who has faith in Jesus Christ as Lord will be saved. There is no flesh in heaven, Jew, Gentile or otherwise, the Bible says.
Our human flesh eventually returns to the dust of the earth. A saved person thankfully is born again, "in spirit and in truth" (John 3:3).
As for our belonging to a certain race, Galatians 3 is clear. It says that Gentile, Jew, it doesn't mean a thing. Every person who has Christ Jesus is "Abraham's seed and heirs according to the promise."
Jews Exhibit a Poisonous Racial Attitude
It was only about 15 years ago when I first discovered that the Jews continue to exhibit a poisonous racial attitude toward others. The Apostle Paul reported two millennia ago on this unseemly Jewish doctrine, writing of the Jews:
"Who both killed the Lord Jesus, and their own prophets, and have persecuted us; and they please not God, and are contrary to all men" (I Thes. 2:15)
According to their own most holy book, The Babylonian Talmud, which virtually every rabbi and observant Jew holds to be true, the Jew is superior and is a totally different species than others:
"The Jews are human beings, but the goyim (Gentiles) are not human beings; they are only beasts."—Baba Mezia 114a-114b
Inferior Gentiles, says the Talmud, are destined to be the Jews' slaves:
"The non-Jew is an animal in human form, and is condemned to serve the Jew day and night."—Midrash Talpiah 225
Jews Claim to Be a Divine Species
Wondering if it was only the most bigoted and hateful of the Jews who would believe such passages, I then set out to research their own writings. What I found shocked me. Over and over, in their speeches and books, Jewish authorities make clear that Jews are a special people, superior to Gentiles, a divine species, even "gods" on earth.
Here are a few selected quotes. I'll be glad to provide hundreds of other quotes. There can be no doubt. Modern Jews are possessed by an all-consuming spirit of bigotry and a haughty arrogance never seen before in human hearts. Only a devil could dream these up.
"Since the Jews are the highest and most cultured people on earth, the Jews have a right to subordinate the rest of mankind and to be the masters of the earth."
---
"The Jewish people as a whole will become its own Messiah. It will attain world domination by the dissolution of other Races... Thus will the promise of the Talmud be fulfilled."
| | |
| --- | --- |
| — | Baruch Levy, letter to Karl Marx |
---
"All non-Jews are evil by nature. The Jews are the crown of creation, the non-Jews are the scum of the earth."
---
"We have to recognize that Jewish blood and the blood of a goy (Gentile) are not the same thing. Every law that is based on equating goys and Jews is completely unacceptable."
---
"The blood of the Jewish people is loved by the Lord; it is therefore redder and their life is preferable."
---
"One million Arabs are not worth a Jewish fingernail."
---
"We have a case of the Jew...a totally different species. The body of a Jewish person is of a totally different quality from the body of members of other nations of the world… A non-Jewish person comes from three satanic spheres, while the Jewish world stems from holiness."
| | |
| --- | --- |
| — | Rabbi Mendel Schneerson |
---
"Everything about us is different. Jews are ontologically (biologically) exceptional."
| | |
| --- | --- |
| — | Elie Wiesel, holocaust activist |
---
"Jewish blood is not the same as the blood of a Gentile."
---
"According to the Talmud, one may kill any Gentile."
---
"A Jew who kills a non-Jew is exempt from judgement and has not violated the prohibition of murder."
Please understand that these quotes are not from rabbis who lived centuries ago. Most of these men are alive today and are quoted often by the Jewish press. The Talmud itself is said by famous Jewish writer Herman Wouk (Winds of War) to be the "Jews' life blood." U.S. Supreme Court Justice Ruth Bader Ginsburg calls the Talmud, "My sacred, daily guide for living."
All these famous rabbis and other Jews are following strictly the rules and laws of their Talmud which actually tells the Jews that, someday, when the Jews receive their kingdom, "Even the best of the Gentiles will be put to death." Beheading is the method of execution, says the Talmud.
DNA Science Proves Jews Are Not Special
My latest book, DNA Science and the Jewish Bloodline, is especially despised by the rabbis precisely because, in this book, I report modern DNA research which finds that the modern "Jews" are not descendants of Abraham. They are not even Israelites, or of Jewish blood. Their DNA shows that almost every Jew alive on earth today descended from the Khazarians, a people of Turkish and Mongol origins.
So the rabbinical malarkey about the Jews being "special" and of a "different species" is absolutely wrong.
Why Do Pastors and Evangelists Hide This Knowledge?
Why is it that no pastor in America professes to know what the Talmud says about the Jews being the "Master Race?" Why is it that Pastor Joel Osteen, Pastor Rick Warren, Franklin Graham, John Hagee, Kenneth Copeland—no, not even the Catholic Pope Francis nor any one of some 200 Catholic Cardinals—has the courage and the guts to inform you and me of this hideous crime, this tremendously evil and warped doctrine of the Jews.
To please the Jews and gain support from the Christian Zionists, well-known Pastors and even the Pope praise the Jews as "God's Chosen." These pastors will never be heard exposing the poisonous racial doctrines of the Jewish Talmud.
I have heard plenty all my life about the evil Nazis. I am constantly told of the hatred some Whites once had toward Blacks. But of the Jews and their arrogant race doctrine, nary a word. It's part of their Judaic religion. Why is this obvious fact covered up, never mentioned? Who gave the Jews the power to punish any who dare publish the facts of such obvious bigotry?
Why has no one, no one in the press, ever once asked or demanded that Justice Ruth Bader Ginsburg, or Judge Breyer, or Judge Sotomayor—all Jews on the Supreme Court—renounce the hatred and bigotry of the Talmud?
There are 545 U.S. Senators and Congressmen. Why have none of those U.S. politicians, nor one of 50 state governors, warned us of this evil race doctrine of the Jews?
Terrible Consequences
Ideas have consequences, and the Jews' satanic idea that their "blood" and "flesh" is different and is superior has lead to some very terrible consequences. Just ask historians about the 66 million Russian citizens slain by the Jews in the Soviet Union, or ask about the many thousands of Palestinians murdered, raped, and plundered since 1948 by Israel.
For me, I do not hesitate to say with Christian determination in my heart, that the Nazis who held the Aryan race doctrine were wrong. The White slavers were likewise wrong.
To these groups I add the Jew. Not all Jews and, of course, history tells us that not all Nazis nor all Whites were bigots. But today's Jews deserve a special place in hell because this racial nonsense remains their official religious doctrine. It is reiterated over and over in their holy book, the Babylonian Talmud. And it has been there as a consuming seed of poisonous, boiling hatred for more than 2,000 years.
"American Jews are actually trained since childbirth to interact with non-Jews in a deceitful and arrogant manner," admits Karen Friedman, herself a Jew, in her Internet blog. "They actually coordinate with each other to emotionally destroy non-Jews and Israel critics." This, she adds, "is actually deliberate, wicked, planned behavior motivated by a narcissistic, self-righteous fury."
"The Jew doesn't care how much he or she hurts others," warns Ms. Friedman. "Jews only care about what's good for the Jews."
The Jews: Unequalled in Race Hatred and Bigotry
No one can match the Jews in their passionate race hatred and bigotry. The days of slavery are long past. The time of the Nazi is far-gone. But evil Judaism lives on. Satan survives and prospers in the hearts of the Jews. Jesus prophesied this bigotry. He said that the Jews are led by Satan and that, consequently, the house of Israel is "left desolate" (Matthew 23:38).
If you are fearful of the Jews and so, keep quiet, you, too, are jointly guilty of the sin of bigotry and hate. By your silence, you become an accomplice to these devilish rabbis and their kin. May our God in heaven, who loves and holds equally worthy and accountable every man who believes in Him and serves Him in faith, strengthen you in spirit and give you boldness to stand up to the Jews. Be courageous. Tell the truth.
Keep up to date with Texe on
---
Click to view excerpts from Texe's latest blockbuster documentary Die, America, Die!, then order your copy today!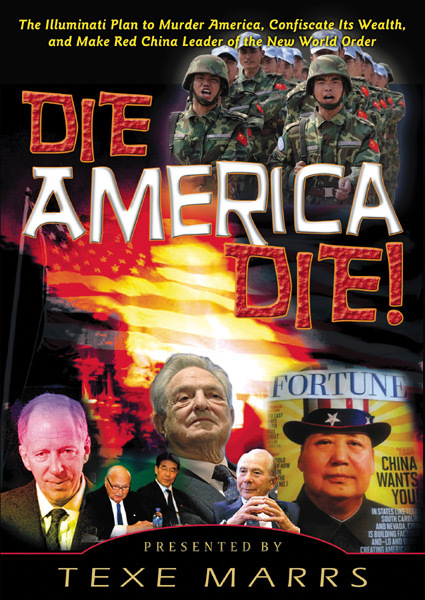 ---
Power of Prophecy proudly offers the following best-selling books. Order your copy today!
---
---
---
---
---
---
---
---
---
---
---
---
---
---
Power of Prophecy proudly offers this best-selling video. Order your copy today!
---
Die, America, Die!

80 Minutes ~ $25.00
---
Cauldron of Abaddon

60 Minutes ~ $25.00
---
Power of Prophecy proudly offers this best-selling audio. Order your copy today!
---
Remorseless Killers of Zion

60 Minutes ~ $10.00
---
Destabilization of the United States

60 Minutes ~ $10.00
---
Gog and Magog Encompass the Camp of the Saints

60 Minutes ~ $10.00
---
The Evangelical Heresy of "Judeo-Christianity"

60 Minutes ~ $10.00
---
U.S.A.—Global Ruler of the World and the Beast (Rev. 17)

60 Minutes ~ $10.00
---
Dominion of the Eagle

60 Minutes ~ $10.00
---
Bad to the Bone

60 Minutes ~ $10.00
---
Goat in Satanism, Freemasonry, History, and Bible Prophecy

60 Minutes ~ $10.00
---
Mystery of the Pyramids and the All-Seeing Eye

60 Minutes ~ $10.00
---
Genetics (DNA), Robots, Mutants, and Other Strange...

60 Minutes ~ $10.00
---

We are so very thankful to those of you who give to Power of Prophecy. You are a valued member of our end-time crusade for Truth and Righteousness on behalf of our Savior Jesus Christ. Click here for more info!
---