---
Exclusive Intelligence Examiner Report
---
---
Is America Under Their Control?
America is a beautiful country. The idea behind our country was brilliant in its inception. But just as a brass lantern is beautiful when it is brand new, if it is not maintained and polished, it will tarnish. America is in dire need of a good cleaning.
We are populated with many wonderful people from many different backgrounds. Our nation has been gifted with natural resources which make us self-sufficient. Based upon a dream by our founding fathers, our nation celebrates its glorious birth this month.
There is a common misconception that July 4th is the day we, as a nation, declared our independence from the tyrannical British monarchy. Actually, July 2nd is the date our Continental Congress declared independence, and July 4th is the date Congress approved the final wording of our Declaration of Independence. In 1870 Congress passed a resolution denoting this date as a national holiday.
Every year, on this date, good Americans gather with family and friends. Parades, cookouts, and fireworks rule the day. A joyous time will surely be had by multitudes, mindlessly unaware of the evil that lurks ominously just around the corner.
A True Friend of Humanity
Our founders sought common benefits of self-defense and prosperity. The constitutional law that was brought forth had a higher purpose for national interest. This purpose was to demonstrate to all the world that self-government and the suitability of justice was the proper ground for relations among nations. Our sympathy and appropriate actions would demonstrate that America is a true friend of humanity.
However, this mindset has been irrevocably harmed by a cunning group. The blueprint—The Protocols of the Learned Elders of Zion—was laid out in the early 20th century and was implemented on the unsuspecting nation of Russia. This plan had been clandestinely funded by the Rothschild dynasty, seeking to create a Zionist Utopia.
America would not be spared in this quest. With their agents in place, the subversion of America began in the shadows. Inserting their doctrines in the minds of politicians, along with the purchasing of most major newspaper publishing houses, the message could be controlled and propagated throughout the land.
11 Minutes Leads to a Lifetime of Deceit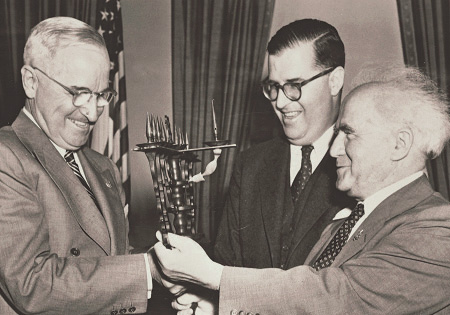 Harry Truman receives a telling gift from new head of state for the newly recognized Israel David Ben-Gurion.

Historians now note that World War I was fought to establish a Jewish nation in Palestine. Although not successful, this war did lay the groundwork for a future Zionist state. With the completion of World War II, the fruits of Rothschild's labor were finally realized. Eleven minutes after David Ben-Gurion, Israel's first Prime Minister, read their Declaration of Independence, President Harry S. Truman recognized the nation of Israel.

Since the foundation of the state of Israel, it has been the recipient of the largest amount of foreign assistance. The United States government has given Israel $233 billion (adjusted for inflation) from the years 1948 to 2012. Former Congressman James Traficant once claimed that American taxpayers have been fleeced to the tune of $15 billion per year in supporting Israel.

Moreover, there are other numerous projects which are not part of public knowledge. Former AIPAC President David Steiner once bragged how he "got almost a billion dollars in other goodies [in negotiations with President Bill Clinton's Secretary of State Jim Baker] that people don't even know about."
The Lobby Robs American Taxpayers
In an article written by Phillip Giraldi and published by the Council for the National Interest, Israel's former Commander-in-Chief, General Gabi Ashkenazi, admitted "that between 2009 and 2012 American taxpayers had paid for more of his country's defense budget than had Israeli taxpayers." No other nation benefits more from U.S. taxpayer dollars than Israel.
Mr. Giraldi further explained in his article that:
"Key U.S. organizations include the American Israel Public Affairs Committee (AIPAC), the American Jewish Committee (AJC), the Zionist Organization of America (ZOA) and the Anti-Defamation League (ADL). Hundreds more, including a small number of evangelical Christian organizations, play a role within a vast ecosystem that demands unconditional U.S. support for Israel. In the year 2012 the nonprofit wing of the Israel lobby raised $3.7 billion in revenue. They are on track to reach $6.3 billion by 2020. Collectively they employed 14,000 and claimed 350,000 volunteers."
This money does not even include the billions of dollars which is raised through private donations funneled directly to Israel. On top of this, Israel benefits from legislative action by Congress, gifted with preferential trade status which runs a $9 billion dollar surplus per year.
But the government of Israel is not the only benefactor of America's largesse. Israeli companies and organizations can bid on United States defense and homeland security projects—law enforcement, telecommunications, and travel security are but a few. American taxpayers have subsidized Israel's arms producers to the detriment of American jobs in this industry.
The grassroots movement known as BDS (Boycott, Divest and Sanctions) has gained momentum in recent years. The goal of this movement is to promote various forms of boycott against Israel until it meets obligations under international law defined as withdrawal from the occupied territories, removal of the separation barrier in the West Bank, full equality for Arab-Palestinian citizens of Israel, and respecting, protecting, and promoting the rights of Palestinian refugees to return to their homes and properties.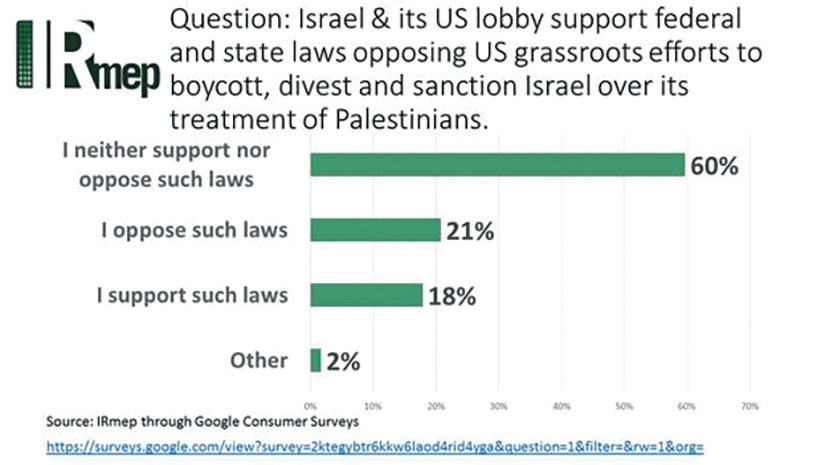 60% of individuals have no opinion about anti-BDS laws—just wait, they'll be given one.
With Washington Toeing the Line...
AIPAC and other members of the Israel Lobby have saturated control in the White House and Congress. The Lobby has now turned their collective attention to state and local governments in an attempt to circumvent our Bill of Rights.
As of April of this year there are now twenty-seven states with pending anti-BDS legislation. Some will deny state services to those who do not sign an agreement to not boycott Israel.
Florida has passed a law which equates any criticism of Israel as anti-Semitism, explicitly defines Israel as a Jewish state, and will allow anyone who says otherwise to be sued. Who cares about the First Amendment, right?
Newly elected Republican Governor Ron DeSantis has threatened anyone who is critical of Israel stating, "If you boycott Israel, the state of Florida will boycott you." DeSantis threatened to sanction the vacation rental company Airbnb when it refused to offer properties located in the illegal Israeli settlements on the West Bank.
Florida is not the only state under the control of The Lobby. The so-called Virginia-Israel Advisory Board (VIAB) has been funded by Virginia taxpayers to promote and even subsidize Israeli business in the state that currently runs an estimated $500 million per year in favor of Israel.
Grant Smith's Institute for Research: Middle Eastern Policy (IRMEP) has done considerable digging into the affairs of VIAB. Smith has observed that "VIAB is a pilot for how Israel can quietly obtain taxpayer funding and official status for networked entities that advance Israel from within key state governments."
A Muslim Woman From Minnesota Speaks Truth
As a nation founded on principles of self-government and justice for all, why are we beholden to one tiny nation in the Middle East? Blindly allowing a foreign nation-state to dictate policy for its own benefit will surely end badly for us.
Sadly, it took a Muslim woman from Minnesota to wake some up to the control that The Lobby has over American politics. Though soundly castigated throughout the media, she boldly told the truth. Now it is time for true Americans to shout the truth from sea to shining sea.