---
Exclusive Intelligence Examiner Report
---
---
Will we ever have eyes to see?
"Now I beseech you, brethren, mark them which cause divisions and offences contrary to the doctrine which ye have learned; and avoid them. For they that are such serve not our Lord Jesus Christ, but their own belly; and by good words and fair speeches deceive the hearts of the simple... yet I would have you wise unto that which is good, and simple concerning evil."
"Then said Jesus unto them again, Verily, verily, I say unto you, I am the door of the sheep. All that ever came before me are thieves and robbers: but the sheep did not hear them. I am the door: by me if any man enter in, he shall be saved, and shall go in and out, and find pasture. The thief cometh not, but for to steal, and to kill, and to destroy: I am come that they might have life, and that they might have it more abundantly."
There is a saying that is very appropriate these days: "They shut the barn door after all the horses escaped." Exactly like Pandora's Box, our elected officials are now screaming about the need for more gun control. Unfortunately for those of us who are law-abiding citizens, this is just another infringement upon our rights and liberties.
The Second Amendment states: "The right of the people to keep and bear arms, shall not be infringed." 'Shall not be infringed' is the phrase that previous iterations of our Supreme Court have cited against gun laws. One must now wonder if this group of justices will acknowledge our rights, or if the hue and cry from the grabbers will take precedence.
It is a never-ending narrative being pushed by the progressive socialists in Congress (and the White House), and parroted by the controlled media. The demands from victims of these numerous psyops (psychological operations) pertaining to the recent spate of mass shootings in our nation have also jumped on the bandwagon of gun-grabbers.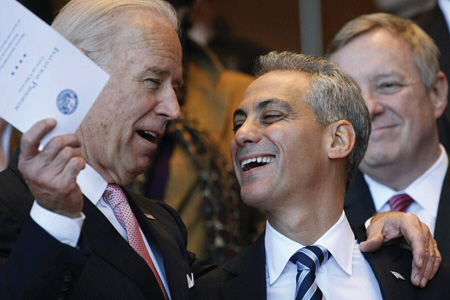 Rahm Emmanuel and then Vice President, Joe Biden sharing a laugh—probably at our expense.

Rahm Emmanuel, echoing his mentor Saul Alinsky, stated, "Never let a good crisis go to waste." With the number of pictures and videos utilized by the media, this crisis has seen a boon in the numbers of those supporting this endeavor to remove guns from the citizenry.
Part of the Plan?
Why has the number of mass shootings escalated in the last few months? Is there a plan of action being fomented by the elite members of the deep state? Has the FBI been co-opted by partisan hacks who wish to create the New World Order?
With each passing day, more and more information becomes available to those who seek truth. Remember, these are the same people who claimed that the so-called COVID-19 vaccine would create herd immunity and protect everyone from this deadly virus; who claimed that Russia invaded the small nation of Ukraine and inflicted heinous war crimes against the citizens of that nation; these are the same people who shouted from the rooftops that President Trump was colluding with the Russians and Hunter Biden's laptop was a disinformation campaign by Vladimir Putin.
How many remember the alleged kidnapping plot against Michigan Governor Gretchen Whitmer? Are you also aware that the FBI played some part in planning this botched attempt? Wasn't the FBI also involved in the Trump/Russia hoax? Now you can probably begin to fit the jigsaw puzzle pieces together.
False Flag Events
When Joe Biden campaigned for the presidency, one of his platforms was to abolish the National Rifle Association, as well as your individual right to own a firearm. After a large number of highly publicized mass shootings across the nation, his regime and cohorts believe a seismic shift in public opinion will allow this plot to come to fruition.
I will not dispute the fact that many children died in the school shooting in Uvalde. Neither will I dispute the fact that people were gunned down at a grocery store in Buffalo. However, I am curious—after reading numerous reports from alternative media—about alleged involvement by federal law enforcement (whether active or retired) officials who chatted with both of these shooters beforehand.
The one sure-fire way to created rabid support for gun control is to slaughter innocent babies and our elderly. It tugs on our heartstrings. Our emotions begin to override our analytical minds.
Crime and Violence Escalating
As I reported last month in my article Was the West This Wild?, a massive crime wave has been unleashed on our country. George Soros-backed District Attorneys have re-written prosecutorial guidelines, all but insuring little-to-no jail time for criminals. New York and California legislators have taken extreme steps to create a revolving door with no-cash bail programs.
Members of the black community have for years been the target of unjust policing. All of these new guidelines have been aimed at creating "equity." These "saviors of the downtrodden" have chosen to give career criminals an easy out. Do not forget that looney-left city councils across the nation have defunded numerous police departments. Check out the crime statistics in Seattle and Minneapolis if you wish to see how well this bright idea has worked. Law-abiding citizens living in these cities are left hanging in the lurch.
What About Good Guys and Gals With Guns?
The controlled media will never allow the narrative to be any different. National news refuses to report on instances where law-abiding gun owners have saved countless numbers of lives by standing in the breech when brazen criminals attack. Local news may share these stories, but they will quickly be replaced by other "newsworthy" items. Did you hear about these?:
• In West Virginia a convicted felon, illegally possessing an AR-15, discharged several rounds in the direction of a graduation and birthday party. Thankfully no one was injured, except the man attempting mass murder. A woman attending the festivities calmly drew her pistol and saved several lives.
• In Dekalb County, Georgia a criminal entered a restaurant wearing a mask and waving a gun in an attempted robbery. All patrons were ordered to lay on the floor, but one patron had a conceal carry permit. After an exchange of gunfire, the criminal was fatally shot. There were no other injuries.
• In Waco, Texas a male was actively stabbing a woman. A Good Samaritan fired his weapon in her defense, striking her assailant.
These are but a few of the stories available for truth-seekers, but you cannot depend on main stream media to convey them. One Buffalo resident was interviewed by Fox News after the mass shooting at a grocery store and he made a very interesting observation, albeit one that was not broadcast for very long.
This man stated: "It's ridiculous. Something has to change. From the bottom to the top, because they're not going to do nothing we've got to do something... If more people were armed, and knew what they were doing with a gun, because it's not the gun it's the person with the gun."
No wonder this interview wasn't broadcast far and wide. It goes against the narrative that the gun grabbers want pushed. However, this gentleman's statement was spot on.
"Something has got to change... If more people were armed, and knew what they were doing with a gun, because it's not the gun it's the person with the gun."
What Is the Core Issue?
Since the shooting in Uvalde, Texas there have been hundreds of other incidents involving guns. Thirty-three qualify as a mass shooting. The most important causal factor is the absence of God in the lives of these perpetrators.
The average age of mass shooters is 18 in America. These boys have predominately grown up in homes without a father and our Father. The looney-left's policies have encouraged both! When the darker side of human nature is fostered, evil such as this becomes rampant.
In Matthew 22:39 Jesus told us: "Thou shalt love thy neighbour as thyself." We have been commissioned to go into the world and share His message. Being His representative is a massive blessing. Be part of the solution.