Praise the Lord! Workers are putting the finishing touches on the new addition to the ministry headquarters building.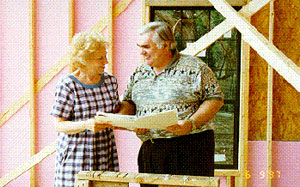 Wanda and Texe examining construction plans of the new addition.

This gives us much needed office space. We are also able to expand our very cramped shipping department. We expect to serve you better and to do God's work more efficiently. (Note: Maybe I'll even be able to move all the boxes and materials from my own office. Wanda lovingly keeps reminding me how junked out my office looks because of lack of storage space!)

We give thanks to Jesus our Saviour for His blessing the ministry in this wonderful way. And we thank you, our good and faithful ministry friends, for your generous love and your financial support that made this new addition possible.