---
Exclusive Intelligence Examiner Report
---
---
A Reckoning Is At Hand
Apostasy (noun): A total desertion of or departure from one's religion, principles, party, cause, etc.
Apostasy. Many of the pastors whose churches I have attended have never uttered that word. Maybe because it isn't located in the King James Bible? However, I believe they have done their flocks a disservice by not mentioning it.
It is not a easy topic to cover, the total departure from one's religion. It's one of the saddest thoughts I have ever had. How can one proclaim Jesus outwardly, but inwardly be filled with demons? What has happened to the Christian church?
Apostasy is not limited to the mega-churches you hear about or see on television. It's happening at small community churches as well. Every Sunday the occupants of pews around the globe are subjected to teachings, ministrations, and music that is not of God.
We know that the Bible teaches us that there will be some faithful who will endure to the end. Moreover, the Bible teaches us that there will also be an epidemic of false doctrines infiltrating the church in the last days.
The Apostle Paul warned:
"Let no man deceive you by any means: for that day shall not come, except there come a falling away first..." (II Thessalonians 2:3)
As Protestants, we all nodded glibly as case after case of child molestation in the Catholic Church was exposed. Of course, the clergy of that institution is profligate with pedophiles and homosexuals, many proclaimed. Many questioned how this could happen for so long without exposure. Surely, this is a sign of the great falling away, right?
Of course, the sins of the Catholic church would never happen in the Protestant churches...would it? As we are taught in Ezekiel 8:8, all we need do is dig in the wall to see the evil men will do behind closed doors, thinking that God cannot see them.
The Southern Baptist Convention appears to be a cesspool filled with serpents bent on destruction. The once conservative denomination has steadily moved towards a more progressive political organization focusing on cultural engagement.
Reporters from Houston and San Antonio, Texas uncovered a staggering number of sexual deviants who have been abusing members for over twenty years. These included ministers, pastors, youth ministers, and Sunday school teachers totaling more than 200 offenders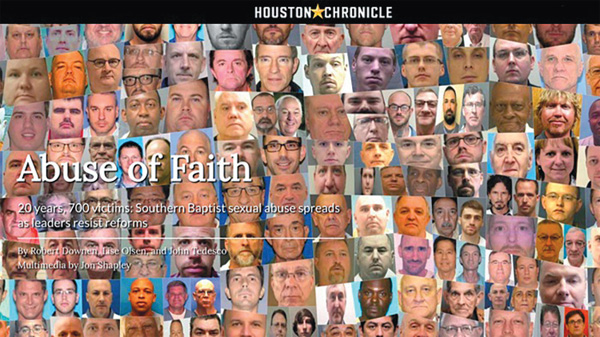 Only after the Houston Chronicle and San Antonio Express-News collected hundreds of allegations spanning 20 states in an unprecedented look at sexual misconduct across the denomination did the Southern Baptist Convention publicly admit that there is a sexual abuse crisis. More than 200 Southern Baptist abusers were convicted or took plea deals for their crimes since 1998, including 90 who remain in prison and 100 who are registered as sex offenders. But more disturbing: many of these church pastors, employees and volunteers who exhibited predatory behavior were still able to find jobs at churches during the past two decades.
"God is stirring in the SBC. He has exposed a startling amount of sin in our midst. He has shaken many of our foundations," the newly elected president, J.D. Greear, wrote. Will the promised concrete reforms to prevent sexual abuse happen, or is this merely lip service to appease and make excuses?

In their wake, they have destroyed over seven hundred victims with their heinous actions. Just as happened in the Catholic church, the victims had their stories routinely pushed under the rug by church leaders. Likewise, dozens of these predators were shifted from church to church.

At a prominent Southern Baptist Church in the Dallas, Texas area, the Village Church had such an agreement for its members. This agreement prohibits members from suing the church and instead requires mediation and binding arbitration. Oftentimes these sessions are held in complete secrecy.

In one case, an 11-year-old girl informed her mother she had been molested at the church's summer camp for children. As the parents waited for an explanation from the church leaders on how this could happen—as well as take responsibility and apologize—the church leaders circled the wagons and preferred to protect the institution.

Many of these young victims were forced to forgive their abusers, get abortions, or accept hush-money less they be shunned by their community. A number of these victims, as well as their families, signed written membership agreements which contain legal clauses that protect the church. Jesus spoke of the damnation of those who would harm children: "And whosoever shall offend one of these little ones that believe in me, it is better for him that a millstone were hanged about his neck, and he were cast into the sea" (Mark 9:42).

Now, after twenty years of cover-up, at the 2019 Southern Baptist Convention in Birmingham, Alabama, President J.D. Greear admits that there is a crisis of sexual abuse. Could the SBC be the Laodicean church spoken of in Revelation 3:15-17:

"I know thy works, that thou art neither cold nor hot: I would thou wert cold or hot. So then because thou art lukewarm, and neither cold nor hot, I will spue thee out of my mouth. Because thou sayest, I am rich, and increased with goods, and have need of nothing; and knowest not that thou art wretched, and miserable, and poor, and blind, and naked."

This church is comprised of unsaved people, posing as devout believers. They have wealth, social power, beautiful buildings and a network of business connections, but they don't have the Holy Spirit. How can an institution proclaiming Jesus Christ allow these heinous actions to continue for this long?

Shockingly, this is not all. Some church leaders welcome as members those who are homosexual, racist, and even pagan. Inclusion seems to be the mantra espoused by these demon-possessed people.

Sadly, the Protestant Reformation has ended. There are no more protests. The Protestant church seems doomed to repeat the errs that befell the churches of Galatia. Paul's indictment applies to many evangelical churches today: "O foolish Galatians, who hath bewitched you, that ye should not obey the truth" (Galatians 3:1).

When we put more stock in the doctrines of man than the Word of God, we have strayed from the narrow path and are lock-step on that wide road to hell. The inerrant Word of God is no longer elevated and these traditions of men pollute the purity of God's Truth.

Power of Prophecy has long supported the Home Church movement. Worship is not limited to a church building or a specific denomination. Jesus tells us: "For where two or three are gathered together in my name, there am I in the midst of them" (Matthew 18:20). Invite your family and friends to bring their King James Bible, to gather with you and study God's Holy Word together. Jesus will surely be by your side.