---
Exclusive Intelligence Examiner Report
---
---
Death and destruction appear in the news every day. We are constantly bombarded with tales of mass shootings, senseless murders, muggings and more. It is surely a dark time for our nation.
Why is there so much senseless violence being perpetrated today? Is it because of the popularity of video games which promote and reward violence? Could it be the influence of Hollywood movies where special effects have given us up-close-and-personal views of mayhem inflicted upon the human body? Have our youth been numbed to these images?
Although one could make the case for each of the aforementioned causes, I believe that there is more to the formula that needs explored. Certainly the popularity of video games such as Call of Duty, Grand Theft Auto, and Red Dead Redemption could alter one's attitude towards murder and other psychopathic behaviors. However, consider also the fact that there are no physical interactions between other humans. The make-believe world of video games is isolationist at its core.
A recent survey by YouGov reveals a disturbing trend with our youth. Twenty-two percent of Millennials—ages 23 to 38—claimed they had no friends, while thirty-one percent have four or fewer friends. Sadly, three out of ten say they often or always feel lonely. In another poll, eighty-nine percent of those aged 18 to 29 feel their lives are meaningless and without purpose.
Parenting Has Become a Lost Art
With the advent of television and the explosion of the number of cable channels one can view, along with "On-Demand" programming, children are plopped in front of the TV and it has become the babysitter. Subliminal messages from seemingly harmless cartoons are spreading propaganda into the minds of our young. The lack of interaction begins here.
As a young man, my mother wanted me and my brothers out of the house. We were only too happy to oblige her request as we preferred to play outside with friends. Routinely we would spend only snippets of time indoors during the summer months. We would shoot our BB guns, ride our bikes, or compete in football, basketball, and baseball games.
One of the lessons my brothers and I learned at an early age was respect. The actions and interactions of our parents demonstrated to us how important a trait "respect" was to have. Today, many parents flatly state that they want to be friends with their children. This actually detracts from your position of strength and you surrender your influence over them.
Parenting is a Tough Job
In a nation that awards participation trophies for perceived accomplishments, discipline has been thrown by the wayside. We all should be chastened when we make mistakes. It is a surefire way to learn a lesson. As we are told in Proverbs 13:24, "He that spareth his rod hateth his son: but he that loveth him chasteneth him betimes."
Unfortunately, parents have allowed outside forces to supersede their effectiveness as teachers. This has been reflected by the discontent permeating our youth, whether by joining domestic terrorist organizations like Antifa, or committing the heinous atrocities of mass shootings.
Though the internet has been around for decades, the explosion of social media has precipitated another culture. There are even message boards where groups of people spend copious amounts of time discussing each mass shooting. The internet has given disturbed and violent people a chance to congregate anonymously. It is not a harmless morality-free zone where your behavior doesn't matter.
How many parents actually know what their children are doing on the internet? Are they using parental controls to control what their children are watching? These are perilous times for children. When they are bombarded with perverted content and left to their own devices, they will surely be damaged.
As Faith Wanes Evil Abounds
Many of these individuals claim no allegiance to any faith. Though many studies have proven that Christians are a happier and healthier group of people overall, the decline of memberships in the church continues to fall unabated.
At the same time the rates of depression, anxiety, and addiction have increased exponentially. Nearly one in six Americans is currently taking antidepressant medication, with Millennials and teenagers utilizing these drugs at an astronomical level.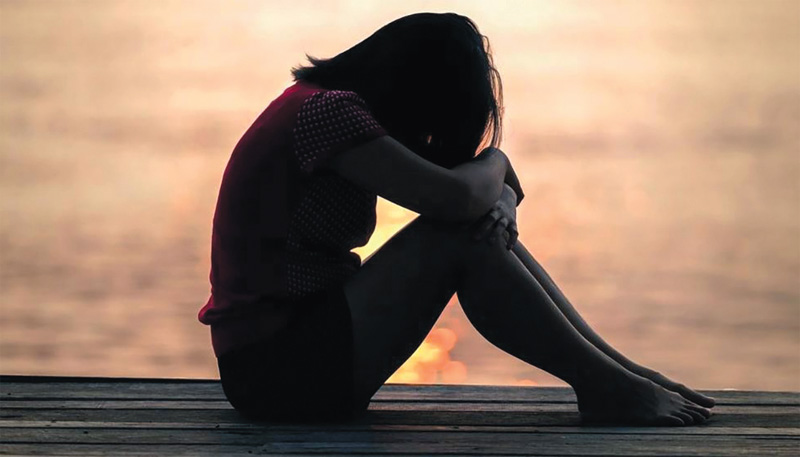 Millennials' and teenagers' depression and anxiety have increased exponentially.
Saul Alinksy, author of Rules for Radicals, once said, "In the beginning, the organizer's first job is to create the issues or problems. Creating the problems allows people to feel so frustrated, so defeated, so lost that they are willing to let go of the past and chance the future." The goal of today's radicals seems to be the overthrowing of the dependence upon God and individual liberty.
The Misery Index Is Nearing Record Highs
Occultism and witchcraft are gaining in popularity and membership. Today, nearly 1.5 million people now identify as witches. Millennials are flocking in droves to this "spiritualism." Hell is increasing daily to make room for Satan's bountiful harvest.
Satanist Aleister Crowley, in his infamous The Book of the Law, wrote, "Do what thou wilt shall be the whole of the law." This mantra is at the heart of all the evil being committed today. The devil's playground has inhabited the heart of the lost.
After witnessing the evil events of El Paso, Texas and Dayton, Ohio, compounding upon the events of Parkland, Florida and Las Vegas, Nevada, along with the daily death totals stockpiling in Chicago, New York, Baltimore, et al, one must admit that Satan is having a field day in America. His minions are doing his bidding at an alarming rate.
The Lord is My Shepherd
America is filled with lost sheep looking for a good shepherd. Imagine what a pitiful sight this is to Jesus. The poor followers are covered in filth, bloody from attacks, and hungry for the true Word of God. There is a sense of utter despair filling our cities and our nation.
As Psalms 23:1-6 states:
"The LORD is my shepherd; I shall not want. He maketh me to lie down in green pastures: he leadeth me beside the still waters. He restoreth my soul: he leadeth me in the paths of righteousness for his name's sake. Yea, though I walk through the valley of the shadow of death, I will fear no evil: for thou art with me; thy rod and thy staff they comfort me. Thou preparest a table before me in the presence of mine enemies: thou anointest my head with oil; my cup runneth over. Surely goodness and mercy shall follow me all the days of my life: and I will dwell in the house of the LORD for ever."
Thankfully, there is still time to reverse this course of evil. Jesus is our good Shepherd. His ways are the best ways, and we should follow and honor Him. He knows exactly what we need.
Parents need to stand up and become parents. Bring your children out from the field where they wander aimlessly. Pew sitters need to become as the Bereans and fact-check their pastors, and if they are found wanting, pray for discernment and wisdom in finding a true and faithful servant to Jesus. We need to demand better for ourselves and our families.