---
Exclusive Intelligence Examiner Report
---
The Destruction of America
"Love worketh no ill to his neighbour: therefore love is the fulfilling of the law. And that, knowing the time, that now it is high time to awake out of sleep: for now is our salvation nearer than when we believed. The night is far spent, the day is at hand: let us therefore cast off the works of darkness, and let us put on the armour of light. Let us walk honestly, as in the day; not in rioting and drunkenness, not in chambering and wantonness, not in strife and envying. But put ye on the Lord Jesus Christ, and make not provision for the flesh, to fulfil the lusts thereof."
"Thy prophets have seen vain and foolish things for thee: and they have not discovered thine iniquity, to turn away thy captivity; but have seen for thee false burdens and causes of banishment."
Today, there is much division in our nation. The radical left has become Marxist in their ideology. They have erected a barrier to insulate themselves from anyone who does not share their views. They call this their "safe space."
While claiming that the right has gone off the deep end, if one were to compare conservative beliefs of yesterday with today, they would notice a chasm in the more moderate ideology of today versus the staunch conservative beliefs of old. This does not temper the hate emanating from the looney left.
Recently, a story was relayed to this author about two individuals visiting a terminally ill little girl. One of these visitors was a homosexual while the other was Jewish. During their approach to the home of this child and her family one commented, "What kind of conservative hell have we entered?" The home in question was a double-wide trailer off of a dirt road.
When did America become so hateful, judgmental, and bigoted? Is the divide so great that it cannot be repaired?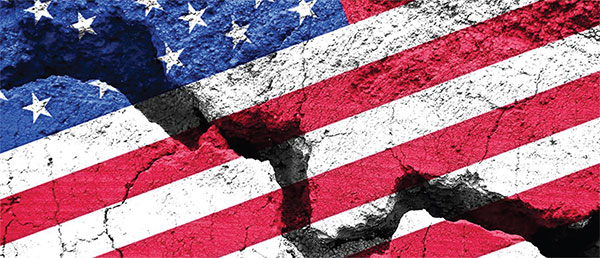 Has a chasm so deep so as to be unrepairable been inflicted on America? Can America unite again?
There is an old saying, "United we stand, divided we fall." America is surely on the precipice of utter destruction because of its division. Where once there was segregation of the races, now there is segregation on multiple fronts.
Without a strong Christian background, these individuals have allowed Satan in infiltrate and pervert their mindset. Who is to blame? It could be partially attributed to lukewarm pastors who preach love and happy stories. One can also blame parents who are too self-absorbed with their own lives that television and other electronics have become the children's babysitter. Certainly some of this can fall on the shoulders of so-called child development "experts" in our public education system.
Unbeknownst to so many though is the fact that this poisoned mindset has driven a wedge between our fellow citizens. The globalist leaders have understood this tactic for many years and have used it to perfection.
Look at the war being waged against innocent youth, from gender ideology, to pornographic textbooks, to radical teachers in the classroom. Today the government, and especially the public education system, believe that they have parental powers that supersede the actual parents.
As young children we are taught the Golden Rule: "Do unto others as you would have them do unto you." How we treat each other will demonstrate our mutual respect.
Respect is not earned by what you own, what you drive, or how much money is in your bank account. Respect can only be earned with one's actions, which therefore reflects our hearts. This lesson is made clear in 1 Samuel 16:7: "But the LORD said unto Samuel, Look not on his countenance, or on the height of his stature; because I have refused him: for the LORD seeth not as man seeth; for man looketh on the outward appearance, but the LORD looketh on the heart."
The person who lamented his surroundings as being a "conservative hell" has obviously fallen prey to the wicked one. Anything that does not conform to his ideology is only worthy of destruction.
With the inculcation of political correctness—Cultural Marxism—into first our universities, then slowly, but surely, into our entire education system and churches, the global elite have been able to destroy the moral fabric this nation was founded upon. Orwell's dystopian novel, 1984, portrayed society as one in which social control is exercised through disinformation and surveillance.
The scamdemic of 2020 perfectly illustrates what happens when propagandists are able to disseminate disinformation and censor the opposition. Only now are particles of truth leaking out to the population. Whether it be the Twitter Files reports on governmental censorship, or the CDC's revelation that doctors can now prescribe ivermectin to patients with Covid-19.
The idea of debate, or even a civil discourse, is no longer tenable. Those who are part and parcel of the looney left only view differing opinions and ideas as ill-conceived and erroneous thought. So convinced are these people that anything other than what they believe should be considered hate speech.
Case in point: today's youth believe the First Amendment guarantee of the right to free speech should come with the disclaimer, "as long as it doesn't hurt someone's feelings." Additionally, these are the ones who feel that the only people smart enough to judge this are those who reside on the far-left side of the spectrum.
The clamor for secession from the union continues to grow louder. As promising this idea appears to some, the fact is that bloodshed will be the result. Neighbor will be pitted against neighbor and chaos will ensue. How can one be considered the winner when there is blood on each others hands?
The Latin phrase "Qui bono" (who benefits) should be front and center in this quandary. The most obvious answer is the global elites such as Klaus Schwab, Bill Gates, the Rothschild's and many others.
If we, as a nation, fail to come together to discuss, and honestly assess our situation, then the great experiment of a Constitutional Republic will cease to exist. Many powerful nations have preceded ours, but none as free as this. Life, liberty, and the pursuit of happiness had never before factored into the equation.
Tyranny and despotism rule with an iron fist. Religious freedom will be vanquished from existence. Those who persist in worshiping anyone but the elite will be exterminated. As America continues to further distance itself from God's Holy Word, only evil can follow. There is no way to fill the void left behind.
Will religious freedom will be vanquished from existence? Or, will it only be allowed for ecumenical beliefs, including lukewarm "Christianity," The Satanic Temple and all other religions in between?
However, there is always hope. We need to re-establish control in our pulpits. Lukewarm pastors whose lessons have not inspired the faithful to lead a biblical life should be replaced. The task may be enormous, but it can succeed if we place our faith in Him. We read in Psalms 37:5-11:
"Commit thy way unto the LORD; trust also in him; and he shall bring it to pass... fret not thyself because of him who prospereth in his way... Cease from anger, and forsake wrath: fret not thyself in any wise to do evil. For evildoers shall be cut off: but those that wait upon the LORD, they shall inherit the earth... But the meek shall inherit the earth; and shall delight themselves in the abundance of peace."