---
Exclusive Intelligence Examiner Report
---
---
John Adams claimed that America was not founded as a Christian nation. He was partially correct. America was not created as a Theocracy—a country ruled by religion—but was instead, founded as a Constitutional Republic. That being said, America was founded on deep Christian moral truths.
Our founding fathers felt that religious liberty was a right, but that the government should not create an established church. This is reflected in the First Amendment to our Constitution. These Founders strongly believed that God ordained moral standards, and that legislation should be made in accordance with these standards. Many historians have cited Romans 13 as the basis of these standards.
"Let every soul be subject unto the higher powers. For there is no power but of God: the powers that be are ordained of God. Whosoever therefore resisteth the power, resisteth the ordinance of God: and they that resist shall receive to themselves damnation. For rulers are not a terror to good works, but to the evil. Wilt thou then not be afraid of the power? do that which is good, and thou shalt have praise of the same:"
Lords and Serfs Revised?
America has surely drifted from these principles. A British politician once stated that, "Power corrupts; absolute power corrupts absolutely." This might explain why the Founders set up our country with checks and balances between the three branches of government. Our country is morally bankrupt, with the depth of debauchery reaching epic proportions. But is the descent of our nation a recent occurrence, or was the groundwork laid decades before?
As you read our Constitution, you will notice one fact that jumps off the page: the federal government was expected to defer to states rights and not lord over the citizenry. With this in mind, one could say that the Feds began their takeover in the early twentieth century with the creation of the Federal Reserve and the Internal Revenue Service.
This was further compounded after the banker-created market crash and ensuing Great Depression. The federal government's power grab began to steamroll after Franklin D. Roosevelt's "New Deal" was put in place.
From Coup D'Etat to Debauchery
The assassination of John F. Kennedy seems to have completed the Zionist takeover of our government, aided and abetted beforehand by Harry Truman and his recognition of the state of Israel. The coup d'etat of our nation was a success, and the dismantling of our culture could begin in earnest.

The proliferation of the drug culture and free love during the 60s led to the landmark case of Roe v. Wade, making the murder of babies legal throughout the land. Traditional marriage was also a casualty, with divorce rates soaring to over fifty percent.

The degradation of our educational system appears to have been the next target. There are a number of states who no longer require the teaching of cursive writing! By implementing standardized tests instead of encouraging problem solving and critical thinking, along with teaching the three R's, the dumbing down of America's children has succeeded beyond expectations. Will culture changes now be introduced that will be met with little to no opposition?

After the United States Supreme Court struck down sodomy laws in 2003, the homosexual agenda became a hot button issue, leading to another Supreme Court ruling legalizing same-sex marriage. Former President Barack Obama even celebrated this sacrilegious occasion with a rainbow light show on the exterior walls of the White House.
President Obama lit up the White House in the colors of the rainbow supporting the legalization of same-sex marriage.
Miscreants Run Amok
To further increase the size of the cesspool Obama desired, a mandate was issued instructing public schools to allow transgender students to use the bathroom that matches their "gender identity." This agenda was mirrored by the retail chain Target and other stores starting in April of 2016. Target had already adopted a gender neutral signage policy for their housewares, toys, and entertainment sections.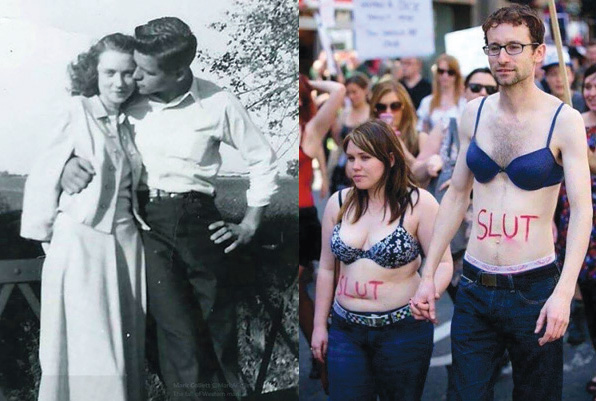 Gone is the respect for each other, ourselves, little babies, our country and especially God.

Militant feminism returned with a vengeance during this time frame as well. Protesters took part in "SlutWalks," wearing scanty tops and short skirts, proclaiming their opposition to "slut shaming."

The Black Lives Matter campaign and organization, funded by the Hungarian Jew George Soros, utilized violent protests, where arson and looting were encouraged. Police officers became targets for retribution after the slayings of miscreants like Trayvon Martin and Michael Brown. The racial divide in America was split wide open, and Barack Obama fanned the flames claiming, "If I had a son, he'd look like Trayvon."
No Morals or Scruples
The degradation of morals and scruples by our elected leaders has also declined through generations. Although there is no clear-cut definition between the two main political parties of the United States, animosity towards those who identify as conservative has reached a fevered pitch.
Maxine Waters has broadcast far and wide her desire that her followers go after those who serve under President Donald Trump. Press Secretary Sarah Huckabee Sanders, along with her friends, were asked by the owner of a restaurant to vacate the premises. Recently Ted Cruz and his wife were bullied at dinner and forced to leave another restaurant.
Why Would God Bless America?
The recent allegations against Supreme Court nominee Brett Kavanaugh, brought forth by Christine Blasey Ford, on the surface appear to present a horrific profile. However, her subsequent testimony reveals someone whose memory changes at her convenience. Her named witnesses cannot corroborate her stories either.
Consider also, in July she sent a letter to Senator Dianne Feinstein concerning the alleged sexual abuse she experienced at the hands of Kavanaugh. Why did Sen. Feinstein withhold this information until the confirmation hearing? Was this an underhanded political ploy to derail President Trump's nominee? Could it be because Mrs. Ford, who has also participated in an anti-Trump rally, works for a pharmaceutical company that produces an abortion pill? As reported by Jim Holt at the Gateway Pundit, "Professor Christine Blasey Ford, while working for Stanford University, was also affiliated with Corcept Therapeutics (2006–2011). Her new Wikipedia page describes her as 'director of biostatistics at Corcept.'"
Dr. Christine Blasey Ford, contributor to 8 papers supporting the abortion pill RU-486.
Mr. Holt continues, "Christine Blasey Ford participated in 8 published studies, which researched uses for the 'abortion pill' or mifepristone." Also noted in his article, Corcept has only one product, an abortion pill known as RU-486 and branded under the name Mifeprex.
Could it be that Mrs. Ford and her fellow abortion-supporting feminists are afraid that, if confirmed to the Supreme Court, Judge Kavanaugh would join his like-minded colleagues and reverse Roe v. Wade?
We know that in these last days things will not get better. Paul, in 2 Timothy 3:13 said: "But evil men and seducers shall wax worse and worse, deceiving, and being deceived." But Jesus, our precious Lord and Saviour gives us His final word in Revelation 22:20: "He which testifieth these things saith, Surely I come quickly. Amen. Even so, come, Lord Jesus."