---
Exclusive Intelligence Examiner Report
---
And Losing Credibility Daily
Blaming Christians and conservatives has become commonplace these days for controlled media. Recently a reporter for CNN interviewed Ron DeSantis in regards to Hurricane Ian. Her question was, "How can you stand behind Lee County's decision to not have that mandatory evacuation until the day before the storm?" DeSantis quickly rebuked this inflammatory query. He replied, "Where was your industry stationed? Were you guys in Lee County? No, you were in Tampa. They were following the weather track. 72 hours out they weren't even in the cone and 48 hours they were on the periphery."
If DeSantis had been a looney-left governor, would the media have, instead, run a puff piece on how quickly he came to the aid of those suffering from the devastation? Twenty-twenty hindsight is always perfect. Unfortunately, we do not have the luxury to rewind the clock. Decisions should be made based on the best possible data available. Most importantly, learn from each experience and strive to perform better.
Political Correctness a Saving Grace?
Cultural Marxism was utilized by institutions of higher education to begin a mindset change in America. This phenomenon was quickly heralded by the controlled media as a saving grace for this nation. Sadly, it has affected millions who no longer have a sense of right or wrong. The Cultural Research Center at Arizona Christian University, in 2021, sampled 2,000 adults and discovered that more than half—fifty-four percent—believe that all truth is subjective and there are no moral absolutes. In other words, people no longer care about what is true or false.
Additionally, this report found thirty-nine percent of responders said life has no intrinsic value. Is there any wonder why there is so much violent crime happening today? Recently a twenty-year-old woman struck and killed a man with her car because she perceived he was hurting a cat!
Holly-weird
There is no better location to represent this disconnect with Christian morals and decency than Hollywood. In late September, Billy Eichner, an admitted homosexual, wrote and co-starred in an LGBTQ romantic comedy entitled Bros. This trash received rave reviews from critics, however, it bombed at the theatre. Costing over twenty million dollars to make, opening night sales amounted to a paltry $4 million.
Eichner responded to the poor opening weekend in typical looney-left fashion—blaming homophobia and straight people in certain parts of the country. Appropriately, the top markets were New York, San Francisco, and Los Angeles—all liberal bastions. Ironically, another pro-homosexual movie, The Birdcage, debuted in 1996 and opened with eighteen-million dollars in ticket sales.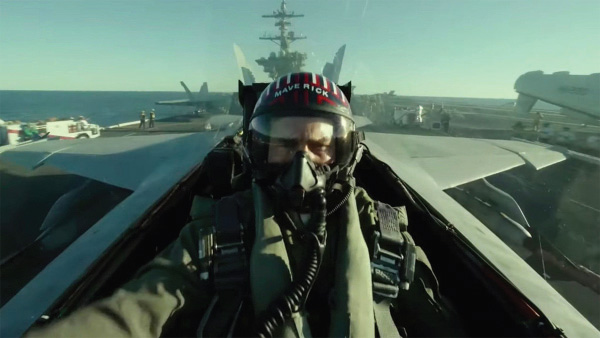 Could the runaway success of "Top Gun: Maverick" signal that the majority of Americans are tired of wokeism and still embrace traditional values?

Conversely, Tom Cruise's sequel Top Gun: Maverick set the record for a Memorial Day weekend release, taking in over $160 million domestically. To date this movie has taken in more than $1.4 billion dollars. What marked difference is there between Bros and Maverick? The former is a slap in the face to all conservatives and Christians, while the latter exudes patriotism and the good that this nation used to stand for.
Are We Being Programmed?
According to a recent Gallup poll, only seven percent of Americans identify as part of the LGBTQ community, while eighty-six percent identify as heterosexual. During the 2019-2020 broadcast season for network television, over ten percent of the regular characters were homosexual or trans.
If you are paying attention to alternative media, you know that the trans movement has been front and center in the public school classrooms for years. More and more children are opting for body mutilation as the progressive push for gender dysphoria has increased.
To compound this issue, Disney, Nickelodeon, and the Cartoon Network have numerous shows with gay characters. PBS's children's animated show Arthur had third grade students attend their teachers same-sex wedding. Other children's shows with homosexual characters include: The Loud House (Nickelodeon); My Little Pony: Friendship Is Magic (Discovery Family); Gravity Falls (Disney); Adventure Time (Cartoon Network); Star vs. The Forces of Evil (Disney); Andi Mack (Disney); Clarence (Cartoon Network); The Lodge (Disney); The Legend of Korra (Nickelodeon); and Steven Universe (Nickelodeon).
Modern-Day Sodom and Gomorrah
Surely, America must be considered the modern-day version of Sodom and Gomorrah. It is filled with evil and perversity that is spoken of in Genesis 19. When a Christian claims abortion is murder and marriage can only be between a man and a woman, they are labeled bigots and racists.
Jesus spoke of these things: "If the world hate you, ye know that it hated me before it hated you. If ye were of the world, the world would love his own: but because ye are not of the world, but I have chosen you out of the world, therefore the world hateth you" (John 15:18-19).
Those who hold firm to biblical teachings have now become the enemy. Our society is becoming more myopic, trashing the beliefs of those who do not agree. It has become so twisted that the First Amendment, at least to these "snowflakes," means you can speak freely so long as it doesn't hurt my feelings.
Our nation has become overrun with self-indulgence. Leaders in our pulpits refuse to address this crisis, further adding fuel to the flame. Instead, individuals must heed our Lord's call: "If my people, which are called by my name, shall humble themselves, and pray, and seek my face, and turn from their wicked ways; then will I hear from heaven, and will forgive their sin, and will heal their land" (2 Chronicles 7:14).
The opposition will not slow down its shameful actions. Only after repentance and prayer can we begin to heal this nation. We must all respond to His prompting. Amen. Even so, come, Lord Jesus.