---
Exclusive Intelligence Examiner Report
---
You Will Eat Bugs, and You Will Like It
"Every man according as he purposeth in his heart, so let him give; not grudgingly, or of necessity: for God loveth a cheerful giver. And God is able to make all grace abound toward you; that ye, always having all sufficiency in all things, may abound to every good work: (As it is written, He hath dispersed abroad; he hath given to the poor: his righteousness remaineth for ever. Now he that ministereth seed to the sower both minister bread for your food, and multiply your seed sown, and increase the fruits of your righteousness;) Being enriched in every thing to all bountifulness, which causeth through us thanksgiving to God."
The celebration of a fruitful harvest by the Pilgrims in the early 1600s is commonly called the first "Thanksgiving." It was attended by fifty-three survivors from the Mayflower and ninety Wampanoag people. This feast lasted for three days.
Our nation has celebrated this tradition off and on since 1789. In 1863 President Abraham Lincoln proclaimed a national day of "Thanksgiving and Praise to our beneficent Father who dwelleth in the Heavens." By an act of Congress, from 1942 until today, Thanksgiving has been the fourth Thursday of November.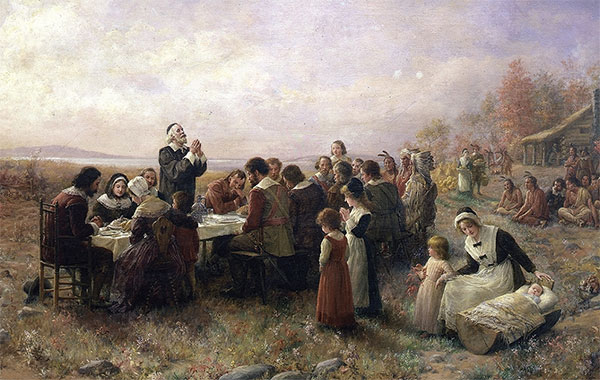 Did the first Thanksgiving feast consist of eating bugs and worms?
America has much to be thankful for, but our vigilance has waned these past few decades. It seems that political correctness and liberal doctrines in our churches has depleted the fervor of many to give thanks for all of His blessings. The reality is, sadly, the progressive movement giving reverence to "Mother Earth" could lead to global starvation.
Not to worry though. The United Nations, the World Economic Forum, and other like-minded sycophants have all the answers. Just listen to them espousing their learned wisdom.
An article written by Sean Fleming and published May 6, 2021 by the World Economic Forum entitled, "Worms for dinner? Europe backs insect-based food in a bid to promote alternative protein"stated:
"The European Union (EU) has ruled that the larval stage of the Tenebrio molitor beetle, the mealworm, is safe for people to eat and it will shortly be on the market as a 'novel food.' EU researchers said that the worms, eaten whole or in powder form, are protein-rich, while the UN Food and Agriculture Organization said that edible insects 'contain high-quality protein, vitamins and amino acids for humans.'"
Bill Gates and others have been busy creating "synthetic" meat to replace beef, pork, and poultry. Gates has stated that innovations like Beyond Meat and Impossible Foods—which are plant based food options that range from burger to chicken nugget alternatives—and the food technology company, Upside Foods, which takes animal cells to then grow meat in a laboratory environment, are crucial steps for reducing animal consumption. He claims this fake meat will "eventually" be very good.
Some countries have taken draconian measures to shut down farms and ranches. In America, farmlands are being purchased by the elite to control the amount of food available for the masses. Hungry people will make good slaves and will be subservient to the wishes of the elite.
The globalist's Agenda 2030 has set forth 17 Sustainable Development Goals (SDGs). These goals are: No Poverty; Zero Hunger; Good Health and Well-Being; Quality Education; Gender Equality; Clean Water and Sanitation; Affordable and Clean Energy; Decent Work and Economic Growth; Industry, Innovation and Infrastructure; Reduced Inequalities; Sustainable Cities and Communities; Responsible Consumption and Production; Climate Action; Life Below Water; Life on Land; Peace, Justice and Strong Institutions; and Partnership Goals.
Redistributing Wealth
All of these sound like noble causes, do they not? However, consider No Poverty and Reduced Inequalities. This is nothing more than wealth redistribution.
Don't kid yourself into thinking the billionaires will accept forking over most of their filthy lucre for some impoverished person. I humbly refer you to the World Economic Forum's famous quote: "You will own nothing, and you will like it." Instead, the wealth will be distributed upwards while the poverty class will enlarge.
Good Health and Well-Being
Of course, these all-knowing and beneficent leaders have shown how concerned they are with the world's health. How else would you explain the rapid deployment of untested "vaccines" to fight the onslaught of the recent pLandemic? The multitude of boosters aimed to fight each variant, no matter the severe reactions they caused, were in your best interest. Or, as many have claimed, were these jabs aimed at population reduction?
Have you wondered, as this author has, if the global leaders who publicized their "vaccinations" received, instead, a placebo? How many members of Congress and the White House have suffered adverse events related to the jab?
Clean Water and Sanitation
With a lower global population comes the benefit of having enough clean drinking water, does it not? Sadly, for the majority of third world countries, most strains of deadly viruses emanate from poor sanitation. Until the world population reaches the level the elite have deemed appropriate, this problem will continue to percolate on the back burner.
15-Minute Cities
As has been discussed on Power of Prophecy's radio program, fifteen minute cities are currently being designed. Some have speculated that the wildfires from the past few years in California—and recently in Maui—will be the birthplaces of these constrained... errr... sustainable living spaces. The World Economic Forum promoted this idea at its most recent gathering in Davos, Switzerland.
Ice Age... no wait... Global Warming... Let's Call It Climate Change
Herein lies the crux of the United Nations Agenda 2030 plan. The controlled media has incessantly cried wolf about the coming doom to "Mother Earth." In the 1970s we were faced with an impending Ice Age that would wipe out huge swaths of cities and people. In 2006 the Green Man himself, Al Gore, hit the big screen with the documentary An Inconvenient Truth.
Al Gore made a major address on global warming in New York in 2004. Ironically, it was one of the coldest days in the city's history. Moreover, this so-called environmental champion has the carbon footprint of some small towns. Gore has traveled around the globe in private aircrafts, much like America's latest climate czar, John Kerry.
Gates, Gore, Kerry, and resident Joe Biden have all expressed grave concerns about the environment. Most of their blustering has been in direct opposition to the way they live. This, however, does not prevent controlled media from hoisting these men on pedestals for the work they've done to combat global warm... climate change.
NASA has published pictures establishing the fact that there is more "greenery" on Earth today than ever before. For those who understand basic biology, carbon dioxide is vital to the health and well being of man, flora, and fauna. Plants absorb carbon dioxide, along with sunlight, as part of the system known as photosynthesis. Conversely, plants expel oxygen which allows man and animal to breathe and live.
This process is never discussed in public forums, but there are some who are attempting to have their voices heard. Over one thousand actual climate scientists recently signed a declaration claiming climate change was a hoax.
A Spiritual Famine
Make no bones about it. Agenda 2030 which is looming on the horizon is not about what is best for this planet. It is indubitably about what benefits the elite the most. The control mechanisms unleashed on the global population should be fresh enough in our minds to realize this plan is about absolute control.
Another harvest time has come and gone. Food stuffs have been stored. There should be plenty enough to feed the masses. Sadly, this is not the case. Many of the poor and destitute experience an empty stomach on a regular basis.
The same could be said on a spiritual basis as well. So-called Christians have made ignoring what the Bible teaches us an art form. This inconvenience has led to the moral depravity encompassing our nation. Many seem to have forgotten Matthew 4:3-4:
"And when the tempter came to him, he said, If thou be the Son of God, command that these stones be made bread. But he answered and said, It is written, Man shall not live by bread alone, but by every word that proceedeth out of the mouth of God."
Picking and choosing which Bible version pleases us the most, or which pastor tickles our ears with what we want to hear are the order of the day. It is true that the lazy shall reap what they sow. The end is drawing nigh. It behooves us to stand firm on His Word, and preach the true Gospel.