codex magica mysterious monuments conspiracy of six pointed star
Exclusive Intelligence Examiner Report
---
---
The Americans, the Russians, the British, and the French, fueled by satanic barbarism, brought torment and suffering to millions of innocents after World War II. It was better to be dead than alive in those days, when hell came down to earth.
"And I heard a voice from heaven saying unto me, Write, Blessed are the dead which die in the Lord from henceforth: Yea, saith the Spirit, that they may rest from their labours; and their works do follow them."
You and I have often heard or read of it—the so-called "Good War" and its after-effects. World War II was a glorious time, say our textbooks. It was a time when an insane, juvenile and clownish imbecile, Adolf Hitler, and his storm troopers rampaged across Europe and Russia. Hitler built concentration camps, and he and the Nazis did terrible things to innocent people. They murdered six-million Jews in a monstrous holocaust.
The masters of Hollywood tell us it was the wonderful, compassionate, caring troops of the American military, helped by dedicated Soviet, British, and French allies, who eventually ended the great conflict. Yes, the great generals Ike, Bradley, Montgomery and others deserve the credit. They took the evil Nazis by the nape of their necks, forced them to be tried at Nuremburg and elsewhere for their terrible crimes, and severely punished the guilty. All the Nazi leaders—Hitler, Goering, Himmler, et al, were executed or committed suicide.
The Story Goes
The story goes that, justice done, the victors then took upon themselves the heroic task of rebuilding the stricken German nation. It was our food, our fuel, our hard work, our organization, our personnel that saved the day. Oh, how magnificent were these paragons of goodness. Christ Jesus Himself must have supervised their work.

In no time at all, the factories in Germany were humming again; the weapons of war destroyed, democracy installed. The citizens of Germany were gleaming with pride and happiness.

The Germans, you see, owed their remarkable recovery, their very existence, to the victors. We had saved them from the clutches of their Nazi overlords. We had restored righteousness, we had rescued the masses. All hail the marvelous overcomers of evil Nazi Germany.

Hollywood movies, of course, have aided in building our memories. The official government account has also been recounted in thousands of books, all published by establishment publishing houses. These sources paint the oft-told account that lodges in our heads. It's goody-goody Franklin D. Roosevelt, America, and the U.S.S.R. against the wicked, immoral, monstrous Nazis, over and over. Yes, this is what we have been told.

But, what is the truth?

Sir Winston Churchill, Allied leader and victor, mysteriously once said, "The truth must be accompanied by a bodyguard of lies."

What did Churchill mean?

That astute writer, George Orwell, also said, "Telling the truth is a revolutionary act."

What, exactly, was he talking about?

Is the story told us of World War II and the years afterward of the "miraculous" German recovery aided by the Allies basically just a bunch of lies? To get at the truth, will it be necessary for you and I to become a revolutionary truthteller?
The Truth Comes Out—Painfully and Slowly
Well, now, almost 75 years after the official end to World War II, the truth has emerged: slowly; painfully; sadly. The truth that has been covered up by censorship, mass propaganda and by truth embargo imposed by the Jewish-owned press and establishment in America.
Concentration camps for the defeated (Germany) were set up and operated by the Allies after World War II. Untold millions of people perished in these death camps. These horrible crimes have been covered up for over 70 years.
It is, straightly put, the internet and a few courageous researchers that have made it possible for the truth to rise up from the mist and stench of the official swamp. Only the internet is free, and the establishment is desperate to shackle it. Soon, it, too, will be closed.
Those who now tell the truth—about the World Wars, about Vietnam, about Judaism, about the Federal Reserve, and thousands of other "propaganda achievements" are the enemy of the monied few. They are hated and despised because they love and embrace the truth. Therefore, the purveyors of falsehoods hate and despise you and me.
Now, let me go straight to the subject at hand—the so-called "victory" over Germany and the much ballyhooed "miraculous recovery" of that nation. Many new, truthful books are now coming out. We now know of the horrors and fateful crimes perpetrated by our leaders against the defeated men, women, and children of Germany.
Annihilation by ground and air was not enough. Mass murder, rape, plunder, torture, beatings, starvation were all employed. These brutal tactics lasted years after the official end of hostilities. Millions of innocent and unsuspecting German citizens were roughly herded into allied concentration camps, in places like Zuffenhausen, Worms, Langwasser, Bretzenheim and Bad Nenndorf. There they were beaten, tortured, starved, frozen, and otherwise killed.
They were little fed, except for feces-filled. watery "soup." Given little or no shelter, untold thousands froze to death.
Meanwhile, their conquerors—Americans, British, Russians—enjoyed abundant foodstuffs, and fuel was plentiful.
Any prisoner bold enough to complain was taken out and executed. Daily, scores of the dead were gathered and burned in mass pits. This is how and where the so-called "holocaust tales and pictures" come from.
Germany's economy was intentionally destroyed after the war's conclusion. As Keeling writes in Gruesome Harvest, the allies sought "the permanent destruction of Germany's industrial heartland." This caused, he notes, such "consequences as the death through starvation and disease of millions and tens of millions of Germans."
A Demonic Jewish Blueprint, the Morgenthau Plan
Were these torturous deaths the unavoidable result of war? No, they were not. This was planned death, caused by Truman's approval of the demonic Jewish blueprint, the Morgenthau Plan. Morgenthau was a Jew high-up in the Truman administration who led the Manhattan cabal of wealthy Jews dedicated to promoting world Zionism. It was this cabal that, in 1933, had begun a great world war against the Nazis.
The Morgenthau Plan was their war revenge. Devised by sick, pathological Jews, it was incorporated into clause 6 of the Joint Chiefs of Staff Order 1067.
One can read more about the Morgenthau Plan in the incredible book—suppressed for 70 years but finally released—written by none other than former President Herbert Hoover, titled Freedom Betrayed—Herbert Hoover's Secret History of the Second World War and Its Aftermath, and published by Stanford University Press.
Here are more scholarly, documented books, belatedly published, that also give us unvarnished facts:
• Revisiting the Good War's Aftermath: Emerging Truths in an Ocean of Myths, by Dwight Murphy, Wichita State University Press
• After the Reich: The Brutal History of the Allied Occupation, by Giles MacDonough, Basic Books
• Gruesome Harvest: The Allies Postwar War Against the German People, Institute for Historical Review
• Other Losses—An Investigation into the Mass Deaths of German Prisoners at the Hands of the French and Americans After World War II, Toronto: Stoddard Publishing Co.
• Red Storm on the Reich—The Soviet March on Germany, by Christopher Duffy, Atheneon Press
• The Destruction of Dresden, by David Irving, London: Wm. Kimler & Co.
German officers being hung on the gallows by Soviet soldiers. Brutal Russian soldiers raped, murdered and plundered their way across Germany with no complaints from the United States of America.
Hellstorm: The Death of Nazi Germany 1944-1947
Each of these books provides gruesome, truthful details on what it was like to have been an unarmed, noncombatant German in the immediate years after World War II. One of the best books I have come upon is Hellstorm: The Death of Nazi Germany, 1944-1947, by Thomas Goodrich. So impressed was I with this book that we are offering it to you this month. I have also interviewed Mr. Goodrich on Power of Prophecy radio.
Goodrich's book is so vivid that one can almost smell the putrid odor of decaying bodies through its pages. In a letter to me, Goodrich wrote that he is so sick and alarmed over his research, that he intends to spend the rest of his life exposing the horrors of what occurred.
I invite you, my dear friends, to order and read this exceptional book. You will be glad you did, for the truth is always powerful and liberating.
The Fantastic Words of Jesus Christ
But do keep one thing in perspective. It is not the fighting men of America who are responsible for these heinous and irresponsible crimes against humanity. They were and are among its victims. It is our leaders, communists and Jews in the Roosevelt Administration—lying, rotten, corrupt, scheming and vicious.
In fact, the men responsible for these awful crimes also are guilty of the murder of two great men who attempted to stop these horrors: General George Patton and Secretary of Defense James Forrestal. I will have more to say about their mysterious murders in future issues of this newsletter. Until then, remember these fantastic words of our Lord and Saviour, Jesus Christ:
"Ye shall know the truth, and the truth shall make you free" —Jesus Christ
Keep up to date with Texe on
---
Click to view excerpts from Texe's latest blockbuster documentary Die, America, Die!, then order your copy today!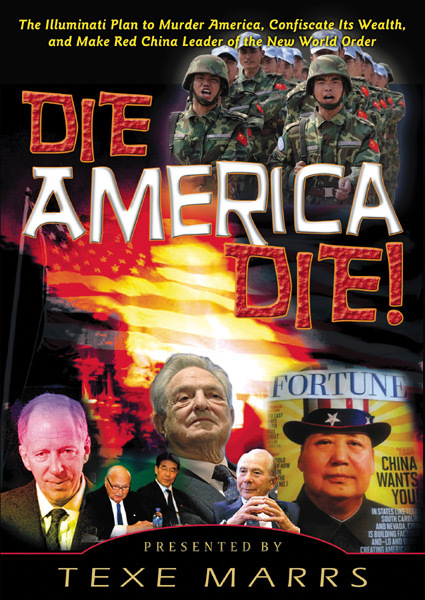 ---
Power of Prophecy proudly offers the following best-selling books. Order your copy today!
---
---
---
---
---
---
---
---
---
---
---
---
---
Power of Prophecy proudly offers this best-selling video. Order your copy today!
---
Die, America, Die!

80 Minutes ~ $25.00
---
Illuminati Mystery Babylon

60 Minutes ~ $25.00
---
Cauldron of Abaddon

60 Minutes ~ $25.00
---
Power of Prophecy proudly offers this best-selling audio. Order your copy today!
---
Obama Obeys the Protocols of Zion

60 Minutes ~ $10.00
---
We Shall Be Our Own Messiah

60 Minutes ~ $10.00
---
The Jehovah's Witnesses and the Synagogue of Satan

60 Minutes ~ $10.00
---
The Ethnic Cleansing of America

60 Minutes ~ $10.00
---
Remorseless Killers of Zion

60 Minutes ~ $10.00
---
Destabilization of the United States

60 Minutes ~ $10.00
---
The Called, The Chosen, The Faithful

180 Minutes ~ $20.00
---

We are so very thankful to those of you who give to Power of Prophecy. You are a valued member of our end-time crusade for Truth and Righteousness on behalf of our Savior Jesus Christ. Click here for more info!
---