codex magica mysterious monuments conspiracy of six pointed star
Exclusive Intelligence Examiner Report
---
---
America's Presidential Election Masterminded By A Handful of Jewish Mega-Billionaires
"The claim that conniving Jews are secretly running the country is an old and repugnant canard."
—

Nicholas Goldberg
The Los Angeles Times (April 7, 2006)
Ann Coulter, the noted writer of bestselling political books, was disgusted viewing a recent presidential debate. Asked to comment on "What would America be like?" if they were elected President, four of the ten candidates responded by talking not about America but about Israel. Coulter immediately tweeted, asking why the politicians were "pandering to Israel." She then sent this added comment, "How many f...ing Jews do these people think there are in the United States?"
Ann Coulter found out that it's not the votes the Jews have. It is clout.

Oh boy! Ms. Coulter did a bad thing. Immediately, she was bombarded by angry tweets, demeaning her as an "anti-Semite" and claiming she is a racist and bigot. In the following weeks, Coulter suffered scathing comments from Jewish media in major newspapers and magazines. One article's headline trumpeted, "Ann Coulter's Career is Officially Over."

Ann Coulter found out that it's not the votes the Jews have. It's their clout. It does indeed pay to pander to Israel, and swift consequences are heaped on those who do not recognize this important fact of political life.
All Votes Are Not Equal
The average dumbed-down American believes that all voters are equal. All have the same opportunity to affect an election. In fact, our Presidents are chosen by a small clique of wealthy and influential moneymen, all of whom are Jews. That is why The Chicago Tribune, in 2007, called Barack Obama, the "Jewish President" (The Tribune, incidentally, is owned by a rich Jewish insider, Sam Zell. He also owns The Los Angeles Times newspaper). Doubt this cold, hard fact of Jewish rule? Okay, then, let's examine recent Presidential campaigns and see just who rules whom.
Israel Firster, Sheldon Adelson, gave generously to preferred candidates.

Sheldon Adelson, Mr. Money Bag

In the 2012 election, Sheldon Adelson, Las Vegas casino mogul, gave generously to preferred candidates. He's back again, in 2015. According to news reports, the grizzled Israel Firster has over $100 million to spend, but recipients must prove their absolute allegiance to Israel.

Sheldon Adelson conducted a gala event in Nevada this past July for five of the presidential wannabes. Each spoke of their warm friendship with moneyman Adelson, who paid all their expenses to come to the shindig.

In September, Sheldon Adelson sat at a front table with two of his Republican protegees, Senator Ted Cruz (R-TX) and Governor Chris Christie (R-NJ). The occasion was a "Champions of Israel" dinner in New York City, and the two invitees were honored to sit with the megabillionaire.
Senator Ted Cruz Meets Privately with Ten New York Jews
The next day, Senator Cruz went over to the plush Manhattan apartment of two Jewish billionaires, Ian Reisner and Mati Weiderpass. There he schmoozed with ten of the richest men in the U.S.A.—all of whom were Jews. Cruz spoke of his undying love for Israel and told the billionaires—most of whom are also homosexual—that he wouldn't love his daughters any less if they turned out to be gay.
Governor Huckabee Flies to Israel for Donations
Fast forward a couple of months and we find former Governor Mike Huckabee (R-AR), flying over to Israel where he met with Jewish billionaires and begged them for money for his campaign. Huckabee says he travels at least once per year to Israel where he puts on his skull cap and prays at the Wailing Wall, then goes over to the fancy condos of the rich.
Senator Marco Rubio—Biggest Kiss-Up of All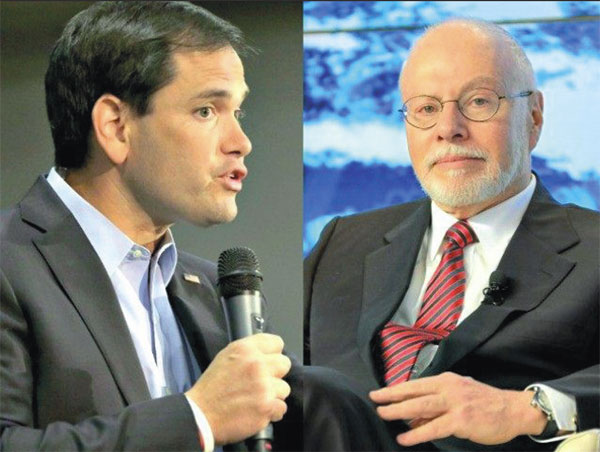 Marco Rubio (left) is supported by one of the wealthiest Jews in America, Florida's Paul Singer (right). As such, Rubio slavishly does the Jews' bidding.

The biggest kiss-up of all, though, appears to be Senator Marco Rubio (R-FL). Rubio got into office after financial donors (all Jews) came up with big, big contributions. Only in office five years, Rubio has slavishly done their bidding. He stealthily supports the gay agenda, voted for Planned Parenthood and big budgets, and pushed for war with Syria and Iran. Best of all, from the Jewish standpoint, Rubio became one of the infamous "Gang of Eight"—eight Democrat and Republican Senators—who backed Obama's "Open Borders" immigration policies.

Rubio talks incessantly about "defending America's border," but he continues to support amnesty for the millions of illegal aliens.

Rubio is supported by one of the wealthiest Jews in America, Florida's Paul Singer. A Wall Street investor, Singer is a big promoter of same sex marriage. He got Senator Rubio to introduce several key bills in the Senate that expanded visas for foreigners in the high tech industry. Singer likes Rubio's open immigration ideas and sees him as continuing the establishment "RINO" (Republicans in Name Only) agenda.

Oh, I forgot to mention, both Sheldon Adelson and Paul Singer agree—the most important criterion for their support: The candidate must be rabidly pro-Israel.
The Other Candidates
What of the other candidates? Well, Ben Carson seems to be getting his share of Jewish money. The doctor, who supported Bill Clinton as President before he switched to the Republican Party, took an all expenses paid trip to Israel last December. He impressed the Jews, claiming that the Palestinians were aggressors and should be relocated enmasse to Egypt. He called Netanyahu a "great leader" and said, "I'm in awe of Israel."
Senator Rand Paul—he admits that he talks with Jewish lobbyists every single day. He once gave a speech on the Senate floor in which he favorably mentioned Israel sixteen times! Rand Paul is obviously not like his dad, Ron Paul.
Carly Fiorina's in the tank for the Jews. In one of the debates, she said the first thing she would do if she were elected would be to phone her buddy, "Bibi" (Netanyahu), in Israel and tell him she's got his back.
Jeb Bush—he had millions of dollars he got from his Jewish cronies. Now, they've all gone over to his opponents. The Jewish bigwigs like winners, not "low energy" losers. The same goes for Governor Kasich, of Ohio.
Hillary Clinton A Jewish Favorite
On the Democrat side, Hillary knows her role. She will do and say whatever her Jewish bosses dictate. In July 2014, billionaire Haim Saban, a pal of Sheldon Adelson, told Bloomberg TV that he would "contribute as much as needed to elect Hillary Clinton in 2016."
Hillary knows her role. Here she "performs" for billionaire, Haim Saban, to demonstrate her love for Israel.
Haim Saban is super, super rich. He declares proudly he will give his money to Hillary because she will strengthen the U.S.-Israel partnership: "I'm a one issue guy," says Saban, "and my issue is Israel."
Koch and Icahn Ready With Pocketbooks
The billionaire Koch brothers, oil men from New York and Kansas, are in the game too. They say their money will go only to a pro-Israel candidate. And Jewish Wall Street king Carl Icahn recently set up a $150 million super-PAC. Icahn is a big supporter of real estate mogul Donald Trump.
Jewish Money Talks, Kosher Politicians Listen
According to The New York Times, Jewish billionaires are instrumental in giving money for both the Republicans and Democrats. As far back as 2004, sixty-four percent of all the money received by the George W. Bush campaign came from Jews. Obama and Romney took in more from Jewish donors in 2012 than from all other donors combined.
In this current election, nothing has changed. A handful of rich Jews will pick our President. Their sole criterion: The recipient must &lduqo;love" Israel and support it without question. The rich Jews will pre-choose the vast majority of our Senators, Congressmen and Governors. Voting is just a formality, as in Soviet Russia in the communist era. The truth is they are the establishment. We are the slaves. And money rules.

Keep up to date with Texe on
---
Click to view excerpts from Texe's latest blockbuster documentary Die, America, Die!, then order your copy today!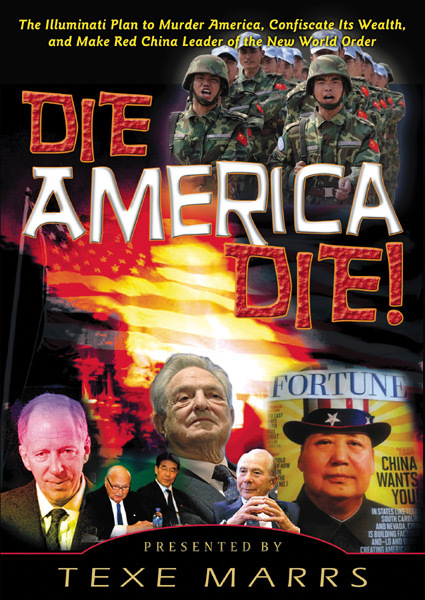 ---
Power of Prophecy proudly offers the following best-selling books. Order your copy today!
---
---
---
---
---
---
---
---
---
---
---
---
Power of Prophecy proudly offers this best-selling video. Order your copy today!
---
Hellstorm - The Video

90 Minutes ~ $25.00
---
Marching to Zion

96 Minutes ~ $20.00
---
Power of Prophecy proudly offers this best-selling audio. Order your copy today!
---
Prophetic Secrets of Earthly Jerusalem

120 Minutes ~ $15.00
---
666—Insight on the Number of the Beast

60 Minutes ~ $10.00
---
Lessons of Purim

60 Minutes ~ $10.00
---
"Will You Walk Into My Parlour?"

60 Minutes ~ $10.00
---
Dictatorship of the Neocon Jews

60 Minutes ~ $10.00
---
Fourteen Truths That Must Be Known For America To Recover From Its Satanic Trance

60 Minutes ~ $10.00
---
Homosexual Reprobates in Israel Are Turning America Into a Satanic Pit and Hellhole

60 Minutes ~ $10.00
---
Jewish Slave Traders and Other Secrets of the Confederacy

60 Minutes ~ $10.00
---
The 13 Unholy Lies of the Judaizers

60 Minutes ~ $10.00
---

We are so very thankful to those of you who give to Power of Prophecy. You are a valued member of our end-time crusade for Truth and Righteousness on behalf of our Savior Jesus Christ. Click here for more info!
---