---
Exclusive Intelligence Examiner Report
---
---
"While the earth remaineth, seedtime and harvest, and cold and heat, and summer and winter, and day and night shall not cease."
"A double minded man is unstable in all his ways."
For over fifty years alarmists have screeched about the pending doom facing planet earth. What was first touted as a coming ice age was quickly changed to global warming. When scientists and researchers reported that the planet was actually cooling, the new slogan became climate change. None of these so-called climatologists ever admit the truth written in God's Holy Word.
Everywhere Al Gore went in his private jet, along with an entourage, the mantra was doom and gloom. Nevermind the fact that Al Gore's carbon footprint was as large as a small country, we lowly global citizens needed to do more to prevent an impending catastrophe. Ironically, it seemed that many destinations where Gore was to speak on this topic experienced record snowfall and frigid temperatures.
Fast forward to 2021 and the hue and cry is even louder. Main Stream Media has taken up the activism of climate change—along with other looney left causes—constantly producing emotional pleas to help save the planet.
The current occupant—hereto known as Resident—of 1600 Pennsylvania Avenue in Washington, D.C. has done more via Executive Orders, memos, and decrees to destroy our energy independence than any previous regime. While pushing a ban on drilling, Biden simultaneously has begged the oil producers of OPEC to increase the volume of their spigots.
Part of Resident Biden's budget contains provisions to placate the progressives by supporting Rep. Alexandria Ocasio-Cortez's (D-NY) "Green New Deal." If you recall, AOC has claimed the earth will end in 12 years unless a massive change occurs. Not to be undone, former presidential hopeful Beto O'Rourke claimed it would be less time.
However, if the earth is warming and sea ice is melting at a record rate, why did former President Barack Obama spend millions of dollars to purchase an ocean-front estate in Martha's Vineyard? Would this not, in fact, confirm that this is a bogus claim? The irony is not lost on those who are educated.
The Hits Keep Coming
The threat of climate change has largely been blamed on carbon dioxide flooding the environment and creating a dome which locks in the heat. This gas is created, predominately, by gasoline and diesel powered vehicles. Thus the push for more electric powered vehicles to replace these old relics.
Unfortunately for these enviro-whackos, electricity used to charge these vehicles must come from somewhere. Although California has attempted to harvest wind and solar energy, this has proven ineffective at providing enough electricity to keep the lights on, let alone charge millions of electric cars.
Coal-fired power plants are a dinosaur to these nutjobs, but it has proven to be one of the most reliable sources for energy. Natural gas is also on the taboo list as it comes from drilling for "fossil fuels" even though its emissions are minimal.
By 2030 in the United States, we won't have coal. We will not have coal plants, John Kerry declared.

John Kerry, Biden"s "Climate Czar," recently spoke truth about what the current regime has in mind for America. Kerry said in an interview with John Micklethwait, Bloomberg News Editor-in-Chief, "By 2030 in the United States, we won't have coal. We will not have coal plants."

China, on the other hand, is planning to build 43 new coal-fired power plants. These new projects were announced in the first half of 2021 despite the world's largest polluter pledging to bring its emissions to a peak before 2030. China isn't alone in its reliance on coal. Four other countries—India, Indonesia, Japan and Vietnam—account for more than 80% of the coal power stations planned across the world.

Joe Biden's pick for Comptroller of the Currency, Saule Omarova, was born and raised in communist Russia. Ms. Omarova delivered these remarks during a "Social Wealth" seminar in March 2021 that was uncovered by the conservative research group AAF:

"Here what I'm thinking about is primarily the coal and oil and gas industry. A lot of the smaller players in that industry are going to probably go bankrupt in short order, at least we want them to go bankrupt if we want to tackle climate change, right?"
What Size Was Biden's Motorcade?
In late October, Joe Biden transited the Atlantic aboard Air Force One to attend the G20 meeting in Rome, Italy. Leaders from nineteen countries plus the European Union met to discuss many topics on the looney-left's wishlist: climate change, sustainable development, and other money-making boondoggles.

For those who are unaware, wherever the "President" travels, his armor-plated limousine must also travel. This requires a very large aircraft (or possibly more) to transport the "Beast" to these locations. Also, the Secret Service armored vehicles must be transported. Although preaching climate change at home, Biden and his very large entourage created an eighty-five car motorcade as it traveled to Vatican City!

What environmental impact has this created? According to NewsNationUSA.com, the flight from Andrews Air Force Base to the airport in Rome generated 952,952 pounds of carbon. Keep in mind, this is for Air Force One only. The 85-car motorcade, which included two beast limousines, generated 370 pounds of carbon.

From the G20 Summit in Rome, Biden and company flew to Scotland for the COP26 climate summit in Glasgow, Scotland in early November. This generated 371,088 pounds of carbon and his subsequent motorcade of only twenty vehicles generated another 1,680 pound of carbon. The return trip on Air Force One will generate 736,992 pounds of carbon for a total of an estimated two million pounds of carbon generated. All of this in a six-day span!

China's president Xi Jinping chose not to attend the COP26 climate summit and will only submit a written statement. Russia's Vladimir Putin and Brazil's Jair Bolsonaro, both in charge of big polluters, declined to attend this event.

It has been estimated that four hundred private planes arrived in Glasgow for this summit. Many, after dropping off their passengers, were forced to fly to another airport because of a lack of parking space in Glasgow. The attendees were then met with a fleet of gas-powered SUVs to ferry them from the airport to their accommodations. In a strange twist, the leaders of the biggest polluting nations can backhandedly claim they did not add to the carbon footprint this summit has created.

As a caveat, the attendees of the COP26 summit will have electric vehicles to drive around Glasgow during the two week conference. Unfortunately, there are not enough outlets to charge these vehicles so diesel generators have been brought in to charge the cars. Hypocrisy reigns supreme, yet again!
But Wait... There's More!
Global climate change is but one of the looney-left's many pet projects. Also on the agenda is immigration and infrastructure. Do not let these phrases fool you though. The progressives in Congress have an entirely different definition than we do.
Nancy Pelosi was able to coerce, nee bribe, thirteen Republicans to join Democrats in passing Biden's $1.2 trillion "infrastructure bill." One of the provisions in this bill is a pilot program to create a vehicle miles traveled system to tax drivers on annual mileage accrued. In a state as large as Texas, this could lead to extreme financial hardships for middle class workers.
Nancy Pelosi led a Democrat contingent of 22 House members to Glasgow. This is but one of several congressional delegations who have made the trek for this summit. Ms. Pelosi noted: "Our congressional delegation comes here fresh from advancing the most ambitious and consequential climate legislation." She also noted that moves by the Biden regime to cut U.S. emissions of methane has helped spur more than 100 nations to join a nonbinding methane pledge.
Another measure included in this bill will require all new vehicles be equipped, from the factory, with "drunk or impaired technology." Whether this will be a breathalyzer device the driver must blow into, a sensor that is able to detect alcohol in the air, or one that incorporates infrared light through the fingertips will be up to the vehicle manufacturer.
Although designed to prevent drunk driving accidents, which tragically claim almost 10,000 lives a year, this encroachment will be paid for by all consumers—even those of us who do not drink alcoholic beverages. Ultimately, it is another privilege that has been usurped under the guise of safety.
When politicians return to their constituents in their home state one of their battle cries has been, "I am bringing money to help you." This pork-filled spending spree does accomplish this, but at who's expense? Don't we all pay taxes? Politicians, unfortunately, only wish to impress and garner more votes to stay in office. Also, many nuggets which benefit the Green New Deal have been included in this monstrous and destructive bill. Alas, sadly, less than half of the "infrastructure" bill will actually help America's infrastructure of roadways and bridges.
Building Who Back Better?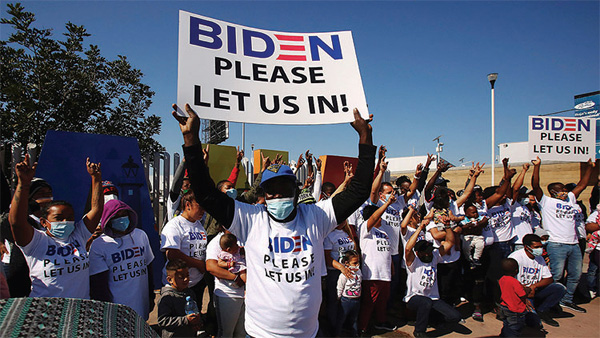 The Biden administration is considering compensating immigrant families that were separated at the US border during the Trump administration, with payments of $450,000 per person.

The next big domino to fall will be immigration reform. In Biden's Build Back Better budget you can bet that amnesty, or some form of it, will be included. More than seven million illegal aliens could benefit from this, and the Democrats are salivating at the prospect of all these potential voters.

Amnesty is but one key cog in this pending legislation. Democrats want to eliminate social security number requirements which are currently used to prove eligibility for child tax credits. If passed, the change would provide roughly a million illegal alien children with such benefits. There have also been reports that Biden's Justice Department wants immigrant families—who were separated at the southern border under Trump's zero-tolerance policy—to receive payments of $450,000 per person in monetary settlements. Currently there are an estimated 940 claims filed to date.

Democrats also wish to eliminate restrictions on the ability of major corporations to bring in foreign workers. Many of these employers, such as Google and Facebook, already exploit legal loopholes to allow temporary workers here on H-1B visas to remain in the U.S. permanently.

Another provision would allow illegal aliens to receive discounted in-state tuition which is not—and would not—be allowed to American citizens. To insure a plethora of future Democrat voters the amount of taxpayer dollars designated for border security is... $0.00!
Diversity, Equity, and Inclusion
US Transportation Secretary Pete Buttigieg recently pledged to address the "racism" that went into the building of America's roads and bridges. Buttigieg explained how Resident Biden's "Justice40" agenda would apply to "equity" in infrastructure, delivering at least 40% of the benefits to "disadvantaged communities."
Buttigieg claims the infrastructure bill will address racist highway designs meant to block black and brown kids from being bused to the beach. The program, dubbed "Reconnecting Communities," will address racial inequities in the nation's highway design. Buttigieg added, "If an underpass was constructed such that a bus carrying mostly Black and Puerto Rican kids to a beach in New York was designed too low for it to pass by, that that obviously reflects racism that went into those design choices."
Supply chain issues—one of his duties as Transportation Secretary—that plagued our country were of little concern to Buttigieg, though. Ships carrying much need supplies have been photographed as they moored off the coast of California. He was on paid paternity leave for four weeks after he and his homosexual partner adopted twins.
Mandates Galore
Countless numbers of qualified Americans have been forced out of their jobs thanks to Biden's mandate on taking the COVID-19 jab. It has been reported that over half of the border patrol agents on duty could be terminated because of unreported vaccination status. This mandate also affects more than twenty-five million workers who are not in compliance with this mandate.
America is currently suffering one of the most epic worker shortages in our history. What affect will this have on our economy if these people lose their jobs? Inflation is currently at a thirty year high. Food prices have skyrocketed along with other items. Store shelves sit empty as there are not enough truck drivers to transport goods.
Now, Joe Biden is pushing to shut down the Line 5 pipeline in Michigan that transports over 500,000 barrels of crude oil per day from Canada to Michigan, where it gets processed and distributed throughout the Midwest. Without this pipeline, Midwestern states are going to face critical shortages of fuel this winter.
The Declaration of Independence was drafted by a committee made up of John Adams, Benjamin Franklin, Thomas Jefferson, Roger Sherman, and Robert Livingston. In this document is the following sentence:
"But when a long train of abuses and usurpations, pursuing invariably the same Object evinces a design to reduce them under absolute Despotism, it is their right, it is their duty, to throw off such Government, and to provide new Guards for their future security."
Absolute Despotism could be claimed by every American citizen today. The Biden regime, along with the multitude of swamp creatures who inhabit our legislative and judicial branches, have seemingly drawn a line in the sand. Patriots have heard the beck and call for years. More and more Americans are finally beginning to hear it, too.
If you fail to stand for something, you will fall for anything. However, please heed the words of the Apostle Paul in Romans 12:19-20: "Dearly beloved, avenge not yourselves, but rather give place unto wrath: for it is written, Vengeance is mine; I will repay, saith the Lord. Therefore if thine enemy hunger, feed him; if he thirst, give him drink: for in so doing thou shalt heap coals of fire on his head. Be not overcome of evil, but overcome evil with good."